BIPF announces 2019 Prof Ghanashyam Dash Scholarship
New Delhi, 16th May, 2019: Bansidhar & Ila Panda Foundation (BIPF), the CSR wing of IMFA today announced the 14th edition of 'Professor Ghanashyam Dash Scholarship for Higher Education'.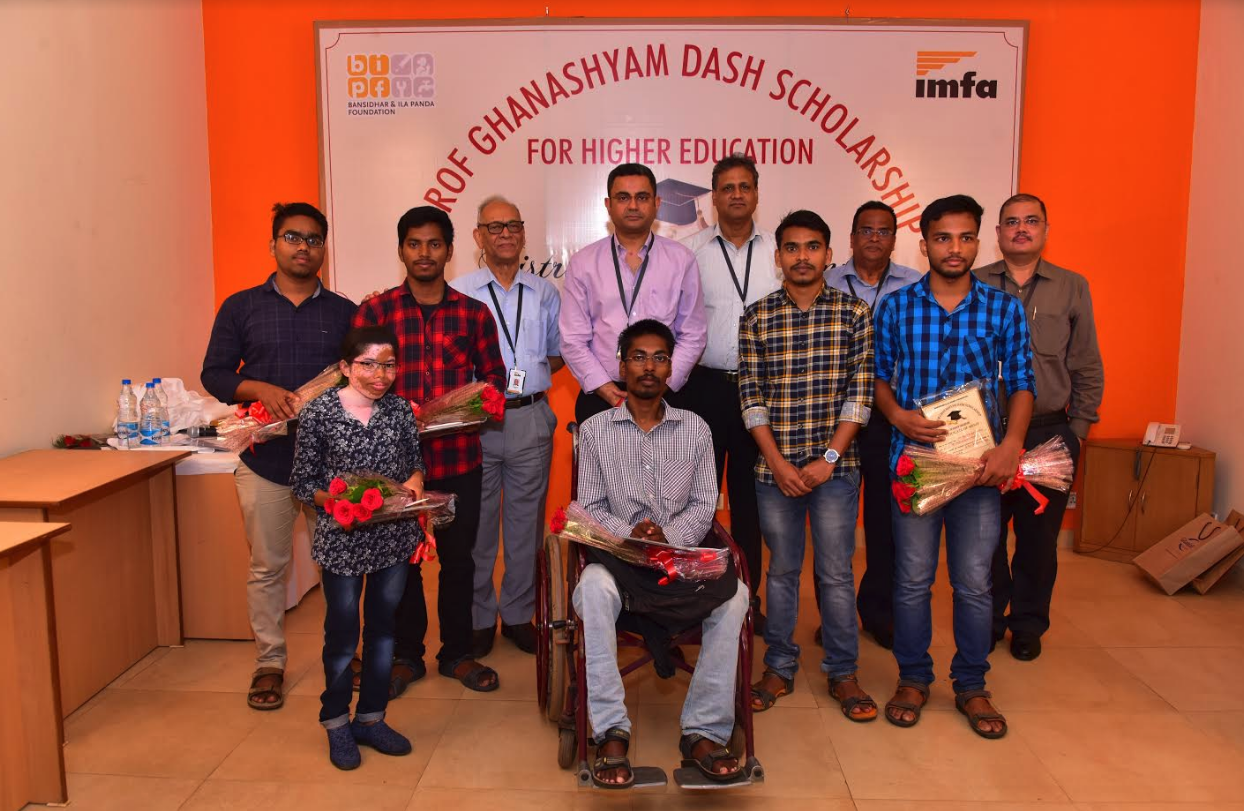 Six meritorious students, pursuing professional degree courses in different disciplines received this prestigious scholarship for the year 2018. The selected candidates will get 90% of the academic fee and related expenses for the entire duration of the course covering a maximum of Rs.4,00,000/- only.
Ms. Geetanjali Podha from Bandhana Jhuli, Boudh, Mr. Rajesh Kumar Pradhan from Basupali, Deogarh, Mr. Ranjan Kumar Mahananda from Birhipali, Bargarh, Mr. Swagat Samal from Baghataila, Kendrapara, Mr. Tushar Kumar Jena from Ashrampatna, Puri, Mr. Bikash Badi from Nuapada, Angul are selected to get the scholarship for 2018.
Geetanjali and Ranjan are pursuing MBBS at VSS institute of Medical Science & Research, Burla whereas Tushar and Bikash are pursuing MBBS at SCB Medical College, Cuttack. Rajesh and Swagat are doing B.Tech. at National Institute of Technology (NIT), Rourkela & College of Engg & Tech, (CET) Bhubaneswar, Odisha respectively.
IMFA's trysts with 'Corporate Social Responsibility' began with a single vision shared by Dr. Bansidhar Panda & Late Mrs. Ila Panda five decades back. Their visions are now being realized by their solemn successors. Instituted in the year 2005, this scholarship named after renowned historian Late Prof. Ghanashyam Dash, father of late Ms. Ila Panda is an effort to provide financial assistance to the talented poor students to realize their dreams and in turn bounce the society with a handful of young professionals.
The scholarships were awarded to the meritorious students by Sri Subhrakant Panda, Trustee, BIPF & Managing Director, IMFA in presence of Sri C.R. Ray, Whole Time Director, Sri Prem Khandelwal, Chief Financial Officer & Company Secretary, IMFA and Sri T C Hota, Executive Vice-President, Bansidhar & Ila Panda Foundation.
About IMFA:
Indian Metals & Ferro Alloys Ltd (IMFA) is India's largest, fully integrated producer of value­ added ferro chrome with capacity of 275,000 tonnes per annum. Incorporated in 1961 and headquartered in Bhubaneswar, Odisha, the Company has manufacturing complexes in Therubali and Choudwar. Captive power generation capacity currently stands at 261 MW and the Company has own chrome ore mines in Sukinda and Nuasahi. Operating in the electrometallurgical products sector, IMFA's operations are benchmarked to world-wide standards through an 'Integrated Management System' comprising of quality, environment and occupational health & safety certification. IMFA is unique from a quality perspective which has multi-product & multi‐location ISO 9001 quality management certification besides ISO 14001 environment management and OHSAS 18001 occupational health & safety certification. IMFA today provides livelihood to more than 6000 families and has been creating milestones by touching the lives & hearts of the people.
About BIPF:
Bansidhar & Ila Panda Foundation, the CSR wing of IMFA Ltd., was established with the vision to engage, educate and empower the most vulnerable communities to achieve significant socio-economic transformation. With a strong commitment toSustainable CSR initiatives, BIPF has instituted number of initiatives and programmes with a robust focus on Education, Women & Child Care, Skill Development, Water & Sanitation. The foundation has also partnered with the Government to impart Skill Development Programmes for making today's youth employable by bringing in a sagacity of entrepreneurial abilities. Various community developmental initiatives and activities are currently being implemented in Rayagada, Keonjhar, Jajpur, Angul and Choudwar districts of Odisha state.