"It's my love story"- by Ajitabha Bose
Ajitabha Bose, spoke briefly to Estrade at the time of releasing his 4th book "It's my love Story" and how he started his journey as an author. He holds the national record for publishing the smallest love story book in India. Currently based at Delhi, he was born and brought up in Jamshedpur. He introduced the concept of pocket books in India. This is his first novel.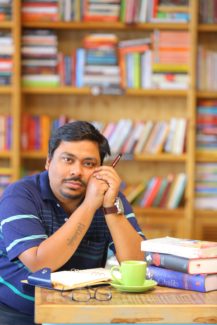 1. Tell us the inspiration behind your writing? 
Being bought up in a Bengali family, I always heard my mother reciting poems and telling me stories written by Rabindranath Tagore. My actual fondness towards writing began in my college life. I use to write blogs and articles then. I still remember the day when I had completed reading Few Things Left Unsaid and was inspired to write a book of my own.
 2. Tell us a bit about your journey? How you started, where you are today?
I wrote my first book in the year 2014 when I was in college. I gained popularity by introducing pocket books in India. And since then there was no looking back. From getting rejected for my first pocket book to today being called as king of pocket books has been an enormous journey.
 3. Which age group has been your target group? How has been the response to your earlier books?
I write for mass and there is no specific age group or people I write for. I purposely keep my English and langue simple so that everyone can read and understand the story.
 4. Which is your favourite book till date?
I walk to remember by Nicholas Sparks.
 5. Your views on the on the Indian fiction stories/books and its future?
Publishing industry is booming in India these days. The number of authors and readers has increased surprisingly. People are reading more these days. Indian fiction books are at its peak and will definitely have a large impact in future as well.
 6. Most memorable moment while writing your 4th book?
I relived my college life while writing this book. Probably the best days of my life.
 You can write to the author  on :