Prabhu launches first phase of SRP comprising 23 major Railway Stations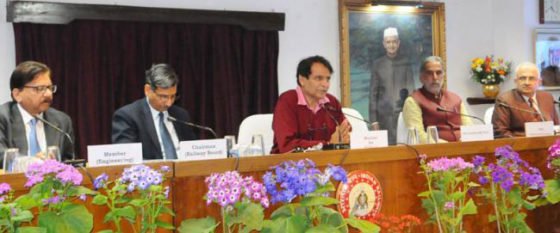 Prabhu launches first phase of Station Redevelopment Program comprising 23 major Railway Stations
In order to transform the face of the Indian Railways, Minister of Railways, Suresh Prabhakar Prabhu launchedthe first Phase of the World's largest Station Redevelopment Program comprising 23 major Railway.
Stations on Indian Railways network. Minister of State for Social Justice and Empowerment Krishan Pal Gurjar was present to grace the occasion.
Chairman, Railway Board, A.K. Mital, Member Engineering, Railway Board, Aditya Kumar Mittal, Member Traffic, Railway Board, Mohd. Jamshed and other Board Members and other distinguished guests were present to grace the occasion.
Speaking on the occasion, Minister of Railways Suresh Prabhakar Prabhu said that the Railways have certain advantages out of which one is holding of land on a large scale.
He said that Railway Stations is a place where lots of people wait to board a train and thus Railway Station can be developed into an iconic property.
He said that the properties of the Railways have a unique characteristic.
He stated that the Ministry of Urban Development is collaborating with the Ministry of Railways to develop smart stations because smart stations are a pre-requisite for becoming a smart city.
He further said that the project of re-developing 400 A1 and A Category Stations in the country is the biggest non-fare revenue generating programme which will be done on PPP model through a fair bidding system conducted by the respective Zonal Railways.
He said that in the first phase, 23 stations will be bid out and redeveloped to the fullest use where so many facilities can be enjoyed by the passengers at one place.
He also directed all the General Managers/DRM through video conferencing to collaborate with the Station Government for re-development of Stations.
Welcoming the Minister of Railways and other delegates, Chairman, Railway Board, A.K. Mital said that our effort for last 10 years will see a culmination as we launch the first lot of stations for redevelopment through public-private partnership.
These stations have been selected for this phase after detailed feasibility studies carried out by our Strategic Advisors, The Boston Consulting Group.
He said that Railways mission is to redevelop railway stations using the surplus revenue that will be generated from commercial development of spare railway land.
Prabhu launches first phase of SRP comprising 23 major Railway Stations