Sam Balsara to be inducted into IAA Hall of Fame at Leadership Awards
Sam Balsara to be inducted into IAA Hall of Fame at Leadership Awards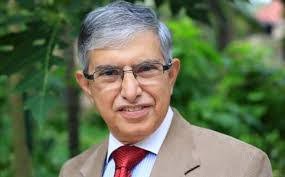 The India Chapter of the International Advertising Association (IAA) will induct advertising doyen Sam Balsara into its Hall of Fame at the sixth edition of the IAA Leadership Awards on 27th July. Says IAA President Ramesh Narayan "the Hall of Fame is the biggest honor that the IAA bestows in India. It is reserved for someone who has not just built and run a great company, but has gone beyond the call of duty and made a significant contribution to the industry as a whole.
Sam is so much more than Madison Communications. He has been President of the Advertising Agencies Association of India, The Advertising Club and the IAA. He has also been Chairman Audit Bureau of Circulations and Advertising Standards Council of India. And he has brought great respect to every office he held.
Having had the pleasure of working closely with him at the AAAI and the IAA I am delighted with this wonderful choice.
This will definitely act as an inspiration for others in the industry". In its sixth year now, the others inducted into the IAA Hall of Fame are Pradeep Guha, Ramesh Narayan, I Venkat, Bharat Patel and Srinivasan Swamy.
This induction will be done at a glittering ceremony on 27th July at which the IAA Leadership Awards would also be presented.
About IAA
The International Advertising Association is the world's only globally-focused integrated advertising trade association with membership representing Advertising agencies and the Media. The IAA comprises Corporate Members, Organizational Members, Educational Affiliates, as well as 56 Chapters with individual members and young professionals from 76 countries including the top 10 economies in the world. lAA is 80 years' old and is headquartered in New York.
Membership to the Indian Chapter of IAA is by invitation only and IAA has very senior marketing, advertising and media professionals as it members.  IAA in India is seen as the most active chapter by IAA Global. IAA India is well-recognized for some of its marquee events like the IAA Leadership Awards, IAA Olive Crown Awards, IndIAA Awards, IAA Debates, IAA Conversations,  IAA Young Turks Forum and an array of IAA Knowledge Seminars, Webinars, Workshops, Conclaves etc.
For more information please visit www.iaaindiachapter.org
On behalf of IAA
Soumen Santara – +91 9819980202