Sony Pictures Networks India Announces Interactive Digital Experiences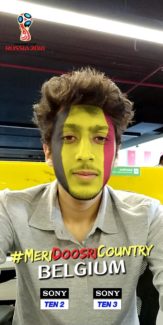 Mumbai, June 19, 2018:
Sony Pictures Networks India (SPN) is all set to transform the 2018 FIFA World Cup Russia experience for fans through new digital initiatives. SPN has introduced an integration with Facebook AR (Augmented Reality) studio and has launched a unique Second Screen experience for viewers.
Through the integration with Facebook AR studio, fans can support their Doosri Country at the World Cup. Users simply need to select the country they are supporting, and the Facebook camera will scan their face and paint the selected 'Doosri Country' flag over the picture. This entire experience gives fans the opportunity to engage with friends and family by sharing images on their page and inviting others to try the experience.
Link: http://www.facebook.com/fbcameraeffects/tryit/930424623783836/
The Second Screen experience for fans is enabled through SonyLIV, the premium OTT platform of SPN. Fans will have access to a live interactive platform for all 64 matches of the tournament that will not only engage fans but also encourage them to cheer for their Doosri Country. This Second Screen platform will give fans the chance to experience the World Cup on mobile devices with polls, trivia, and many other interactive features.
Once fans log into SonyLIV, they will have an option to choose between Meri Doosri Country and Match Zone.
Meri Doosri Country: On a click of a button, fans will have access to information like fixtures, team standings, team stats and player profiles of their Doosri Country.
Match Zone: Is a live engagement experience that allows fans to stay a step ahead of the game and show off their football instincts and knowledge. Fans that score the most points for each of the 64 matches will feature on the Leaderboard and win exciting prizes. Fans can participate in activities such as predicting the final match score, the success of penalty kicks, the outcomes of corner kicks and more.
SonyLIV also brings alive 'Match Centre', where viewers can see live scores, player positions, team information, match statistics and live commentary. To make their experience more engaging, users can set reminders or view the entire schedule while the points table gives a quick update on the standings, scores, etc.
Comments:
Kedar Teny, Head of Marketing and OAP, Sports, Sony Pictures Networks India
"We want to provide fans an opportunity to enjoy the excitement of the World Cup, especially on digital platforms where engaging and connecting with other football enthusiasts is a key. These digital experiences through Facebook and SonyLIV are the first of their kind for any FIFA event in India and push the boundaries of fan engagement, making the #MeriDoosriCountry experience available anytime, anywhere." 
Abhishek Joshi, Head – Marketing, Subscription and Content Licensing – Digital Business, Sony Pictures Networks India
"We are excited to bring a whole host of innovations this FIFA World Cup. The second screen experience on SonyLIV is to engage users on their personal devices while they #screamloud for their favourite country. Our endeavour is to reach out to all football fans across India and bring them closer to the game."
2018 FIFA World Cup Russia will be telecast live and exclusive in English, Hindi, Bengali, Malayalam, Tamil and Telugu on SONY TEN 2, SONY TEN 3, SONY ESPN channels till July 15, 2018 and will also be streamed live on SonyLIV App and website.
About Sony Pictures Networks India (SPN)
Sony Pictures Networks India (SPN), is a subsidiary of Sony Corporation which owns and operates the Sony Entertainment network of television channels.
SPN comprises 31 channels including Sony Entertainment Television (SET and SET HD), one of India's leading Hindi general entertainment television channels; MAX, India's premium Hindi movies and special events channel; MAX 2, another Hindi movie channel showcasing great India Cinema; MAX HD, a high definition Hindi movie channel airing premium quality films; WAH, the FTA channel for Hindi movies; SAB and SAB HD the family-oriented Hindi comedy entertainment channels; PAL, a genre leader in rural Hindi speaking markets (HSM) showcasing the best of Hindi general entertainment and Hindi movies from SPN's content library; PIX and PIX HD, the English movie channels; LePlex HD showing critically-acclaimed Hollywood films; AXN and AXN HD, the action and adventure-oriented English entertainment channels; Sony BBC Earth and Sony BBC Earth HD, the premium factual entertainment channels, Sony AATH, the Bangla entertainment channel; MIX a refreshing Hindi music channel; ROX HD, a channel for contemporary Hindi music; YAY!, the kids entertainment channel; Sports Network comprising 11 sports entertainment channels – SONY SIX, SONY SIX HD, SONY ESPN, SONY ESPN HD, SONY TEN 1,  SONY TEN 1 HD, SONY TEN 2, SONY TEN 2 HD, SONY TEN 3, SONY TEN 3 HD, SONY TEN GOLF HD; SonyLIV – the digital entertainment VOD platform, SPN Productions, the networks' film production arm and Sony Pictures Networks Distribution Pvt Ltd. (SPND) that distributes the networks television channels across different genres and languages through multiple content delivery platforms. SPN reaches out to over 700 million viewers in India and is available in 167 countries.
The network is recognized as an employer of choice within and outside the media industry. SPN is a recipient of several awards, including the 'Aon Best Employers India' Award in the 2017 edition in recognition of SPN's unique workplace culture and exceptional people practices, consistently ranking amongst India's Top 10 Companies with Best Health & Wellness Practices by SHRM & CGP Partners, listed by Working Mother & AVTAR as one of the 100 Best Companies for Women in India in 2017 and adjudged one of India's Great Mid-Size Workplaces by the Great Place To Work® Institute for the 2017 edition.
Sony Pictures Networks India Private Limited is in its 23rd year of operations in India. Its subsidiaries include Sony Pictures Networks Distribution India Private Limited, MSM-Worldwide Factual Media Private Limited, MSM Discovery Private Limited, Taj Television (India) Private Limited, Aqua Holding Investments [Pvt.] Ltd., and Bangla Entertainment Private Limited.