Synaptics new Design Center in Bengaluru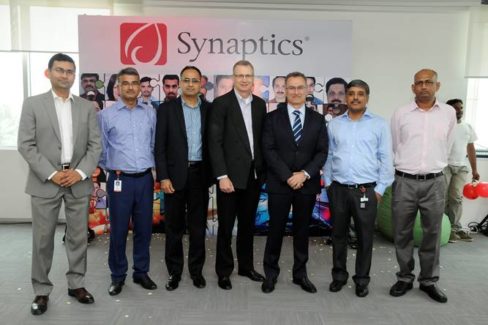 Synaptics Inaugurates State-of -the-Art Design Center in Bengaluru to Support Rapid Growth
Design Center will House Growing Consumer IoT Business and Hire Local Talent Across Silicon and Software
Bengaluru – May 23, 2018 – Synaptics Incorporated (NASDAQ: SYNA), the leading developer of human interface solutions, today announced the opening of its new design center in Bengaluru. The new facility, which is located in the RMZ Ecospace, was inaugurated at a ceremony attended by several members of senior management including Jean Boufarhat, SVP, Mobile Silicon Engineering. The state-of -the-art design center has initial capacity to accommodate 150 employees, with 65 joining immediately, including engineers and supporting staff and will enable a collaborative work culture to aid rapid growth.
The new Synaptics design center will position India to develop leading-edge human interface solutions to support the growing consumer IoT market — notably Smart Homes — and will serve as a hub to support both global and South-East Asia markets. Hardware and software engineers in Bengaluru will lead in developing these cutting-edge solutions for consumer IoT markets and support Synaptics' rapid growth in the vertical. The expansion in Bengaluru will further Synaptics' presence in India, in addition to its established Hyderabad operations.
The design center is equipped with state-of-the-art infrastructure and tools in an expansive area of 21,000 square feet with modern work stations, labs, meeting rooms, multifunction rooms, collaboration spaces, cafeteria and recreation room.
Commenting on the inauguration of the design center, Jean Boufarhat, SVP, Mobile Silicon Engineering of Synaptics said, "We now have access to highly skilled resources in the local area which will allow us to further develop our growing business and service our customers across the world right here from Bengaluru. The design center also strengthens our commitment to recruiting and developing Indian talent, while providing the tools for our teams to advance in their careers with us and create innovative solutions for consumer IoT applications."
About Synaptics: 
Synaptics is the pioneer and leader of the human interface revolution, bringing innovative and intuitive user experiences to intelligent devices. Synaptics' broad portfolio of touch, display, biometrics, voice, audio, and multimedia products is built on the company's rich R&D, extensive IP and dependable supply chain capabilities. With solutions designed for mobile, PC, smart home, and automotive industries, Synaptics combines ease of use, functionality and aesthetics to enable products that help make our digital lives more productive, secure and enjoyable. (NASDAQ: SYNA) www.synaptics.com.