Teabox debuts at Bangalore airport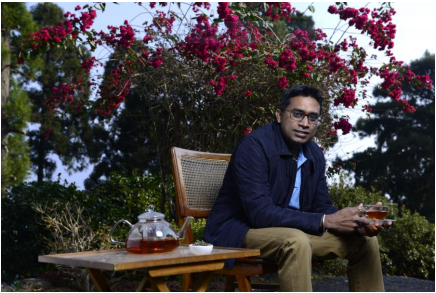 India, 2019 – India"s finest premium tea brand – Teabox, is launching a new store at Bangalore airport to offer an aromatic, refreshing and exclusive tea experience to travellers in the first week of June. Spread across 650 sq ft, the store has a range of more than 40 teas, contemporary tea ware and unique tea gifts sure to amuse tea lovers.
From classic black and green teas to exotic blue tea, whites & handcrafted tea blends, the store promises a special brew for every visitor. In design, the store exudes the freshness of Darjeeling hills: natural textures, a tonal white and neutral palette, simple finishes and much greenery. With subtlety and elegance, the store tells its brand story through messages designed on units and effective integration of lifestyle spaces with interactive zones like "the cup zone" and "the multi-sensory zone" are certain to enhance every customer"s experience to the tea store.
The multi-sensory section which allows one to touch, feel, smell, and taste the finest teas is, in every sense, a tea connoisseur"s fantasy. Also, unlike ever before, Teabox has curated a special menu for travellers who can choose from single-estate teas, classic favourites, iced teas, kombucha and signature blends, to begin their journey with fresh exotica. These teas are beautifully inspired by different moods, seasons and occasions.
Furthermore, there is a unique range of teas on offer each week for the tea lover to explore and relish. "The store is all about personalization, connection, and immersing yourself in all-things tea. We don"t want customers just to walk in, grab their tea and leave. We want them to indulge in conversation, learn and appreciate the flavours and the blend of the tea.
It is this extraordinary, interactive experience we aspired to give our customers that made us introduce a multi-sensory zone in the store. It allows you to touch the leaves of quality teas, smell their aroma, taste the liquor, and feel refreshed – almost serving every purpose of a rejuvenation therapy. Besides, every traveller longs for a stimulating start to their journey, and that"s exactly what Teabox is here to offer." says Prachi Jain, who heads the Brand Experience. Teabox envisaged a changed perception of tea from a "humble afternoon beverage" to a "drink for the soul". The new outlet at the Bengaluru International Airport that is a sensory experiential centre is indeed a step in conjunction with that very vision.
About Teabox: Being India"s first premium global tea brand, Teabox is redefining the way tea is perceived, felt, smelt, bought, made and experienced, one cup at a time; uniting the richest flavours of the finest teas with the curious, the cultivated and the adventurous all over the world. TeaPacs by Teabox are the world"s first nitro tea bags that are sealed at the source using a natural Nitrogen flush that keeps the tea as fresh as the day it was picked.
Teabox buys the first pick of every season. It has its own quality parameters, through which their in house tea tasting panel, with a cumulative of 100 years of experience of picking teas for their texture, color, scent, and purity, decides which tea needs to be on the Teabox catalog. They can do this because they"re based in the same foothills and gardens where their teas are grown.The happy consequence is a better price for a much better tea. Teabox sells its products globally and has shipped to more than 117+ countries so far.