Toreto Unleashes Trilogy; Smart and Stylish Power Bank with in-built Charging Cables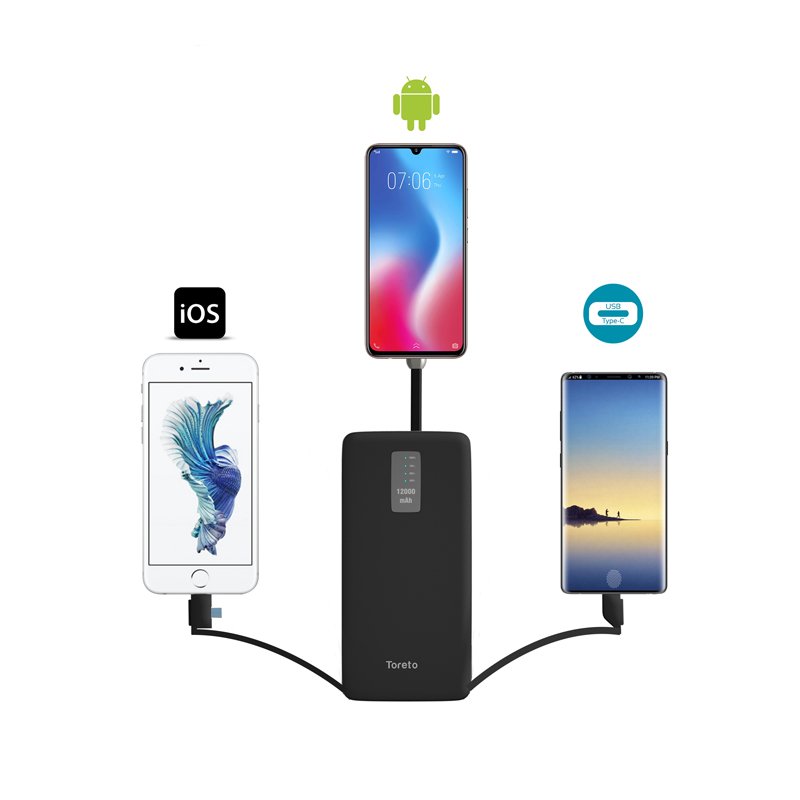 New Delhi, June 11, 2019: Toreto, a prominent name in the digital product market launches its all-new Power Bank "Trilogy", a new addition to its already existing strong line-up of Power Banks in India. Trilogy is designed to be a combination of style and utility as it can easily slip in your pocket and is not bulky as compared to other power banks just weighing 214 grams.
Trilogy is a 3rd generation power bank and is made using a superior quality alloy plastic shell which makes its dust and fireproof. Apart from this, it has an inbuilt intelligent safety system that protects the device from overcharging, high temperature and short circuits.
With a battery capacity of 12000 mAh and equipped with LED battery indicator, Trilogy can charge your devices at a robust speed due to its fast charging feature. One can also connect up to 4 devices of 5V simultaneously. The most phenomenal feature of this power bank is that it has 2 in-built charging cables with Type C, Micro and Lightning connectors.
Trilogy comes with a Lithium Polymer Battery and is available in black and white color that compliments every device.
Features:
LED Indicator
Fire and Dust Proof
Pocket Size and light-weight
12000mAh Battery Capacity
In-built 2 charging cables with Type C, Micro and Lighting connectors
2 Input ports (Micro/Type C) and 4 Outputs with 5V devices compatibility
Available in Black and White color
Pricing and Availability:
Toreto Trilogy Power Bank is available at a very attractive price of INR 1,999/- through all the leading e-commerce platforms and retail stores across India.
About Toreto:
Toreto, founded by a small team of Audiophiles and Gadget-Aholics, is here to make a mark in the gadget industry. From developing and manufacturing the gadget supports for the huge market of mobile users, Toreto has created a benchmark for a blend of design and intelligence.
Founded in 2013 in Hong Kong/India, Toreto has been coming up with award-worthy and user-friendly designs in the years gone by. Their products are a perfect combination of cutting-edge technology and sleek design.
The brand strives to push the boundaries of innovation just to ensure greater user experience. From speakers to battery packs, the brand has brought in smart Bluetooth audio devices, tech-savvy gadgets and one-stop-solution for batteries of Smartphones, digital cameras and tablets etc.