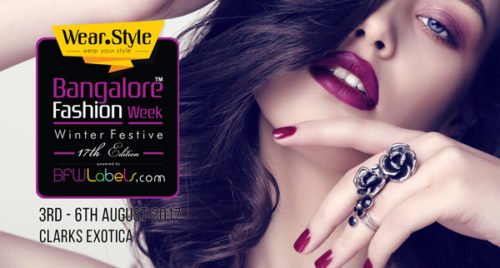 17th Edition of Wear.Style Bangalore Fashion Week Is Set To Light Up Bangalore
Witness the designing prowess of celebrated designers such as Riyaz Gangji, Pria Kataaria Puri, Monapali and Abhishek Dutta
Bengaluru: Panache and flamboyance will be on display, as Bangalore Fashion Week –Winter Collection embarks from 3rd to 6th of August at Clarks Exotica. The 17th edition, powered by Wear.Style – an online style destination, will be packed with 26 runway shows, display of 25 designers' creations. It will showcase absolute elegance and modishness, as some of the leading designers of the country will showcase their finest winter festive collection.
This season, Wear.Style Bangalore Fashion Week Winter Festive will be a spectacle, perfected by an amalgamation of diversity, creativity and vigour. It will showcase a magnificent line-up of handpicked designers in a four-day gala. It shall feature the works of renowned designer's like Shruti Chopra, Govind Kumar Singh, Purvi Doshi, Rajyalakshmi Gubba, Vijay Rana and Riyaz Gangji among others. In addition to this, eminent personalities from all walks of life, including celebrated names from Bollywood will be gracing the event, adding their sheen to this star-studded affair.
Bringing together a concoction of designers in its 17th edition, Mr. Feroz Khan, Event Director – Dream Merchants, said "Wear.Style Bangalore Fashion Week epitomizes the innovative heartbeat and culture that makes this city Bangalore so vibrant. The 17th edition of the Fashion Week promises to be the most sought-after platform in the country, showcasing the latest in fashion for the winter festive season. Every year, our aim has been to nurture the creativity and talent of young designers. For this edition, we are proud to introduce names that not only define the future of fashion but bring in the rich fashion heritage the country has to offer".
Itinerary
Show Time
Designer Name
Designer Label Name
3rd August 2017- Thursday
2:00PM
Dream Zone
Dream Zone
3:00PM
Namrata Sanghi
Vaidehi
3:15PM
Aishwarya Tyagi
Aishwarya Tyagi
4:00PM
Seema Singh
Seema Singh
6:00PM
Rohan Pariyar
Rohan Pariyar Studios
8:00PM
Abhishek Dutta
Abhishek Dutta
4th August 2017 – Friday
2:00PM
Dream Zone
Dream Zone
3:00PM
Amukta & Kriti
Amukta & Kriti
3:15PM
Rajesh Nepal
Rajesh Nepal
4:00PM
Parimala Jayakar Shetty
Parimala Shetty
6:00PM
Mini Shangle
Mini Shangle
8:00PM
Monapali
Monapali
5th August 2017 – Saturday
2:00PM
Dream Zone
Dream Zone
3:00PM
Prreeti Jaiin Nainutia
Nirmooha
3:15PM
Pranshu Garg
Tantu by Pranshu Garg
5:00PM
Kavya & Pooja
Sacaru By Kavya & Pooja
8:00PM
Rahul Singh
Rahul Singh
9:00PM
Pria Kataaria Puri
Pria Kataaria Puri
6th August 2017 – Sunday
2:00PM
Dream Zone
Dream Zone
3:00PM
Shruti Chopra
Shr

17th Edition of Wear.Style Bangalore Fashion Week Is Set To Light Up Bangalore

Witness the designing prowess of celebrated designers such as Riyaz Gangji, Pria Kataaria Puri, Monapali and Abhishek Dutta

Bengaluru, July 25, 2017: Panache and flamboyance will be on display, as Bangalore Fashion Week –Winter Collection embarks from 3rd to 6th of August at Clarks Exotica. The 17th edition, powered by Wear.Style – an online style destination, will be packed with 26 runway shows, display of 25 designers' creations. It will showcase absolute elegance and modishness, as some of the leading designers of the country will showcase their finest winter festive collection.

This season, Wear.Style Bangalore Fashion Week Winter Festive will be a spectacle, perfected by an amalgamation of diversity, creativity and vigour. It will showcase a magnificent line-up of handpicked designers in a four-day gala. It shall feature the works of renowned designer's like Shruti Chopra, Govind Kumar Singh, Purvi Doshi, Rajyalakshmi Gubba, Vijay Rana and Riyaz Gangji among others. In addition to this, eminent personalities from all walks of life, including celebrated names from Bollywood will be gracing the event, adding their sheen to this star-studded affair.

Bringing together a concoction of designers in its 17th edition, Mr. Feroz Khan, Event Director – Dream Merchants, said "Wear.Style Bangalore Fashion Week epitomizes the innovative heartbeat and culture that makes this city Bangalore so vibrant. The 17th edition of the Fashion Week promises to be the most sought-after platform in the country, showcasing the latest in fashion for the winter festive season. Every year, our aim has been to nurture the creativity and talent of young designers. For this edition, we are proud to introduce names that not only define the future of fashion but bring in the rich fashion heritage the country has to offer".

Itinerary

Show Time
Designer Name
Designer Label Name
3rd August 2017- Thursday
2:00PM
Dream Zone
Dream Zone
3:00PM
Namrata Sanghi
Vaidehi
3:15PM
Aishwarya Tyagi
Aishwarya Tyagi
4:00PM
Seema Singh
Seema Singh
6:00PM
Rohan Pariyar
Rohan Pariyar Studios
8:00PM
Abhishek Dutta
Abhishek Dutta
4th August 2017 – Friday
2:00PM
Dream Zone
Dream Zone
3:00PM
Amukta & Kriti
Amukta & Kriti
3:15PM
Rajesh Nepal
Rajesh Nepal
4:00PM
Parimala Jayakar Shetty
Parimala Shetty
6:00PM
Mini Shangle
Mini Shangle
8:00PM
Monapali
Monapali
5th August 2017 – Saturday
2:00PM
Dream Zone
Dream Zone
3:00PM
Prreeti Jaiin Nainutia
Nirmooha
3:15PM
Pranshu Garg
Tantu by Pranshu Garg
5:00PM
Kavya & Pooja
Sacaru By Kavya & Pooja
8:00PM
Rahul Singh
Rahul Singh
9:00PM
Pria Kataaria Puri
Pria Kataaria Puri
6th August 2017 – Sunday
2:00PM
Dream Zone
Dream Zone
3:00PM
Shruti Chopra
Shruti Chopra
3:15PM
Govind Kumar Singh
Rainush
4:00PM
Purvi Doshi
Purvi Doshi
6:00PM
Rajyalakshmi Gubba
Rajyalakshmi Heritage Banaras Sarees
8:00PM
Zeba and Rahul
Zeba by Zeba and Rahul

uti Chopra

3:15PM
Govind Kumar Singh
Rainush
4:00PM
Purvi Doshi
Purvi Doshi
6:00PM
Rajyalakshmi Gubba
Rajyalakshmi Heritage Banaras Sarees
8:00PM
Zeba and Rahul
Zeba by Zeba and Rahul
17th Edition of Wear.style Bangalore Fashion Week