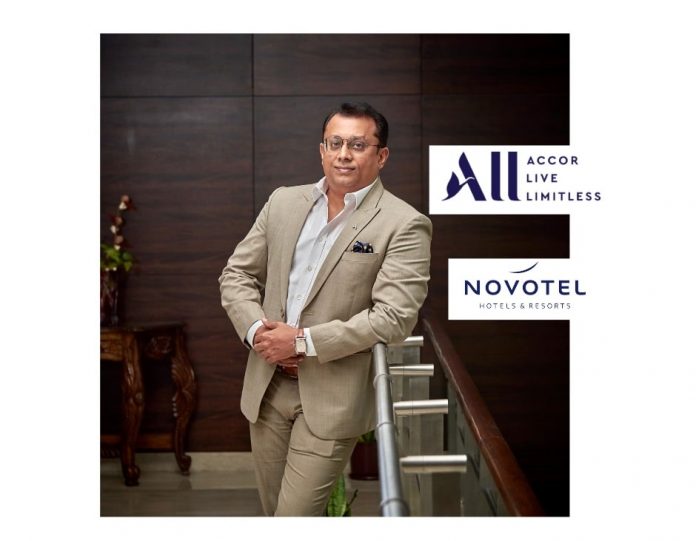 The pandemic has been a period of incredible challenges across sectors, economies, nations and societies. Hospitality has had to face a lot. Estrade Board Room had the opportunity to speak to Rubin Cherian, General Manager – Novotel Hyderabad Airport, who shed some light on the happenings in his line of business.Following are excerpts from our interaction with him,
Tell us about Novotel Hyderabad Airport and your association with the parent Accor Group. What are your day to day major challenges?
While I've been associated with this hotel since October 2019, I also have a total of almost 18 years of association with the Accor group. I joined as a Management trainee for Accor hotels through campus recruitment and worked with the group for 5 years. After working for couple of years in other International brands, I re-joined the group in 2008 as a pre-opening team to open our Novotel Mumbai Juhu Beach. So before my current stint at Novotel Hyderabad Airport, I also opened the Ibis Hyderabad Hitec City, worked at Ibis Bengaluru Hosur Road and Novotel & Ibis Bengaluru ORR.
As most hoteliers would agree, no two days are similar in the life of a hotel industry. Every day comes with its own set of challenges as well as glory. In today's scenario we have more challenges than otherwise. Some of the challenges include – luring in business, maintaining cash flows, managing all our stakeholders including, owners, employees, management and most importantly guests. Competition within the industry is also a big challenge and this primarily because of the supply exceeding the demand with most hotels ending up in price wars to get a bigger bite of that demand pie. Managing the safety, hygiene and health of our employees demands higher focus to ensure the safety of our guests. Paying for huge liquor licence and liquor cost with limited footfalls owing to various restrictions and lockdowns imposes extra burden in managing the profitability for our outlets.
The list could go on, but we as hoteliers are willing to overcome all these challenges and all we expect in return during these trying times is a little support and understanding from our government and our guests.
"2021 is shaping up to be a packed year for Accor, with 195 openings and 41,238 rooms on the cards worldwide. Things will be almost as busy in 2022 as well – it's lining up 142 new hotels and 31,604 keys for next year."
What are your major products and services? How do they differ for Novotel Hyderabad Airport vis a vie Novotel in the rest of India? What is your range of operations (in and around Hyderabad city)?
Being the only five star hotel located near Rajiv Gandhi International Airport and that too set within the lap of nature with expansive views & a resort-like ambiance, we have a great advantage. The hotel comprises of 292 spacious rooms and suites, 70,000 sq.ft. of flexible banqueting spaces, sports arena, state-of-the-art gym, spa & multiple dining options. Novotel Hyderabad Airport is an ideal destination which is safe and hygienic for transit stays, corporate events, conferences and day outings and weddings. The idealistic location of the hotel is perfect to conduct meetings and simultaneously giving a chance to relax and unwind. There are multiple recreational activities which can be utilised during the stay with us.  Our USP is an expansive sports arena which comprises of a tennis, basketball and volleyball court which is perfect for organizing team activities or for a workout session in the morning amidst nature.
The hotel being surrounded with lush green and manicured lawns, is perfect for leisurely walk or to enjoy a cup of coffee in the company of chirping birds. We also have an organic garden called "The Patch" where the hotel grows its organic produce of vegetables and various other herbs. Unlike any other hotel in the City, we have developed a site called "Area 44", which is ideal for camping under the starry skies that can also be accompanied with live barbeque, some music along with our impeccable service and hospitality.
The guests coming to the hotel are longing for good time with their loved ones and to celebrate life and occasions they have missed during the lockdown. While they are looking to experience the hospitality and enjoy delectable food, hygiene and cleanliness is their top priority. We at Accor are able to instil the confidence in them of providing a safe and hygienic environment under the ALL Safe label.
Accor as a brand have multitude number of brands under its umbrella and we have currently 04 hotels in the city which comprises of 02 Novotel Hotels, Mercure at Banjara hills and Ibis hotels in hi tech city.
Kindly give some details about your industry of operation – local, India and the world: market size, challenges, opportunities, key metrics, etc. How do you see the future growth of this market, along with your company's growth?
The number of hotel rooms in India is anticipated to surge to 3.33 million through 2023 from a meager 18,000 in 1995 – 96, reveals 'The Ultimate Indian Travel & Hospitality Report' complied by Hotelivate in association with CAPA and WTTC India Initiative and total number of star classified hotels stand at 1300  as classified by Ministry of Toursim.
Hospitality and tourism as an industry provides with great employment opportunities and employs around 87 million people and have contributed close to 7 % GDP.
Though adversely effected by the pandemic but the sentiment is only improving by the day and we see a fast recovery with leisure travel bouncing back first.
Accor is a world leading augmented hospitality group offering unique and meaningful experiences in almost 5100 hotels, resorts and residencies across 110 countries. The brand is also diversifying itself in new ways to live, work and play with food and beverage, nightlife, well-being and co-working brands.
2021 is shaping up to be a packed year for Accor, with 195 openings and 41,238 rooms on the cards worldwide. Things will be almost as busy in 2022 as well – it's lining up 142 new hotels and 31,604 keys for next year.
Who is your target audience? What is your marketing strategy for each target group? 
As mentioned before our hotel is very strategically located close to the international airport and is witnessing enormous development in the surrounding areas of the hotel. The geographical space has a great potential and the land topography will witness a complete metamorphism from what it is today in coming years. There are plans to develop various ports around the hotel which include logistics, aerospace, education, entertainment and residential.
Our hotel has a unique mix of all segments which includes, corporates majorly driven by various project sanctions taking place in the hotel vicinity, aerospace, aviation clubbed with leisure and weddings. The team at the hotel is extremely agile in keeping a hawk's eye on all investments and developments happening in the city to target the relevant audience.
"…the recover from the last unlock in June 2021 has been rather rapid and we see some green shoots be it in terms of social events or corporate travel. Travel related with the manufacturing and production has resumed and we see the positive incline in the graph with each passing day."
Which product segment is the most popular and which one the highest revenue earner for Novotel Hyderabad Airport? – Pre pandemic, during pandemic and planned for post-pandemic.
Novotel Hyderabad Airport is the preferred hotel for destination weddings since the hotel has a resort like ambience and varied options for indoor and outdoor venues. We have an edge over any other city hotel as we are surrounded with lush green manicured lawns which serve as a perfect venue for pre and post wedding functions. The guest has an option to choose different venues for each event that they plan during their stay with us. This helps in curating a niche experience for their guests and loved ones.
Weddings as a segment tops the list and is the most productive segment for our hotel pre and post pandemic.
How has the eco system in India changed during this pandemic? How do you see the market and the sentiment of Indian consumer evolving?
New surveys show that travellers are weighing new factors when planning travel needless to say hygiene and sanitization tops every ones list. The guests in today's scenario are extremely cautious and are not willing to compromise on the hygiene quotient. Added to this they are on a constant look out for locations that are away from the city and are not densely populated.
During this pandemic, hotels have closed or are still struggling to survive. Your view and comments on this prevailing situation.
Pandemic has surely battered the hospitality industry and other related businesses and these are without doubt the toughest times one has witnessed in the history. The impact of the pandemic has been surmountable and all of us are hoping for better days.
Having said that the recover from the last unlock in June 2021 has been rather rapid and we see some green shoots be it in terms of social events or corporate travel. Travel related with the manufacturing and production has resumed and we see the positive incline in the graph with each passing day. Also the pace of vaccination drive in our country is trending at a decent pace and travellers who are completely vaccinated are not hesitating to travel any more.
I also feel that we will take another year easily to gain back normalcy and inch towards the business figures in 2019.
"our hotel is also renowned for destination wedding since we are away from the city"
What do you feel is the future of your industry with evolution in technology? How Novotel is leveraging improvements in technology?
Though we all are witnessing unprecedented times however our industry is quite resilient and adapted to the new normal rather quickly. Hospitality industry which is always about a warm smile and conversations with the guests in now a combination of technology coupled with human interface.
Team at the hotel in no time explored various options and streamlined the processes to ensure the human touch points were reduced to ensure a contactless experience and safety of our guests, We at the hotel completely went contactless last year be it the check in process, ordering food in the restaurants any in any other point of sale.
At our hotel not only do we follow the safety and hygiene guidelines laid down under our ALLSafe label, but also disinfection our rooms with the help of a UV trolley . This helped us gain instant confidence of our guests who were extremely cautious about the safety and hygiene levels.
What are your expectations (policy direction) from the Government?
World over the government is fully supporting and backing up the Hospitality industry for them not only recover the losses but also help sustain the business. The Hospitality industry is the backbone of a country and it's the moral responsibility of every government to support them.
In India, while some states have come up with some basic relief measures like waiver of the property tax, subsidised electricity, extension for the renewal of classification licences or even extending the liquor licence fee for up to a year to name a few, we still need to witness some reasonable relief measures for our state. This is one Industry that is governed by so many licenses, checks and fees and hence with ongoing lockdowns and travel restrictions, the revenue source becomes obsolete with no room to sustain the heavy overheads including energy cost and payroll cost. Since this industry is responsible for the employment of so many citizens, it becomes the moral obligation for the government to support this industry.
How do you perceive the threat from your competition? What is the biggest challenge faced currently by your industry?
As mentioned earlier we are the only hotel present in the airport vicinity and have a business mix which juggles between various segments be it aviation, crew stay, aerospace or business travel catering to manufacturing belt. Apart from these segments our hotel is also renowned for destination wedding since we are away from the city, close to the airport and have plethora of open air venues along with indoor banqueting venues. Since we are blessed with a beautiful product and have close proximity to the airport, these factors have helped us attain a niche in the market. Having said that competition in the market is fierce and my sales team is extremely agile to ensure we are on top of it.
What is your vision for Novotel Hyderabad Airport?
Novotel Hyderabad Airport has immense potential and with the entire development of GMR Aerocity happening in the vicinity of the hotel, future years will be extremely lucrative and healthy for the property. Off late there have been massive investments that have happened in Telangana city and we foresee business travel driven by these investments for our hotel. The hotel also is undergoing soft refurbishment and we will soon have a brand new lobby, a gourmet bar and an all new All Day Dining restaurant which is just around the corner.
"2021 – a packed year for Accor"