Mumbai, Maharashtra, India/News Voir//–
Dia Mirza marks a year as the inspiring Ambassador for GF initiatives
CEOs from 3 cities come together take center stage to raise funds for the treatment of critically ill under-privileged children
Genesis Foundation today held the second edition of its one-of-a-kind fundraiser – 40 CEOs Sing for GF Kids, in Mumbai. Business leaders from Delhi, Mumbai and Bangalore came together once again to compete as teams, giving high-energy performances of old, new, Hindi and English songs, to support the treatment of critically ill under-privileged children in the areas of heart, cancer and thalassemia.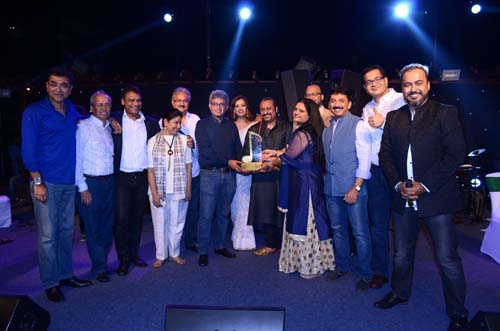 The evening of spell-binding musical performances by leaders of boardrooms, divided in three teams from Delhi, Mumbai and Bangalore, saw a friendly competition, where the corporate honchos exalted the audience with their repertoire of songs ranging from popular western to Bollywood! There were some leg-shaking performances, some gave us goose-bumps and some were purely inspiring.
The event was hosted by popular anchor and singer Mihir Joshi. The performances were evaluated by celebrated personalities like Zila Khan, Indian Sufi and classical singer, Lesle Lewis, Indian and Western fusion singer, and Ashish Manchanda, noted mixing and recording engineer, remixer and music producer.  We also saw singer Harshdeep Kaur of give a surprise performance.
The Delhi team, comprising of CEOs from Jubilant Foodworks, SAP, iBus Network, Global Access Learning Solutions, Cargill India, Napino Auto and Electronics, Modern Foods and McKinsey were announced winners. From Indipop to old Hindi film numbers the Delhi team were true to their name 'Dil Se' and gave a rocking performance of mostly upbeat numbers—straight from the heart.
Speaking at the event, Prema Sagar, Founder Trustee, Genesis Foundation expressed her gratitude and delight, "A delightful event with every person giving their time, effort and best wishes to support critically ill children. What more can one ask for! Just like last year, I am amazed at the commitment that our CEO supporters have for the cause to come all the way from different parts of India to participate in this event. It has been an incredible year for us and I want to express our heartfelt gratitude to each person associated with not just tonight's event but with the Foundation in any big or small way. The task at hand is huge, but our supporters give us the reassurance that it's not impossible."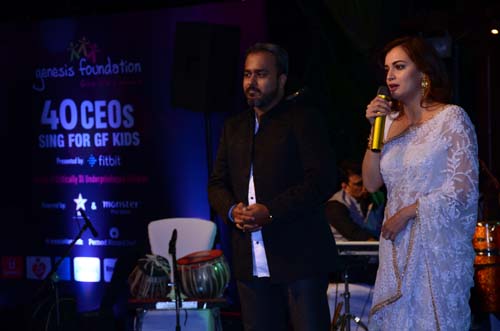 Also gracing the event, Dia Mirza, Actor, Producer, Humanitarian and Ambassador of Genesis Foundation said, "What an exciting, fun evening this was, coupled with the joy of supporting a beautiful cause! Every person associated with Genesis Foundation brings with them an energy that is positive and infectious and I have been fortunate to experience that this past year. These CEOs, setting their busy jobs and inhibitions aside to sing with abandon, the tireless team, the generous supporters—all make for a powerful force in the fight against the critical illnesses that under-privileged children are facing."
The CEOs who gave their valuable time – which is the most precious thing they have – for the event included:
Team Mumbai – Bombay Meri Jaan
Ashwin Deo, Founder & Managing Director, Trinity Vinteners Pvt Ltd.
Atul Ahuja, President, Learning Palm
Dinesh Mirchandani, Managing Partner, Boyden Global Executive Search
Geetu Verma, Executive Director Foods & Refreshments, Hindustan Unilever
Kerman Lalkaka, GM, ITC Grand Central, Mumbai
Mehmood Curmally, Managing Director, Rhythm House, Mumbai
Pankajj Chaturvedi, Executive Director & CEO, Rich Graviss Products
Rajeev Raja, Founder & Soundsmith, Brandmusiq
Sanjay Tandon, CEO, Music Composers Association of India and Singers Association of India
Shireesh Joshi, COO, Strategic Marketing, Godrej Group
Vinodini Lulla, Trustee, CMCA
 Team Delhi – Dil Se
Ajay Kaul, CEO, Jubilant Foodworks Ltd.
Aseem Soni, CEO, Modern Foods
Krishnan Chatterjee, Head of Marketing – India, SAP
Sanjay Kapoor, Chairman, iBus Networks
Shailaja Menon Madhavan, Managing Director, Global Access Learning Solutions
Siraj Chaudhry, Chairman, Cargill India
Vipin Raheja, Chairman & Managing Director, Napino Auto and Electronics Ltd.
Vishal Malik, Head of Operations, Mckinsey Implementation Practice & Mckinsey Capability Center (MCC) India
 Team Bengaluru – Dhun
Mano Nair, President, Novel Infra
Sanjiv Sarin, Managing Director & CEO, Tata Coffee Ltd.
 This unique fund-raiser was supported by Fitbit, Inc, Star TV, Monster.com, Pernod Ricard, Gionee, Red Label Tea, ITC Hotel, Encompass, NewsVoir, Step Up, Quik Relations and GBM Content & Design Bureau.
An initiative to 'Give Life A Chance'
Over the years, 'CEOs Sing for GF Kids' has created a community of CEOs who wholeheartedly support GF's fund-raising initiatives to Give Life a Chance. In keeping with the Genesis Foundation's core to build a participatory culture of giving, musically-inclined CEOs come together each year to raise funds for the critically ill and underprivileged children. "Over the years, the CEOs Sing events have created a community of supporters who don't just give their time to participate in the singing events, like tonight's 40 CEOs Sing For GF Kids, but with their influence, they also inspire their colleagues and other people to give their support to the cause of Genesis Foundation," said Jyoti Sagar, Founder Trustee, Genesis Foundation.
Other fund-raising initiatives by Genesis Foundation
In order to raise awareness and resources to facilitate medical assistance to GF Kids, GF has created unusual and unique participative fundraising events involving music, art and food. Some of these events are Kasauli Rhythm & Blues Festival, CEOs Cook for GF Kids, Music for Life events, among others. Last year saw the addition of another musical event called the Goa Rhythm & Blues Festival, held in Goa for the first time.
Supporters:
Manisha Sood, Country General Manager-India, Fitbit Inc.
"It has been an evening spent well and we are proud to be the title sponsor of Genesis Foundation's flagship event in our third year of association. We hope that our endeavour and efforts will help in spreading smiles through the treatment of critically ill children. The Genesis Foundation team has done some fantastic work to treat the kids and we had a fabulous time with the audience today that took time out of off their busy schedule to contribute for this noble cause."
Sanjay Modi, Managing Director, Monster.Com, APAC & Middle East
"It was an absolutely enthralling evening of music and celebration of life. Clearly we saw that music does cut across boundaries and creates magic when it is for such a noble cause. It truly has been enriching for all of us at Monster to consistently partner with Genesis Foundation and team GF visibly love what they do. We appreciate their spirit, hard work and dedication and congratulate them for putting together this successful show."
Performing CEOs:
Shireesh Joshi, Head Strategic Marketing for Godrej Group
"I have been associated with Genesis Foundation right from the year they started in Gurgaon. It's an honour and a pleasure to be a part of this association as they try to give back to the causes that they support through music, which is my first love as well. Hence it's the best of everything, it's a chance to give and a chance to have great fun with friends you love being with. I have done most of the charity in my life through Genesis, it's the 6th year and counting and have managed to do a few others as well."
Sanjay Kapoor, Chairman iBus Networks
"It's a fulfilling feeling to be able to do something for the under-privileged kids that are associated with Genesis Foundation. I have been associated with Genesis Foundation since over three years now and it's been an incredible journey. Events like these give CEOs like me a chance to unwind and unbridle from our daily lives."
Sanjiv Sarin, MD and CEO of TATA Coffee Ltd
"I have been associated with Genesis Foundation for the past 5 years now. Genesis has put together a very brilliant platform and the kind of work they are doing has given a chance to everyone to come together to sing for a common cause.I believe in giving back to the society in every possible way I can and what Genesis does is helps critically ill children and bring a ray of hope in their lives. I feel I am blessed to be able to be a part of such an organization and hope to continue this association in the years to come."
40 CEOs Sing for GF Kids