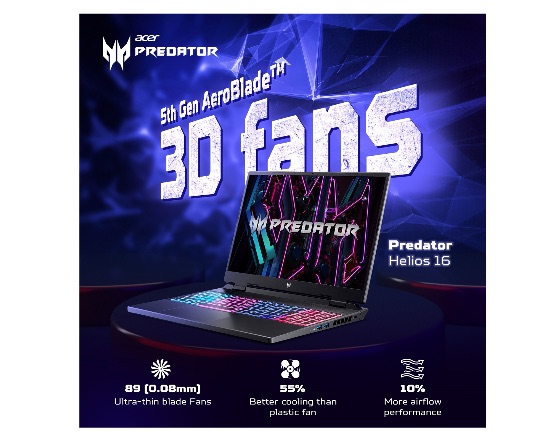 Acer India expands its Power-Packed Predator Helios line-up, adds two new variants with 13th Intel Core i5 and i7 processors along with NVIDIA 4000 series graphics card
18 May 2023, Hyderabad/Bangalore: Acer, one of the world's leading gaming PC brands, has expanded its gaming laptop portfolio by adding two new variants in the Predator Helios lineup. The Predator Helios Neo comes with 13th Gen Intel Core i5 and i7 processors, as well as NVIDIA® GeForce RTX™ 4050 and 4060 series GPUs. These processors use the cutting-edge NVIDIA Ada Lovelace architecture, providing unmatched speed for gamers and creators, with exceptional performance and AI-driven graphics. The combination of hybrid architecture and up to 32GB DDR5-4800MHz RAM delivers unmatched performance, resulting in a significant difference in even the most demanding games, with lightning-fast load times and seamless gaming experience.
Featuring IPS (In-Plane Switching) technology, the 16.0″ display of the Predator Helios Neo series delivers an immersive visual experience with a WQXGA resolution of 2560 x 1600 and 1920 x 1200, and high-brightness levels of 500 and 400 nits, resulting in vibrant colors and intricate details. The WQXGA panel is a powerhouse that boasts NVIDIA® G-SYNC® and 100% Advanced Optimus technology, enabling maximum graphics performance. Additionally, the Acer ComfyView™ LED-backlit TFT LCD technology ensures clear visibility even in well-lit environments, while the 165 Hz refresh rate guarantees smooth and fluid visuals that enhance the gaming experience, making it an ideal choice for gaming enthusiasts.
Both variants feature an advanced cooling system, which includes 5th Gen AeroBlade 3D fans, heat pipes, and liquid metal thermal grease, ensuring uninterrupted performance even during extended gaming sessions, without any heat-related issues. Users can easily switch between different operation modes using the upgraded PredatorSense 4.0 utility app and the redesigned RGB backlit keyboard. The laptops also feature both Ethernet and Intel® Killer™ Wi-Fi 6 AX1650 for unhindered speeds, with the Intel® Killer™ E2600 providing high-performance Ethernet connectivity, and the Wi-Fi 6 AX1650 offering fast and reliable wireless connectivity. Furthermore, two USB Type-C™ ports with Thunderbolt™ 4 support can be used for DisplayPort, G-SYNC, and PD charging, providing users with versatile and high-speed connectivity options.
On the expansion of Predator Helios series, Sudhir Goel, the Chief Business Officer, Acer India said, "The Predator Helios series has received widespread recognition among the gaming community as the best choice for pro-gamers. The latest range of Predator Helios models will bring wider options to choose from with the latest 13th Gen Intel processors and NVIDIA 4000 series graphics card options. Now pro-gamers have wider to choose a Predator Helios laptop that fits their budget."
 PRICING AND AVAILABILITY
The Predator Helios Neo 16, starts at Rs. 109,990 respectively and is available in all Acer Exclusive Stores, Acer online store, Croma, Vijay Sales, Flipkart, and Amazon.
Read More Articles on Estrade Technology
Acer India adds 13th Intel Core i5 and i7 processors