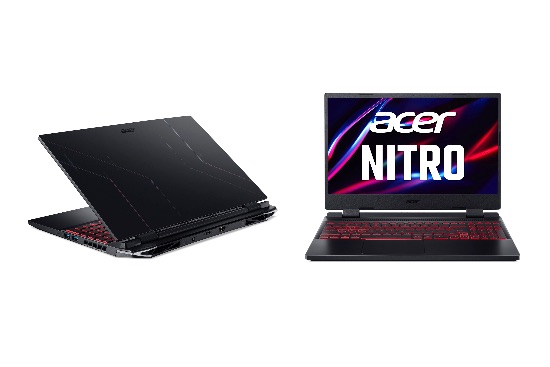 Acer launches the New Nitro 5 Laptop, India's first gaming laptop with AMD Ryzen 7000 Series
Highlights:
Equipped with AMD Ryzen™ 5 7535HS hexa-core processor or AMD Ryzen™ 7 7735HS octa-core processor and NVIDIA® GeForce® RTX™ 3050 with 4 GB of dedicated GDDR6 VRAM
The latest Nitro 5 comes with a 4-Zone RGB keyboard
The newly refined chassis is designed with dual- fan cooling, dual-intakes and a quad-exhaust port keeping the device cool at all times
The new Nitro 5 is powered by the latest gigabit Ethernet technology, the Killer E2600 delivers incredible online experiences
Hyderabad/Bengaluru, 20th March 2023:  Acer, one of the world's leading gaming PC brand, launched the all-new Nitro 5 with AMD Ryzen 7000 series. With a 57.5 Wh 4-cell Li-ion battery and battery life up to 8 hours this is the perfect companion for users on the go.
AMD FreeSync™ allows gamers with a fluid, tear free gameplay experience at peak performance. New Max-Q technology utilize AI to enable thin, high performance laptops that are faster and better than ever. With up to 2*16 GB of DDR5 system memory, attain maximum speed and massive storage for a smooth and seamless gaming experience.
The Wi-Fi 6E, Killer™ Ethernet E2600 low latency gaming, smooth HD streaming video, and interrupt-free voice and video chats. With full range of ports, including HDMI 2.1and the latest USB 3.2 standard with Gen1 and 2 support lets users to plug a variety of peripheral. AMD Ryzen 7000 series being the latest in the market equips gamers and creators with the power of the ultimate performance in one chip. With up to 8 cores, 16 threads and boost clocks of up to 4.55GHz, this latest version of Nitro 5 delivers game-changing performance.
This beast of a laptop is also fitted with a MUX (Multiplexer)switch which allows users to manually enable or disable the iGPU. The updated DTS:X Ultra algorithm utilises improved psychoacoustics and HRTF data giving great accuracy for direction and sound placement, improved externalization, realistic listening experience and good directionality even for stereo contents.
The lightning-quick 165Hz refresh rate 3ms response screen time guarantee s gamers with fluid, unbroken and unmatched gaming sessions. The latest Nitro 5 comes in a 15.6″ display with IPS (In-Plane Switching) technology, full HD keeping the display crisp and on point.
"The Nitro series have an unrivalled reputation for offering cutting-edge technology and intense gaming at affordable prices. As gaming has been in the spotlight for the past several years, we are proud and thrilled to introduce the latest Nitro 5 laptop to our Indian gamers. It features the latest AMD Ryzen 7000 processors which is a gaming powerhouse with high performance. With the latest sleek and refined chassis this robust laptop packs a punch giving the users a seamless gaming experience" says Sudhir Goel, Chief Business Officer, Acer India
On the launch of Nitro 5, Vinay Sinha, Managing Director-Sales, AMD India said, "Our latest AMD Ryzen 7000 series processors deliver game-changing performance with state-of-the-art technologies including high-speed DDR5 memory, PCIe® 5.0 support, AMD EXPO™ one-touch memory overclocking, and hyper-efficient 5nm manufacturing.  Together with ACER, we are providing gamers with greater flexibility in selecting a gaming laptop that fits their budget and preferences by combining different technologies and creating tailored solutions for various form factors. We are certain that the latest Nitro 5 will be welcomed by Acer's loyal customers and thereby enjoy an unbeatable gaming experience."
Dominating Specs
AMD Ryzen™ 7000 Series Processor ushers in the speed of "Zen 4" for gamers and creators with pure power to tackle any game or workflow on the digital playground. The world's most advanced PC processor for gamers and creators extends AMD performance leadership to power your PC.
Combined with the power of NVIDIA® GeForce RTX™ 30 Series GPUs you can reign over the gaming world. Further more you can configure the laptop for maximum speed and massive storage with two slots for M.2 PCIe SSDs1 and up to 32GB of DDR5 RAM
Visual Intensity
Everything looks better in QHD with AMD FreeSync™ keeping those frames tight and in-sync. The lightning-quick 165Hz refresh rate and 3ms response time guarantees fluid, unbroken and unmatched gaming experience.
Coolness Under Fire
The newly refined chassis comes with a few extra tricks up its sleeve in the form of dual- fan cooling, dual-intakes (top and bottom), and a quad-exhaust port design. For extra control, pop open the NitroSense utility app and take command over fan speeds, lighting, and more.
The Key to Victory
Spice things up with the 4-zone RGB keyboard and take control of the laptop's internals with the dedicated NitroSense Key. The WASD and arrow keys are also highlighted for easier visibility in critical situations.
Breaking the Sound Barrier
With dual 2W speakers, better audio provides a competitive advantage as well as a more immersive experience. Sounds are clear and may be provided in a 3D spatial soundscape with DTS:X® Ultra, allowing customers to know where opponents are coming from with pinpoint precision.
Killer Connectivity
With the Intel® Killer E2600 Ethernet Controller and Wi-Fi 6E connectivity, the laptop provides all the tools one need to clear out the online competition. Plug all the peripherals into the full range of ports, including HDMI 2.1 and the latest USB 3.2 standard with Gen1 and 2 support.
Pricing and Availability
The new Nitro 5 starts at Rs 79990 and it is available in all Acer exclusive stores, Acer E-store, and Flipkart.
Read More Articles on Estrade Technology
Acer launches the New Nitro 5 Laptop, India's first gaming laptop with AMD Ryzen 7000 Series