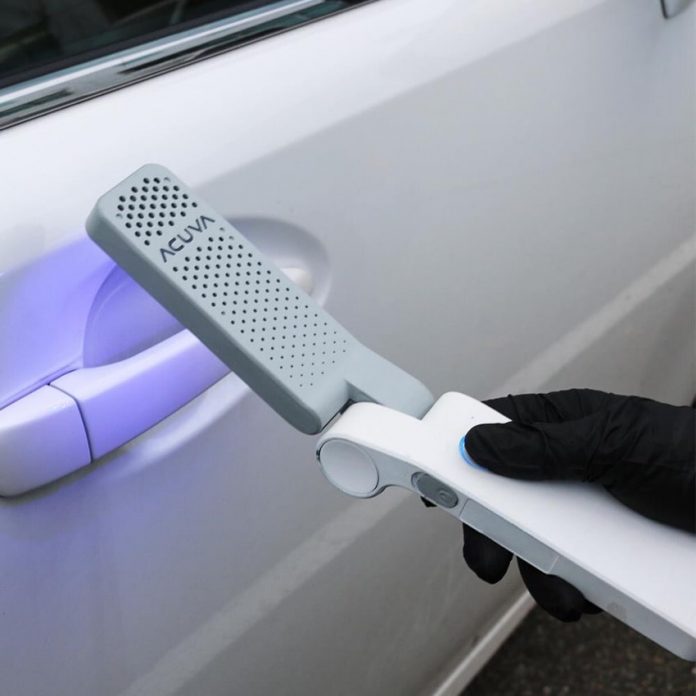 Unveils groundbreaking Acuva SOLARIXportable UV-LED disinfection device which disinfects 99.5%  of bacteria and viruses from non-porous surfaces in 5 seconds
Effective against variant strains of SARS CoV-2; Ideal for surface sanitization
Passed independent validation testing in the US & India
This flagship UV Light Sanitizer product was designed in Canada and is final assembled in India
New Delhi, 31 March, 2021: Acuva Systems India Private Limited, a wholly-owned subsidiary of Acuva Technologies Inc., a global leader in UVC-LED disinfection technologies, debuts in India with the launch of a revolutionary UV-LED surface disinfection product – the Acuva SOLARIX handheld disinfecting wand. This UV light sanitizer device mitigates the threat of SARS-CoV-2 by inactivating the virus on common, high-touch surfaces.
The SOLARIX is a powerful, portable UV disinfecting wand that inactivates bacteria and viruses using UV-C energy, effectively disrupting their RNA rendering them unable to infect or reproduce. This highly effective and chemical-free UV light sanitizer conveniently fits into your pocket and is perfect for disinfecting potentially infectious high-touch surfaces like grocery carts, door knobs, keys, wallets, cell phones, laptops etc.
In recognition of the occasion, Manoj Singh, CEO & President, Acuva Technologies, said "We are very happy to debut in the Indian Market with our Acuva SOLARIX wand – a timely innovation that can help save lives. It is the first of a series of new innovations being developed by Acuva in response to the global pandemic and is a UV-LED based portable disinfection device that is rechargeable as well as fits in your pocket. India is a strategic market for us and we have already established a manufacturing partnership there in Gurugram, Haryana which confirms our commitment to "Make in India, Make for the World."
My personal ordeal with COVID-19 last year gave me time to think about others facing this ruthless virus. We decided to join the fight against COVID-19 by doing what we do best. We applied the same key principles used in our signature UV-LED water disinfection system designs towards the creation of new products to help mitigate the spread of the virus on surfaces," he further added.
Acuva SOLARIX is being offered for an introductory price of Rs. 9999/- against an MRP of Rs. 13249/- and is available on major e-commerce sites.
SOLARIX delivers powerful chemical-free disinfection performance, achieving an efficacy rate of greater than 99.5% against bacteria and viruses, including the SARS-CoV-2 virus, in just 5 seconds. Other devices like UV-LED sterilization boxes can take anywhere from 3 to 15 minutes to achieve the same levels of disinfection. The UV Light Sanitizer device is a compact, handheld device that uses high-intensity germicidal UV-C LED energy to effectively clean and disinfect contaminated surfaces in seconds.
The Acuva SOLARIX includes a number of features to ensure safe operation, including a blue light visual map to indicate the area being disinfected in real time. The foldable device opens to a wide 270-degree angle to allow for faster and easier disinfection of contoured and difficult-to-reach surfaces.  We feel this approach is substantially easier and moreeffective than using typical sanitizing practices and alcohol-based cleaning solutions. A built-in sensor in the unit prevents any accidental user hand exposure to UV.  It also comes with a built-in timer and a power button that requires double-click activation as a child-lock safety function. SOLARIX runs on a rechargeable battery, making it even more convenient to use on virtually any surface, any time and any where.
The Acuva SOLARIX device has received third party validation of its 99.95% disinfection rate at a biosafety level 3 (BSL-3) lab certified by the United States Center for Disease Control (CDC) to receive, handle and use biological Select Agents. This lab conducts test and evaluation programs in the areas of infectious disease, drug development and toxicology for a wide range of clients, including multiple departments within the US Government. The disinfection performance of the SOLARIX UV Disinfection Wand has also been certified by CSIR-CSIO Chandigarh, a premier national laboratory in India.
About Acuva Technologies Inc.
Acuva Technologies Inc. is a global leader in UVC-LED disinfection technology. We design, develop and manufacture advanced UV-LED systems for water, air and surface disinfection applications around the world. Our goal is to protect health and enable a higher quality of life.
Founded in 2014 with the mission to address current challenges and barriers to safe drinking water, Acuva has grown into an international team that spans the globe.
We strive to make a positive social impact with our technology, especially in these unprecedented times where safety from microbiological contamination has never been more important.
Acuva Technology is incorporated in India as Acuva Systems India Private Limited with a manufacturing partnership in Gurugram, Haryana.
For any further information, please visit acuvasolarix.in
ACUVA TECHNOLOGIES DEBUTS IN INDIA