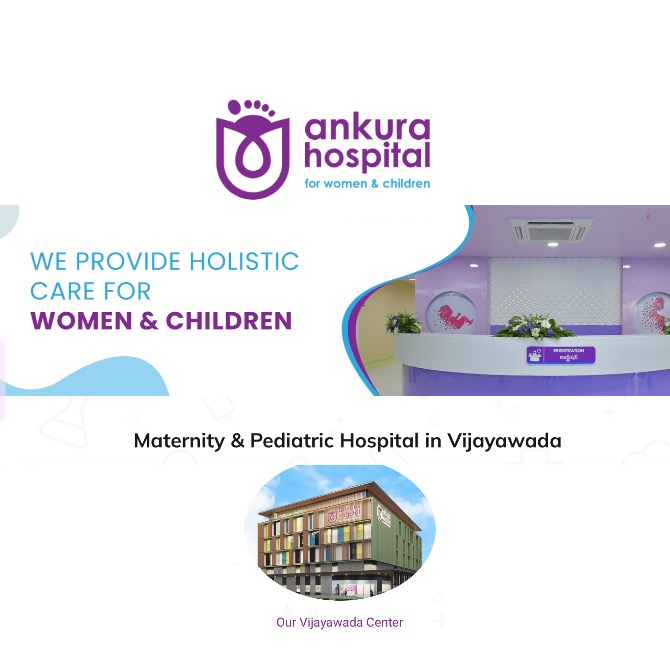 Ankura Hospital Saves Life of Critical Polytrauma Patient

August 17th, 2023:  Ankura Hospital for Women & Children, a prominent healthcare institution known for its specialized services in Women's and Children's health, has achieved a remarkable feat by successfully treating and rehabilitating a 10-year-old girl who faced a life-threatening poly-trauma incident. The expert team of doctors at Ankura Hospital for Women & Children, including an Intensivist Dr, M. Ravi Kumar and Dr. P. Anurupa, Paediatric Surgeon Dr. M. Varun Kumar, Orthopaedic Surgeon Dr. K. Saikrishna, and Anaesthetist Dr. P. Nagaraju immediately attended the patient. They saved her life by prompt action to stop bleeding, stabilizing the patient, and then performing critical surgical procedures.
The girl was brought to Ankura Hospital in a critical condition, suffering from severe bleeding and head injuries. Her injuries included fractures in her left shoulder and left thigh, as well as significant soft tissue damage in the perineal area. A dedicated and skilled team of medical experts immediately commenced efforts to stabilize her. Ankura Hospital's team worked tirelessly to resuscitate the girl, focusing on improving her blood pressure, arresting bleeding, and creating a pathway for urine drainage. The young patient was placed on a mechanical ventilator, and her fractures were expertly immobilized to prevent further damage. Multiple blood product transfusions were administered to stabilize her condition before she could undergo extensive surgical intervention for her injuries.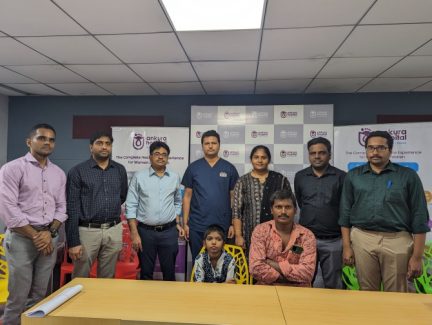 Following careful stabilization, the girl underwent a five-hour-long surgical procedure to repair her urinary and anal openings. The surgical team ensured her safety through post-operative care, during which her wounds healed remarkably well. After five days, the patient was successfully liberated from the ventilator, with both her general and neurological conditions showing gradual improvement. Active neurorehabilitation, provided by Ankura Hospital's dedicated team, played a pivotal role in her recovery journey.
Speaking about the accomplishment Dr. Krishna Prasad Rao Vunnam, Founder and Managing Director – Ankura Hospital for Women & Children said, "We are delighted to have saved the life of one more child. The recovery of this young patient from such a critical situation is a testament to the dedication and expertise of our medical team. This case highlights the crucial importance of rapid and comprehensive polytrauma management within the 'golden hour'. We at Ankura Hospital have a team of expert doctors, trained to handle critical trauma cases with the best-in-class infrastructure of level 3 PICU's & NICUs and Green Operating Theatres to successfully manage such cases."
Speaking about the case Dr. T. V. Vijay Kumar, Medical Director, Ankura Hospital, Vijayawada said, "The young girl's progress was nothing short of remarkable, as she transitioned from a state of unconsciousness to complete normalcy under the hospital's care. It has taken us at least six weeks of rehabilitation to help the patient come back to a near-normal state. Her transformation underscores the significance of effective teamwork and high-quality medical care, particularly in managing critically ill children. This accomplishment stands as a testament to the hospital's commitment to the well-being of its patients."
About Ankura Hospital -A Trusted Name in Healthcare
Ankura Hospital is one of the leading healthcare providers for Women and Children; with super-speciality tertiary and quaternary care services, we aim to instil trust and reliability into each of our patient's experiences. Not only is the hospital highly accessible due to its presence in over 14 locations across Andhra Pradesh, Telangana and Maharashtra. The hospital has a total capacity of 1200+ operational beds to accommodate patients.
Ankura 9M Hospitals is equipped with
Green OT, encouraging and supporting sustainable healthcare delivery.
Level 3 NICU, to facilitate premature babies with critical conditions.
Level 3 PICU, to deliver the highest level of quality paediatric care.
The efficient critical care team at the hospital helps ensure that their expertise results in quality care and unique patient experiences.
Read More Articles on Estrade Technology
Ankura Hospital Saves Life of Critical Polytrauma Patient