The Estrade Editor met up with Mr.Rakesh Reddy, Director, Aparna Construction and spoke briefly about the company road map ahead for Telangana and Andhra Pradesh. Mr.Reddy also gave us an insight about the future of real estate business across India.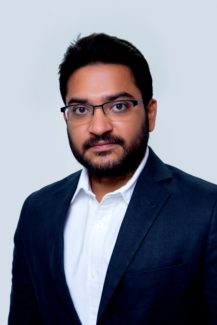 Tell us about Aparna Constructions? About your products and services?
Aparna Constructions is one of the largest backward integrated real estate players in the
states of Telangana and Andhra Pradesh. The group functions with the aim of providing
beautiful living spaces with uncompromising standards of construction and environmental
sustainability.
We have completed a total of 38 projects with a total built up area of over 20million sft and
12000+ customer base with another 10 million sft under construction. All of our properties
are multi award baggers and have state-of-the-art facilities with strong emphasis on
environmental management, energy efficiency, water harvesting and high safety standards.
Some of our properties include Aparna Sarovar Grande, Aparna Hill Park Gardenia and
Aparna Hill Park Boulevard.
What is your geographical range? Which cities/towns have you already successfully built
projects? What is the size of the market you are currently competing in?
Headquartered in Hyderabad, most of our properties are concentrated in Telangana where
we are the preeminent player. We have recently forayed into Bangalore with a couple of
projects and have launched a project in Amravati. Among India's major cities, Hyderabad has seen a consistent growth in property sales in recent years. Property sales in Hyderabad have increased by 32% on average between2013
to 2017.
Hyderabad has always been a popular real estate investment destination, primarily due to its
developed commercial infrastructure and booming IT hub. Hyderabad's residential real
estate market is witnessing considerably higher demand across all housing segments over
the past decade. The factors spurring this growth include the availability of high value
projects with a wide range of amenities, infrastructure and urban migration.
As more and more organisations setup their offices in Hyderabad, this creates an enormous
job market and an equally enormous requirement for residential areas. In addition to IT,
other sectors including manufacturing, defense and aerospace, financial services,
engineering, pharma and hospitality are all flourishing in the city.
What is your review of the success of RERA (Real Estate Regulatory Authority)? For
developers having projects across India, will it increase the cost for permissions and RERA
registrations as each state has its own RERA?
RERA is a good piece of legislation that has impacted the real estate sector positively by
empowering the buyers and making them more confident. The law has helped in formalising
the sector thereby increasing transparency and credibility resulting in more investments.
Since RERA is state/Union Territory governed, there will be lot of dissimilarity between each
state's version. While the cost with regards to permissions may not go up the added burden
of complying with different sets of paper work will be time consuming.
Do you have presence in the Affordable Housing segment? It is being promoted in a big
way, however, do you feel Affordable housing is commercially successful?
Currently, affordable housing segment, however is a small part of our business. However we
plan to make this segment a significant part of our business strategy it in the coming
months. Government of India in the recent past has made multiple efforts to make the
policies friendly for both the builders and buyers. Infrastructure status clubbed with cheaper
sources of funding, deadline extension for project delivery, and revision of carpet area for
MIG category under CLSS are some of the key announcements that are expected to work in
favour of the affordable housing category.
While luxury housing continues to maintain its demand, developers are becoming
increasingly inclined towards building affordable housing projects, especially with the
Government's support. Affordable housing is the most incentivized segment for both
developers and customers. Attracted by growing job opportunities, a large percentage of the
population is migrating to tier-1 and tier-2 cities. As a result, the demand for affordable
housing has increased exponentially. Affordable housing is a highly profitable long-term
proposition for developers if necessary value engineering coupled with good execution is
done.
What is your marketing strategy for each product segment?
Each product category will have to be marketed differently. We need to engage with
potential customers in different ways depending on the price, profile, location and the type
of project as the expectation of customers in each segment is different.
As an example, Luxury projects will typically have more personalised campaigns with the
prospective customers while affordable projects will be marketed through online and
vernacular media.
In the mid segment space the target customer is the mid-level to senior category employee
in the BFSI vertical and NRI's looking for investment. For the former it is a combination of
social media and offline hoarding and newspaper ads pitching on why it is the right home for
them and for the latter we predominantly focus in countries like USA, Singapore, UK and
Saudi Arabia. We offer products which are focussed towards investments and provide good
ROI.
How do you think realty firms would benefit from government's flagship schemes such as
& Housing for All by 2022 and  Smart Cities?
Government's flagship schemes such as 'Housing for All by 2022; and 100 Smart Cities have
created more opportunities for the realty players across India. Realty players can link up
their expansion plans in sync with government's agenda to avail added benefits. However there is a need to make the approval process friendlier for the developers as delay in
approval at any step comes with a cost to the real estate player. Single window clearance for
projects especially affordable housing segment is the need of the hour.
Developers are largely positive about the impact these schemes would have on real estate
and on infrastructure across the country. There will be a surplus of land issued for urban
development and housing, which will ensure that property prices will be stable. By allocating
land for planned urban development and long term housing plans, cities can continually
renew themselves and adapt to changing demographics and requirements. With
Government support, projects will benefit from good infrastructure, well-maintained
drainage and sewerage facilities, good connectivity and much more.
What are the implications of GST on your on-going and future projects? Are there any
changes you expect in the government's GST policy for your industry?
Under GST, the effective rate of tax for real estate works out to 12 % (after land abatement).
That said, prima facie, the GST effect has been mixed on property prices. For projects that
are already at an advanced stage of construction or have been completed a majority of the
costs have already been incurred and input credit was not available. In those cases, project
prices have seen a marginal price rise on the account of the fact that the earlier effective tax
rate of 5.5-5.7%. Having said that we have to see the impact of GST on new launches.
What will be beneficial for the Industry and customers is if stamp duty and registration
charges can also be subsumed into GST and the effective rate be brought down further from
the 12% currently.
How is changing technology impacting Real Estate? The basic components and drivers of
this industry have more or less been the same over many years. You think that realty
companies would find innovative ways of using new technologies such as Big Data,
Complex machines and AI?
At Aparna, we are constantly striving to be the most innovative company in the sector and
lead the future of the industry. We employ many technologies to build best-in-class gated
communities that continue to delight our customers. Data plays a major role in our planning
and design. We test numerous designs before they enter the construction process. Building
Information Modelling is an intelligent 3D model-based process that gives us insight on how
to more efficiently plan, design, construct, and manage construction projects. It is now a
necessity in the industry. Energy modelling tools allow us to make our projects more eco-friendly. We conduct energy
analysis during the conceptual designs of the building, so its efficiency is integrated into the
design. Every project is designed to maximise natural light, energy and airflow.
Drones, or unmanned aerial vehicles, have multiple purposes in the construction industry
including enhancing layout information, communication, safety and marketing.
Which product segment is the highest revenue earner for your company? Which has been
the biggest project in revenue terms for Aparna Constructions? Biggest project in terms of
size? Also, the smallest project in terms of revenue?
Mid-segment and Upper mid-segment constitute the bulk of our projects with luxury and
affordable making up the rest. Aparna Sarovar Zenith, which we have launched recently, is a
gold pre certified project consisting of 2475 apartments is the biggest project that we have
launched so far. It also happens to be the biggest single project in the states of Telangana
and A.P
What are your expectations from the Government?
The measures taken by the government in regards to Real estate in the last two years have
been favourable for the industry and have also helped in getting an organized culture to it.
Demonization, GST, RERA and Benami Transactions (Prohibition) Amendment Act did have
an initial impact, however now things are moving in the right direction. The pain point for
real estate players include non-transparent and time consuming approval processes and
limited availability of land with infrastructure support. We need government's support in
simplifying the processes to promote ease of doing business.
What are some favourable improvements that you would want in the DCR/DP from the
municipalities where you deliver your projects, so as to better serve the market and
deliver the best value to your customers?
The DCR/DP 2031 for Hyderabad is very forward looking and has proposed a radial-
concentric structure of development with new urban nodes and urban centers in all
directions. The plan mainly concentrates on extending the existing HMDA area and
sustainable development. Roadways and water bodies will be given utmost priority along
with Eco-friendly construction regulations. As long as these are implemented as intended in
the plan it will give a big boost to the real estate sector.
Do you see property prices coming down? Explain.
The last two years have seen the inventory overhang in Hyderabad come down substantially
and is in fact the lowest among major metro's in the country. With RERA coming into play
and the low number of new launches we have seen last year and this year and with
continued buyer momentum in the market, I expect the property prices to start moving
north.
Building of Amaravati has huge hopes and expectations from across India. Is this a
leadership opportunity for the planners of Amaravati? Your views and suggestions.
Amaravati is an opportunity to build a green field world-class smart city. It is a first of its
kind opportunity in Independent India. Amaravati is envisioned to be the gateway to India
on the east coast, with exclusive zones for commerce, trade, knowledge, medicine and
tourism. The city has four national highways, one national waterway, one railway route, a
fast expanding airport and a seaport in the vicinity. Its smart city framework will include fibre
optic connectivity and smart infrastructure systems. If planned and executed well, Amaravati has everything it needs to turn into a modern,cosmopolitan hub. The focus should should be on creating the best eco-system for business
and quality of life. As Amaravati develops, it is expected to raise the value of property in
Vijayawada, Guntur and other nearby suburbs.
In the next two years, what are the two trends that will define the future of the industry?
The two trends that we would see define the future of the industry will definitely be Cost
effectiveness and the inclination of people to ready-to-move in properties rather than under
construction properties. Under Construction will continue to attract the investor crowd
while ready-to-move category will see traction from the actual home buyers.
What is your vision for Aparna Constructions, in the
a. Near term future, over the rest of 2018
b. Long term, over the next 4 years or so.
a) As a company, we are always looking to innovate and surpass previous benchmarks. We
have recently launched Aparna Sarovar Zenith at Nallagandla. At 24+ acres with 13 towers
and 2475 apartments, the project is one of Telangana's and Andhra Pradesh's largest
residential projects – of which 18 acres is open spaces. Built on the success of Aparna Sarovar
and Aparna Sarovar Grandé, the project is designed to combine luxurious living, state-of-the-
art home automation technology and environmentally responsible design – all without
The project has a Pre-Certified Gold Rating by IGBC. We are also looking into
expanding our affordable housing segment in a big way this year and we want to be the no.1
player in that segment as well.
b) Over the long term, our vision is to continue creating world-class communities and living
spaces that push the boundaries of the real estate industry. Similar to Nallagandla and
Chandanagar, we want to build full-fledged townships that offer everything residents need
to live their best lives. I intend to see Aparna in the top 5 builders in south india and also
intend to aggressively expand into commercial, retail and warehousing.