Mumbai-based Architect Ar. Khozema Chitalwala, founder, Designer Group recently won the Estrade Real Estate Awards 2020- Digital Edition in two categories Leisure Interior(West) for Hotel Devi Ratn, Jaipur and Interior Design Private Residence(West) for Jagtap Residence, Pune.  He spoke to Estrade Media about the pandemic, the future of design, and winning the awards.
---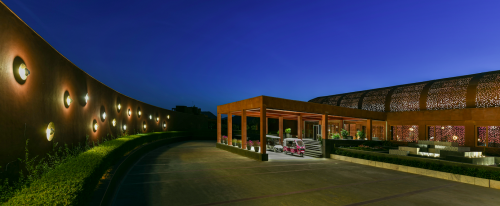 List a few things that stood out for you during 2020? Business, Personal or life-changing?
Remote working or spending unending hours at home was never a part of our lives or the working process at Designers Group. Then, a global pandemic happened. When these changes became a mandate, it coerced us into integrating it into our working system and adopting a new lifestyle as well.
Every exercise related to the implementation of remote working as a mode of operation has lent a lot to an overall life experience. We changed the way we spent our time, we adopted new activities and practices. I would say the effects of being locked down, were all-encompassing, and it has taught us things we did not know we were capable of.
Another important thing that this global outbreak ensured for us and throughout the design industry is the realization that designing is a collaborative process and it takes thorough one-on-one discussions to bring out an impactful design. Therefore, specifically for designing, remote working is not a very fruitful idea.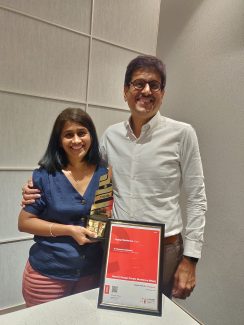 Few words on winning the 2020 Estrade Real Estate Awards – Digital Edition
Designers Group has always been a prominent name in the design industry.
With our heads buried in our work, we have had little time to think of our voice as an entity in the design universe. There has come a time though, we believe, for Designers Group, to showcase their work, participate and contribute to the world of media, with the sizable number of years of experience and list of projects and clientele.
The world as we know it has changed and the dissipation of knowledge and information has gained importance. We are therefore grateful that we have Estrade Awards to provide us with the needed platform. We very much look forward to them being continued supporters of our ever-evolving industry.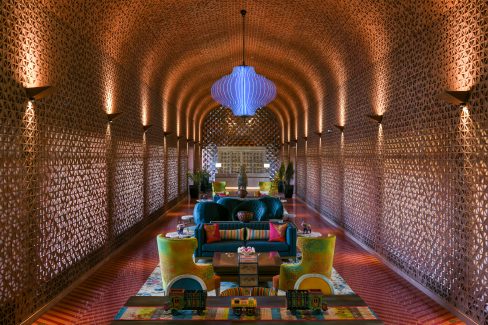 Your views on Market Outlook in 2021?
Fortunately, we did not have to see a major downfall in business during the pandemic. Designers Group has a majority of their business in the hospitality sector.
Although the hospitality sector had to survive a major hit during the pandemic, we have been lucky to have long-standing relationships, created through dependability, with a niche clientele in the hospitality market, and so we managed just fine. As a matter of fact, we have completed a couple of projects during the lockdown and envisage a prosperous 2021 as well in terms of business.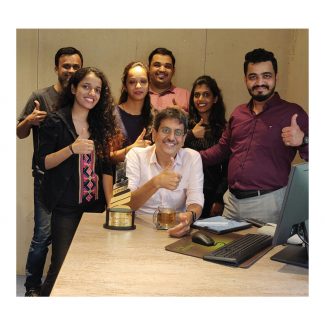 Any expert advice on the economic revival?
I personally believe that people who have faith in themselves and trust in the system never have to look far. They convert every opportunity whether good or bad, into something favourable. Although I am no expert in economics, we at Designers Group have always been positive.
I feel grateful that we were able to sustain ourselves without losing any of the talents we have in our organisation. I am thankful to my team for being supportive and joining hands in surviving this global economic crisis. Over the last few months, since the lockdown has been eased, there has been a positive upward cycle with business and we are thus hopeful for an even better future ahead.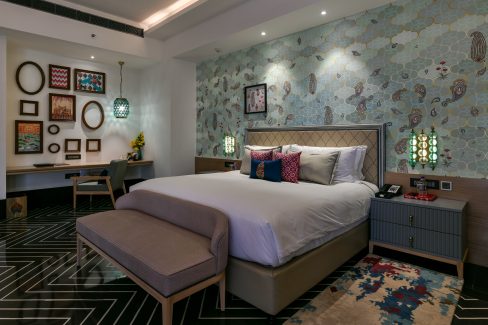 As they say, the longer you stay on the wicket the more runs you score. Any words of wisdom for budding entrepreneurs and job-seekers in 2021?
I agree. In fact, very few can score a century during their first match. These are the ones who are not only talented and brilliant but also lucky. In today's time, skills are of utmost importance. One must hone skills in order to achieve their goals and establish a name for themselves. And this takes time, focus, and perseverance.
At the same time, there is no replacement for hard work. The key to success is to be passionate and persistent with your work. Being in the creative industry, it is important to be able to learn how to and be able to think out of the box when it is needed. The ethos of design must be dynamically strengthened in order to stay in the industry and intensify competitive spirits.
One thing you are looking forward to in 2021?
I wish for a happier and healthier lifestyle for all.
---
Ar. Khozema Chitalwala, a prominent name in the architectural fraternity and beyond, has been a major driving force for several independent and collaborative projects across the globe. Having graduated from Rachna Sansad, Ar. Khozema Chitalwala started his career three decades ago with his first architectural project in the suburbs of Mumbai. He established his firm, Designers Group in 1988 with a dream & endeavour to institute 'Designers Group' as an internationally acclaimed design firm.