The largest Bancassurance partnership in the country after open architecture.
Service and support mechanism for the Bank's customers through its branches.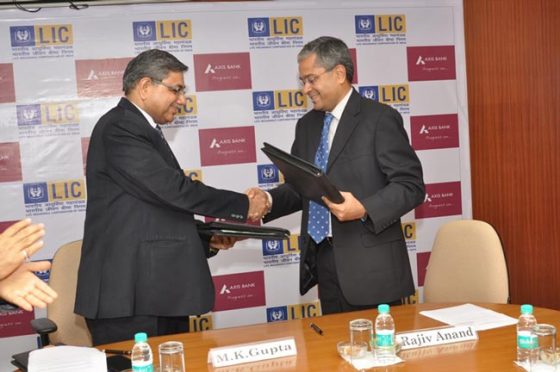 Life Insurance Corporation of India , India's largest life insurance company with a market share of 76.8% in policies and 70.4% in first premium, and Axis Bank, India's third largest private sector bank with widespread network of 3006 branches (including extension counters), today signed an MoU to distribute LIC's multiple life insurance products to their customers. This is one of the largest Bancassurance partnerships after the recent IRDA regulations issued on open architecture framework for banks. In the preliminary phase, the bank will distribute LIC's life insurance products across its branches in West Bengal, Bangalore and Haryana – Panchkula. Additionally, the bank will also provide post sales services such as premium collection and renewal of policies.
Mr. Mukesh Gupta, Executive Director, Bancassurance, LIC expressed that, "The coming together of the two major reputed organisations would enable them to combine and utilise the synergies for enhancing customer satisfaction and for serving social objectives of the nation."
Mr. Rajiv Anand, Executive Director & Head Retail Banking, Axis Bank added, "Banks have increased their role in Insurance distribution with Bancassurance being the biggest contributor. Over the last five years the Life Insurance business at Axis Bank has grown at a CAGR of over 25%. The partnership with LIC would enable us to further expand our existing bouquet of offerings and put forth a compelling proposition for our customers."
The bank will continue to invest in disruptive technologies to translate customer requirements into actionable insights and accordingly advice on the best fit policies from India's leading insurance companies.
Axis Bank to Offer LIC Products to its Customers