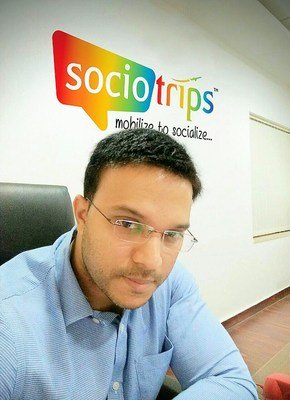 BANGALORE, January 5, 2017 /PRNewswire/ — The world of social networking through travel is about to be completely turned on its head. Sociotrips is a revolutionary tech startup from Bangalore, that has recently been identified by Facebook's startup program as one to keep an eye on.
FbStart' is a global program designed to identify ground-breaking mobile startups and help them build and grow their apps. Thanks to its 'Superior App Development' and 'Continued Growth Potential', 2 weeks post launch was all the time required for FbStart to take interest in the concept, and award Sociotrips with support in future development and marketing.
The app brings together individuals who cherish the excitement of something new, and who value sharing those experiences with like-minded others. Sociotrips allows users to indulge in their joy for networking and meeting new people, through effortless and enjoyable group travel experiences. Based on profiles linked to an existing social media account, users are required to 'Nominate' individuals they would like to travel with, while hoping to be 'Nominated' themselves, by others. They must ensure their profile is interesting enough, in order to receive enough nominations to be selected for a trip. As a networking platform, Sociotrips encourages real world engagement instead of virtual interactions through Chats, IM's, etc.
The mastermind behind this inspired concept is Bangalore's own Shakeeb Ahmed. His successful spell overseas, in the Investment Banking industry, sparked the initial wanderlust that lead him into the travel industry. His keen acumen to identify opportunities in diverse businesses, supported by an equally meticulous approach to applying out-of-the-box strategies, has helped him show tremendous results in areas where many have feared to tread.
Today, with 5 years of industry experience in hand, and a never-before-seen idea up his sleeve, Shakeeb Ahmed is ready to provide those in search of real-time social networking and travel with the trend-setting app that they've been long-waiting for – Sociotrips.
Recounting his own experiences, the founder remembers the difficulty in coordinating a simple vacation with family and friends; or the unsatisfactory fellow-travellers that one is forced to share a group travel package with; or the exorbitant expenses faced when trying to travel independently as a solo traveller. There had to be a better way, right?
"Loved the concept, this is totally an out-of-the-box idea to travel with new people. I can make new friends, I could find my business prospects and a whole new world of possibilities," said Gururaj Vinekar, Sociotrips app user.
Through his brainchild 'Sociotrips', Mr. Ahmed hopes to introduce the public to a new breed of adventure – one that welcomes individuals out of their comfort zone, and embraces them with the company of like-minded travel enthusiasts.
It is said that 'Not all those who wander are lost'; and for the individuals who are capable of realising that life is not about the destination, but is about the journey – check out Sociotrips.
Sociotrips is now available for download on the Google Play Store and will shortly be available on the Apple iTunes Store. Download it today, and dive headfirst into the world of Social Travelling.
Bangalore-based 'Sociotrips' Rewarded by Facebook