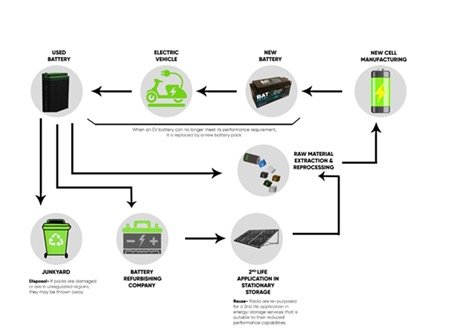 ~Batteries for a Greener Tomorrow~
Gurugram, 9th March, 2021 – BatX Energies, announces the launch of its "Buy Back Battery Programme", aiming to make India energy sufficient by battery lifecycle solutions contributing to circular economy. Batx Energies is the only company in India, working on both Lithium-ion battery manufacturing as well as Lithium-Ion Battery Recycling. This programme is designed keeping the environment at the center, aiming at a greener tomorrow. Under this programme, BatX Energies take back batteries from the market and harvest the good cells from them, understanding the life and state of health of those cells and putting them back for stationary applications by developing Lithium-ion batteries for inverters and Solar Storage batteries. Batx offers a 10% Buyback cost to its Electric Vehicle OEM's clients like Electric Rickshaw and Electric two Wheelers manufacturers who can further offer this as a value addition to their customers.
Lithium – ion batteries are treated as waste after first life application, but at the end of its life, an expert handling that meets the safety requirements set by law along with the right use of technology helps a lot of material to be recovered from these batteries and can be reused into the battery supply chain. As a hazardous waste expert, BatX has the appropriate logistics networks for the safe transportation of lithium-ion batteries. The recycling of these batteries results in the reduction of energy consumption further reducing the wastage of natural resources also to make India self-sufficient with these battery recycling services by extracting scarce metals like cobalt, nickel, lithium and other materials to make India's battery garden material supply chain stronger.
BatX Energies provide an innovative solution to fill this gap through in house developed recycling and resource recovery process which is capable of recovering lithium, nickel and cobalt upto 90% Purity. Recycling these scarce elements back to battery manufacturing is key to reducing the environmental impacts of battery use throughout the life cycle. This programme is an initiative taken by BatX Energies post observing a need gap in the battery recycling industry and hence, launched a 360-degree cycle of making a green product – selling it and making the market greener and buying back the withered product in order to recycle it. The lithium – ion industry is expected to reach 132 GHW in 2030 and grow at a significant rate in the next five years.
Vikrant Singh, Co-Founder and CTO, BatX Energies Pvt. Ltd. says, "Refurbishing of lithium – ion batteries will play an imperative role in the growth of electric transportation industry. At BatX Energies, we work together with our customers to build smart and sustainable solutions for ensuring the circulation of valuable materials and the removal of harmful substances from the material cycle and aim to solve the global problem of end-of-lifecycle of a lithium-ion battery. With our "Buy Back Battery Programme, we create a secondary supply to meet the demand for critical battery materials through innovative recycling technology".
BatX Energies delivers innovation – infused, high quality product focussed at providing a sustainable development solution. Backed by technology, research and development, BatX Energies create first – rate technical products to suit the needs of the customer, giving them a value for money proposition.
About BatX Energies:
BatX Energies Pvt. Ltd. was founded in July, 2020 by the benevolent minds – Utkarsh Singh and Vikrant Singh. The company is committed to developing advanced lithium-ion battery solutions using first life and second life Lithium-ion cells for various applications. With green thinking as their driving force and profound expertise in the automotive and electronic sector, it allows them to constantly focus on R&D, resulting in technology with state-of-the-art features- sustainability and quality. The company is also expertise in Li-ion Battery Recycling and Resource Recovery. Its wide product portfolio ranges from extensive and powerful battery packs for automobiles to grid storage and equipment mechanization to smaller packs for consumer electronics. The company's distribution channels are in Delhi NCR, UP, Punjab, Rajasthan, and cities like Chennai and Hyderabad.
BatX launches Battery Buy Back