Spread across 300 acres in the strong investment hub of North Bengaluru, Embassy Springs redefines suburban living – with luxury meeting sustainability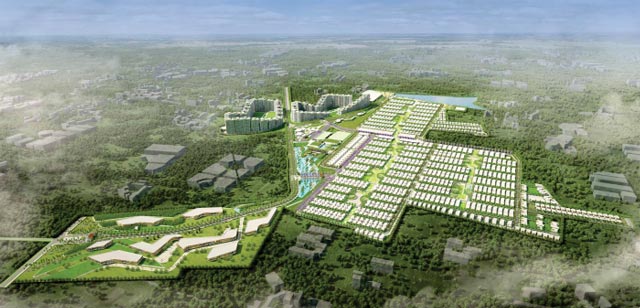 Bengaluru, Karnataka: Embassy Group, India's leading real estate developer today announced the launch of Embassy Springs, Bengaluru's largest masterplanned city, within the silicon valley of India. Spread across 300 acres in North Bangalore, Embassy Springs comprises of 188 acres of plots, 41 acres of apartments, 22 acres of villas & row houses, 20 acres of club & schools and 35 acres of commercial & retail space.
Over the last decade, Bengaluru has increasingly become an attractive investment destination nationally and internationally and has pipped the NCR region to become the second most preferred investment destination for investors after Mumbai. The city's rapid progress in technology and global connectivity has helped drive real estate growth in the city and the northern corridor of Bangalore has specifically emerged as a favoured location for real estate investments owing to the international airport, planned infrastructure developments, land availability, greater connectivity and IT parks.
Embassy Springs is strategically located just 8 kms before the Bengaluru International Airport, right before the toll plaza and is set close to the upcoming IFCI Financial City and KSIIDC Devanahalli Business Park, where real estate prices are on the upswing. Conceptualized as a truly self-sustained city by expert architects, design and landscape consultants, Embassy Springs is a perfect harmony between pristine natural & luxurious urban living. It offers a plethora of housing choices along with schools, hospitals, parks, clubs, commercial and retail spaces, providing proximity to work, home and play.
Commenting on the launch, Jitu Virwani, Chairman & Managing Director, Embassy Group, said, "We are delighted to launch Embassy Springs – the largest and most ambitious offering from Embassy to date – where we have invested in extensive masterplanning and careful detailing with the help of experts from across the world – to bring to India this experience of a self-sustained city. Embassy Springs provides the best of amenities and facilities, and is a result of our vision to provide a holistic living experience that improves quality of life. It is a representation of Bangalore in its true form – where the garden city meets the Silicon Valley of India to deliver a singular living experience."
He further added, "Embassy Group has been a prominent property developer in the commercial and residential real estate sectors for the past several years. The launch of Embassy Springs further reinforces our continued focus on creating a large residential portfolio with a strong focus on the North Bengaluru corridor."
Reeza Sebastian, Vice President, Residential Marketing & Sales, Embassy Group, said, "Bangalore is a plethora of mixed cultures blending seamlessly to give you the finest taste of metropolitan living. With Embassy Springs, we aim to redefine the meaning of suburban living in India by providing citizens a luxurious living experience in the midst of Mother Nature, offering world class amenities. It is an exemplification of a population who have evolved lifestyle experiences and aspire to live a good life. Embassy Springs will be a place of continual evolution and prosperity, where people from around the world will desire to live."
This launch complements Embassy Group's strong northern corridor strategy which today includes the flagship Manyata Embassy Business Park, India's largest integrated business park, as well as existing premium residential developments Embassy ONE – which houses South India's first Four Seasons Private Residences and Four Seasons Hotel, Embassy Boulevard and Embassy Lake Terraces.
About Embassy Springs
Embassy Springs is Bengaluru's biggest master planned city, within the silicon valley of India
A perfect harmony between pristine natural & luxurious urban living
360 degree development plan laying emphasis on not just the residences but overall development of Springs as a self-sustained city
Spread over 300 acres, the area is divided into 188 acres of plots, 41 acres of apartments, 22 acres of villas & row houses,20 acres of club & schools and 35 acres of commercial & retail space
The proximity to Devanahalli Business Park and 30 min drive from Manyata Embassy Business Park gives the chance of staying in a city within the Silicon city of India
Best of luxurious living, world class hospitals, retail spaces, renowned educational institutions and fun filled entertainment all encompassed within one master city
With ample space dedicated to the development of schools, and Embassy's past reputation with running two schools successfully, you can be rest assured to get the very best
A 1,50,000 square feet, lavishly designed club house to suit your sophisticated social life
The Karnataka Government plans on building an entertainment park called Space City on the lines of Disney Land in Devanahalli
Some proposed hotel projects including the Oberoi, Marriott Golf Resort & Trident are in the pipeline
The design aims to integrate the natural resources on site and compose these into a scenic landscape
Strong emphasis with implementation of water conservation, rain water streams and bio ponds
The project will incorporate more species native to the region to ensure survival, ease of maintenance and to promote local biodiversity
Lakefront Promenade; a beautifully designed water front area for unwinding and refreshing yourself after a tiring day
Right from the kind of gravel to be used, to the different kinds of trees, landscaping, every aspect is given importance to provide our patrons the best living experience