Book My Forex, India's leading and largest marketplace for retail foreign exchange and private remittances has joined hands with MakeMyTrip, India's leading online travel company.
Customers booking international travel products can subsequently purchase their foreign exchange with BookMyForex at the click of a button on MakeMyTrip platforms – website or mobile app.
This will enable them to take advantage of BookMyForex's live and finest rates that are updated every three seconds and enjoy door-step delivery of their foreign exchange products in over 200 Indian cities.
Speaking on the association, CEO BookMyForex.com, Sudarshan Motwani said, "BookMyForex has the unique ability to compare thousands of forex rates and service quality metrics across hundreds of banks and exchange companies. Our platform is able to determine the bank or moneychanger offering the best rates and service in every city and every neighborhood."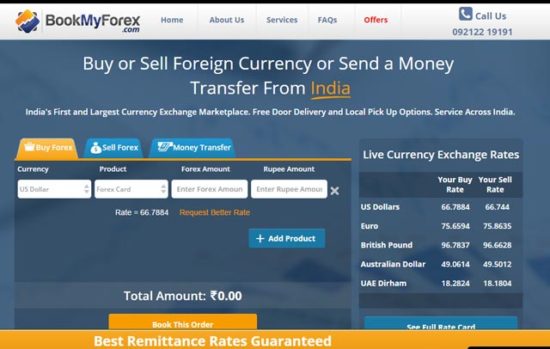 "Thanks to this partnership, we will now be able to extend the benefit of our platform to MakeMyTrip customers and connect them with the most ideal forex vendors in real time. Through the association, we will be able to tap the large international customer base of India's largest OTA and help them buy all travel-related forex products at one single destination," added Sudarshan.
"We are pleased to tie-up with BookMyForex for retail foreign exchange and look forward to adding to our existing travel solutions offerings. Being the pioneers in the online travel sector and as category leaders, the onus of growing the sector is on us. By partnering with BookMyForex, we are firmly establishing ourselves as the ultimate destination for the full suite of travel products," said Chief Operating Officer-Online MakeMyTrip, Mohit Gupta.
BookMyForex will offer MakeMyTrip customers access to a complete range of forex products; including foreign currency notes, forex travel cards, traveler's cheques, demand drafts and international wire transfers.
Customers can also directly visit the BookMyForex website or download the BookMyForex Android/ iOS app and book a forex order.
All forex products are delivered by either RBI authorized money changers or banks that are part of BookMyForex's channel partner netword. (ANI)
MakeMyTrip to offer foreign exchange powered by 'Bookmyforex'