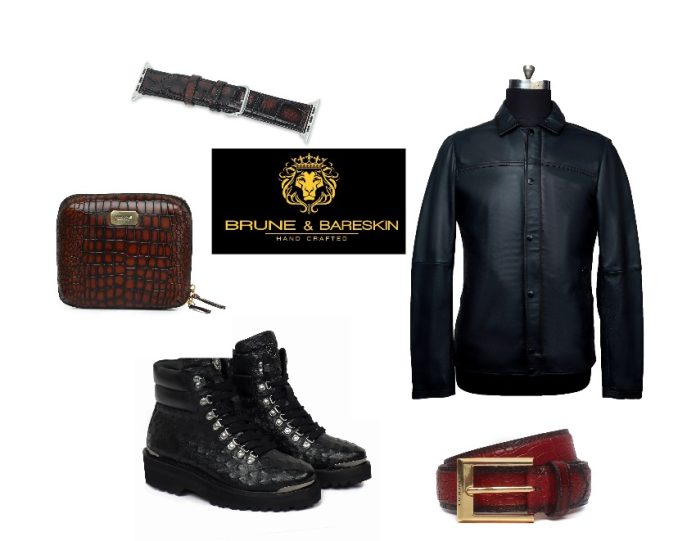 Being imaginative and original in a world full of talented individuals might be a challenge in any venture, but few industries would ask for a more competitive blend of authenticity, attention to creature comforts, and consistent creativity today than a brand in fashion. What pleases the eye may not ease the body, and what does both may not boast of materials coveted by any and all .
Brune & Bareskin is the talk of the town for the aforementioned reasons and more. The promise of true bespoke offerings made from super premium materials of the highest quality has been carried well, and the brand has hit all the right notes with its craft, as is evident by the favor it has received from the Indian Cricket Team and many other Celebrities. Their shoes, jackets and accessories have proven to be perfect, with their luxurious fit, elite materials and aesthetic appeal.
The brand prides itself on its honed-to-perfection ability to craft custom-made items for its patrons to reflect their unique personalities and make their style truly a statement about them. From using rare and coveted materials like real Ostrich Leather to getting a sublime look for their handiwork each time they venture to create, they work their magic to ensure their patrons wear the best blend of art and comfortable high fashion.
Without further ado, here's a brief guide to creating the perfect new year look for you:
SMOKEY TAN FINISH DEEP CUT CROCO LEATHER TRAVEL TECH POUCH BY BRUNE & BARESKIN
This tech case organizer is made to give you an elite yet functional travel pouch. It has multiple organizer pockets with a flip over divider. The hard case provides extra protection while traveling. It is crafted with genuine leather. Our artisans hand painted the entire case to provide it a unique smoky finish. You can get it customized with our bespoke services in your favorite color shade with your name initials on it.
Price Details : INR 4,999/-
WINE DEEP CUT CROCO WITH GOLDEN SQUARE BUCKLE HAND PAINTED LEATHER FORMAL BELT BY BRUNE & BARESKIN
Get ready to look dashing! Stand out from the regular crowd with these special leather belts. This deep cut croco leather formal belt for men ensures to keep your comfort and style high. The gold finished buckle enhances its appearance further. This attractive belt ranks high on the latest Formal style to offer you a well deserved popularity. It can easily be teamed up with Suits or any tee and chinos for a carefree macho look. The renowned brand of Brune & Bareskin is widely trusted by men all over India for their wide range of premium quality leather belts that rank high on durability and style factors. You can also get it personalized with your name initials.
Price Details : INR 3,999/-
APPLE WATCH SMOKEY BROWN DEEP CUT CROCO LEATHER STRAP BY BRUNE & BARESKIN
BRUNE & BARESKIN'S new input towards exclusive watch strap lovers, It doesn't need more designing as it's revealing classy impact with deep cut croco leather texture. The smokey hand finished straps boast a very stylish and luxurious look. Happy to share that one can get a customized watch strap with their choice of color. Adjustable strap for any wrist size or can be customized according to your sizing. Include these straps with your casual & formal outfits. These watch straps can get matched with our branded accessories too.
Price Details : INR 2,499/-
BLACK PREMIUM AUTHENTIC OSTRICH LEATHER ULTRA LIGHTWEIGHT BIKER BOOTS BY BRUNE & BARESKIN
This pair of Real Ostrich Leather Biker Boot is an ideal pick for a cozy and elegant everyday wear. The rugged look and ultra light weight makes it the perfect pair that every guy should have in the closet. Black ostrich Leather shoe looks lavishing with metal shoe eyelets and Brune & Bareskin signature metal lion logo. The metal plates on the toe and ankle provide more rigidity and oomph to it. The thick high lightweight sole complements the comprehensive look. The natural texture of Ostrich Leather adds an extra element of style.
Price Details : INR 49,999/
BRUNE & BARESKIN MEN'S SHIRT STYLE COLLAR SMOKY BLUE LEATHER JACKET
This jacket ensures that you look distinct and stylish in a crowded fashion oriented world. Shirt style buttoned provides the easiest to wear and take off. The Men's smokey blue Leather Jacket by Brune & Bareskin point of difference lies in the two slanted side pockets. This Jacket has an ageless attitude and a slim, modern fit.
Price Details : INR 15,999/-