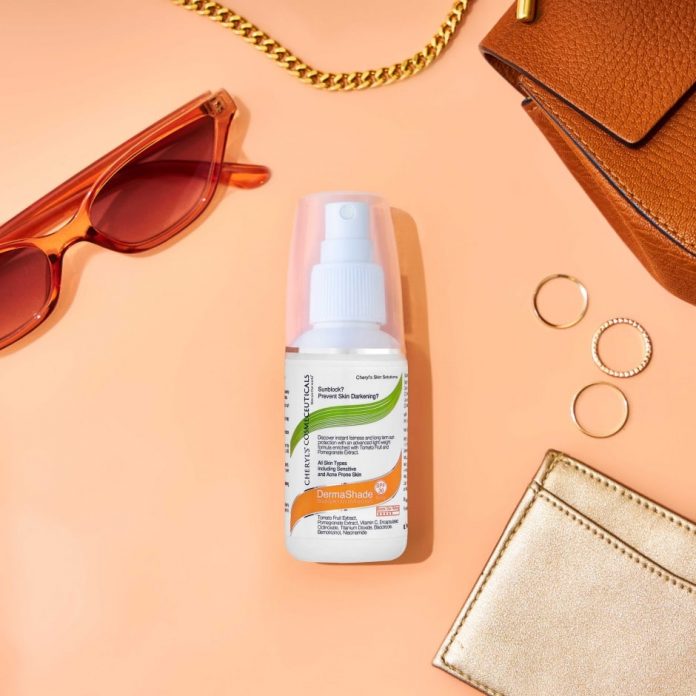 Mumbai, March 2021–  Cheryl's Cosmeceuticals is India's first professional skincare brand that has for over three decades, through skin science, chemistry and true human ingenuity, transformed the skin of Indian consumers. Part of the L'Oreal portfolio, all Cheryl's products are developed through advanced research and testing, and enriched with active ingredients that are personalized for different Indian skin types to deliver healthy, radiant skin.The brand also aims to provide sustainable skincare solutions and target skin concerns through their expert led salon treatments and homecare products.
Wearing sunscreen every day is an essential part of your skincare routine, because if you don't, you're exposing your delicate facial skin to excessive sun damage.Although you should apply sunscreen every day, it's especially necessary in the summer because the days are longer, the sun is stronger, and it's easier to spend more time outside.
Cheryl's Cosmeceuticals Dermashade SPF 30 spray is a non-oily sunscreen that enhances the skin with vitamin C and Niacinamide plus it acts like a mirror on your skin reflecting the rays away from it and can also be used by men and it suits all skin types including acne prone and sensitive skin.
The Dermashade spray contains the purest form of scientifically-proven actives and bio-technological ingredients for advanced sun protection and anti- aging skincare. It provides the ultimate protection to the skin by blocking the sun rays and protecting the skin from the harmful UV rays of the sun in the hot and humid summers.
The mattifying formula used for making Dermashade SPF 30 adds an invisible layer of protection on the skin without giving out the dreaded shine you usually get when you apply a basic sunscreen. Its unique UV reflection technology reflects UV rays away from the skin saving you from suntan and skin damage.
"Keeping the Indian summers in mind we have curated Dermashade SPF 30, a sunscreen that is specially designed for all skin types. Unlike your regular sunscreen, Dermashade protects and nourishes your skin with it's non-oily, lightweight unique spray format. Cheryl's Cosmeceuticals products are endorsed by thousands of skincare professionals across India, said Gunjan Jain, National Education Head, Cheryl's Cosmeceuticals".
Cheryl's Cosmeceuticals Dermashade SPF 30 spray bottle is priced at INR 575/- (50ml) which is available on Nykaa, Amazon, Flipkart, and at all leading salons.
About Cheryl's Cosmeceuticals | www.cherylscosmeceuticals.com
Cheryl's Cosmeceuticals is a pioneer result oriented cosmeceuticals for the Indian skin type by collaborating with scientists and engineers to invent skincare solutions using modern, innovative and proven technologies that match the Indian consumers' requirements. We research, develop, and manufacture India's most advanced products for the professional salon industry that promise transformational results for healthy skin.
A non -oily solution for summer protection by Cheryl's Cosmeceuticals Dermashade SPF 30