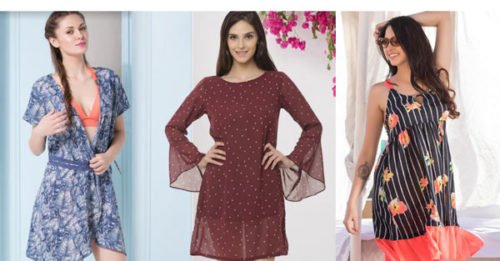 Clovia, India's fastest growing lingerie brand has launched its new collection of beach/resort wear perfect for the summer holiday season. The collection features an array of beach dresses, sarongs, kimono cover-ups etc. in fun, flirty, comfy and flowy fits going with the theme.
Talking about the new product range, Neha Kant, Founder of Clovia said, "The beachwear industry in India is evolving and we see a great potential for growth in this segment. The products are delicately crafted in cotton and crepe to ensure comfort in this hot summer. We have come up with a collection that is comfortable yet fashionable. It varies from floral prints, polka dots to bell sleeves and ruffle straps."
The Collection Highlights
The Clovia Beachwear Collection includes designs that range from beach dresses in floral prints, high low cuts that are easy to move around in and are great for dates at the beach or beach events like a concert. It also includes tropical print kimonos and  easy-to-wear sarongs with overlapping style for those days when you want to go to the beach but not get into the water. For a day spent in the sand, a semi-sheer dress with a crisscross back, a ruffled halter top with capri or a front knot crop top with slide slit skirt are the perfect combos. Stack up your wrists with a bunch of matching bracelets, carry along a sun hat and you're ready to hit the beach in style.
The collection also features few beach dresses with statement bell sleeves keeping up with the season's trend. The fabrics used are predominantly cotton and crepe which give a great drape/fall and are perfect for the weather.
Covering up was never so much fun!
The Beachwear Collection comprises of fancy cover-up sarongs in floral print with easy-to-wear overlapping style giving it a distinctly bohemian feel. The collection includes two piece cover-ups; perfect for relaxing by the pool-side. It also features full length cover-ups like maxi beach dresses and sheer beach dresses crafted with materials that will keep you cool even in the brightest sunshine. Crafted from soft cotton and crepe, the cover-ups flaunt lightweight designs and decorative trim ensuring loose, fluid silhouette.
Priced between Rs. 499/- to Rs. 1099/ the collection is reflective of the research and understanding that Clovia has undertaken to develop products, in particular for the Indian women.