The annual Union Budget announced by the Finance Minister has now ceased to be an event only followed by the financial and business world of India. Every year, social media explodes with the common man's take on every aspect of the Budget, some based on facts while some based on speculation. CNBC-TV18, the leaders of Budget coverage for 16 years, and Twitter India come together this year to break down one of the most awaited policy events of the year, for you.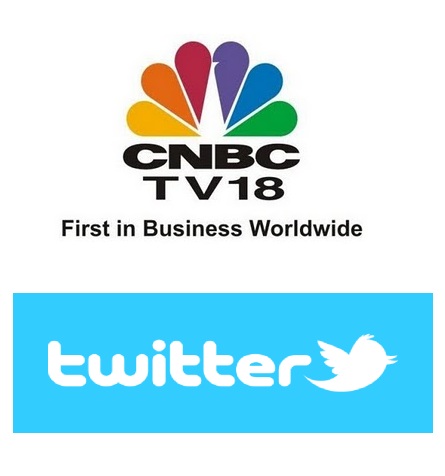 CNBC-TV18 is the most credible voice in business journalism today and Twitter is increasingly becoming the only portal that has its finger on the true pulse of thinking India. This year, the two forces combine to give depth to the many discussions that Indian twitterati will initiate regarding the real effects of Budget on every Indian. With young India following every move and every initiative of the Modi government, this year's Budget will really establish whether India made the right decision 2 years back. This is the Now Or Never Budget. If the government does not push for reforms NOW, it will NEVER get back on the path of high growth.
Priyanka Tiku, VP (Marketing) – CNBC-TV18, says 'We at CNBC-TV18 are always setting higher and higher benchmarks for the rest of the news broadcast category. Our partnership with Twitter India is testimony to our daily endeavour to facilitate intelligent financial conversation. As we are the most watched channel on Budget every year, it is only right that we front the debate on Twitter as well.'
Viral Jani, Head – TV Partnerships, India commented, "From real-time updates to live broadcasts, Twitter continues to be the platform where you break news first. News channels have been using Twitter tools to engage with their audiences, using rich media content such as images, live videos and more to innovatively connect with their wide spectrum of audiences on the platform. Through our partnership with CNBC-TV18, Twitter becomes your live connection to the annual Union Budget this year, with this complex policy event broken down for live consumption. All of India will get to understand what the Budget really means for them with live, real-time and decoded analysis #OnlyOnTwitter. With the best of news content and conversations live on our platform, we aim to drive many more innovative engagements and create unique experiences for our users."
There are many interesting aspects of this unique partnership. From exclusive periscope discussions with CNBC-TV18 anchors right after the speech to LIVE simplified updates during the Union Budget, end of February will be an exciting time. This year, one does not need to sift through tedious lists of Budget highlights to pick out the announcements that make sense to one's life. You can simply tweet #AskCNBCTV18 and team CNBC-TV18 will cull out the policy announcements that answer your specific questions. For eg: By tweeting #AskCNBCTV18 How will Budget impact an Indian student? one can expect a specially curated answer by the CNBC-TV18 experts that is relevant to an Indian student. The business specialists at CNBC-TV18 will tell you how exactly the country's Budget will affect your daily budget.
This Budget, one can expect not only the best markets and business faces of India on CNBC-TV18, but also views & global expectations from international business experts from the various CNBC headquarters across the globe.
CNBC-TV18 and Twitter Join Hands for Budget 2016