Invites Indian ICT companies and startups to COMPUTEX 2017 held at Taipei, Taiwan from

May 30 – June 3, 2017

.
5 main themes: Artificial Intelligence & Robotics; Innovation & Startups; Business Solutions; IoT Applications; and Gaming & Virtual Reality.
Bengaluru, 10th February, 2017/Team Estrade//– Taiwan External Trade Development Council (TAITRA), the Taiwanese Government Body promoting trade between Taiwan and other countries today, invited Indian ICT companies to participate at COMPUTEX 2017, slated for May 30th to June 3rd, 2017 at Taipei, Taiwan.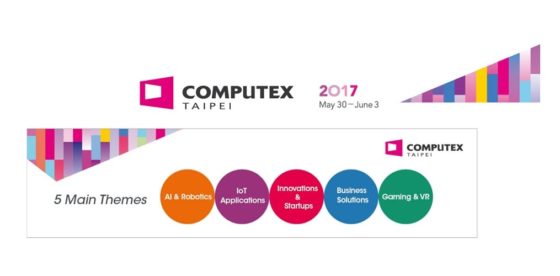 COMPUTEX TAIPEI is the Asia's largest and the world's second largest B2B ICT/IoT trade show and developing into a global startup platform. While evolving in sync with global ICT industry trends, COMPUTEX TAIPEI 2017 positions itself as building Global Technology Ecosystems with new themes on Artificial Intelligence & Robotics; Innovation & Startups; Business Solutions; IoT Applications; and Gaming & Virtual Reality.
The conference also unveiled the show's 4 featured exhibits including InnoVEX; Asia's largest startup gathering place, providing a vital international platform matching buyers, media, with global startups. By using the leverage of COMPUTEX, the exhibit attracted 15,000 plus visitors and 217 exhibitors last year, which includes previous pitch winners of Websummit, Slush, Pioneers Festival and LeWeb. SmarTEX that will stage the latest IoT applications, iStyle, a special showcase for Apple MF i-certified peripherals and Gaming & VR for the ultimate gaming platform to display the coolest high performance gaming products.
According to the statistics from DGBAS (Directorate-General of Budget, Accounting and Statistics), Executive Yuan (Taiwan), Taiwan's ICT industry accounted for 12.8% of the total GDP in 2012. Taiwan is known as a major procurement center for global ICT companies & buyers, and Ranked 1st in worldwide major ICT product market share for more than 10 products. 85% of PCs installed in the world with Windows® OS are produced by Taiwanese IT companies and about 80% of worldwide data communications equipment is produced by Taiwanese networking communications equipment companies. "Taiwan Inside®" would probably be the most suitable description of Taiwan's vitality and its position in the worldwide ICT Industry.
Thomas Huang, Deputy Director, TAITRA said, "We chose India and specially Bengaluru to promote COMPUTEX, the world's largest ICT exhibition, mainly because we value India's market potential, its global competitive software industry and booming startup communities. COMPUTEX 2016 attracted more than 40,000 international visitors. Indian visitors were the 12th highest in number of international visitors; saw a substantial increase of 14% from the previous year." He further added. "With the extensive campaign this year in India and the growing interest of startups and ICT brands in our event, we are hopeful to see an exponential growth in number of visitors from India for COMPUTEX 2017."
COMPUTEX 2017 will see leading exhibitors such as Dell, Intel, Microsoft, Supermicro, Nvidia from the USA, ARM from UK, Socionext from Japan, Micronics from Korea, Hisense from China and the list is still increasing. In addition, innovative startups from the USA, Demark, France, Korea, Indonesia, Germany, Pakistan, Hong Kong, Taiwan and many other countries have already signed up to participate at the trade show.
COMPUTEX provides a total solution to satisfy the needs of all ICT professionals' needs, from sourcing innovative products to building strategic alliance. Visit the most significant ICT/IoT & startup trade show in Asia from May 30 to June 3, 2017. InnoVEX runs for 3 days, from May 30 to June 1, 2017.
For more info on COMPUTEX, check out the official website:
About TAITRA:
Founded in 1970 to help promote foreign trade, the Taiwan External Trade Development Council (TAITRA) is the foremost non-profit trade promotion organization in Taiwan. Jointly sponsored by the government, industry associations, and several commercial organizations, TAITRA assists Taiwan businesses and manufacturers with reinforcing their international competitiveness and in coping with the challenges they face in foreign markets.
 About COMPUTEX TAIPEI (also called COMPUTEX):
Established in 1981, COMPUTEX is the leading global ICT show with a complete supply chain and IoT ecosystems. Co-organized by the Taiwan External Trade Development Council (TAITRA) and the Taipei Computer Association (TCA), COMPUTEX, in the heart of Taiwan's ICT cluster, covers the whole spectrum of ICT from upstream components-manufacturing all the way to system assembly and IoT applications. With over a third of the world's computing devices made by Taiwanese companies, Taiwan is a strategic destination to look for partners in Internet computing ecosystems.
COMPUTEX Taipei, 2017: Taiwan Government Invites Indian Companies