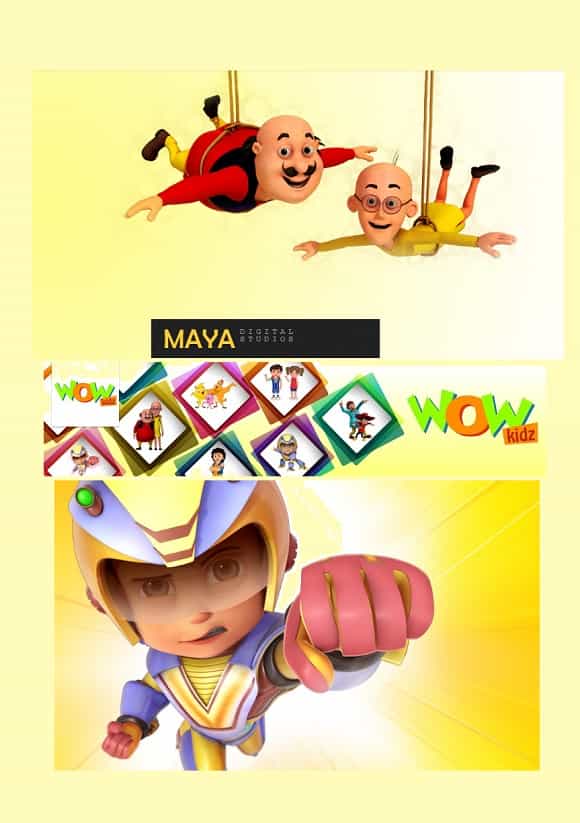 MUMBAI, April 3, 2017 /PRNewswire/ —
Announces WowKidz Indonesia, Acquisition of Hotwheels Battleforce 5 From Nelvana and Future Productions
Taking the success of its multiple animation TV series further, Singapore and Mumbai-based Cosmos-Maya, Asia's leading animation studio and the largest producer of original Indian animation content; established its digital presence with its YouTube platform, 'WowKidz' which has been the destination for high-quality Indian animation shows. Within 18 months of its launch, the platform boasts of almost 900 million views in total, adding over 3.5 million views on a daily basis and is inching closer to the coveted '1 Million Subscriber' mark in the next couple of months.
"From USA and UK to Australia, Middle East and Asia, WowKidz has been the platform of choice when it comes to Indian animation content," said Anish JS Mehta, CEO – Cosmos-Maya. "Our endeavour is to bring in the best of kids' content at one destination in the Indian languages through this platform," he added. WowKidz has been delivering these phenomenal numbers on the back of the popularity of Cosmos-Maya's successful IPs, headlined by its flagship property, Motu Patlu which has been the #1 Indian series for several months in a row; and its other IPs, ViR, Kisna, Eena Meena Deeka and the newly launched Bure Kaam Ka Bura Natija, Kyun Bhai Chacha Haan Bhatija.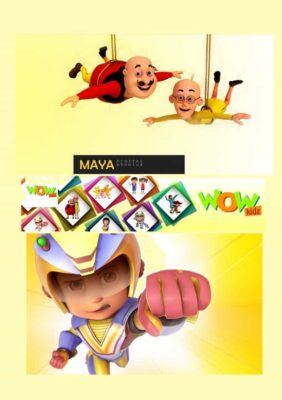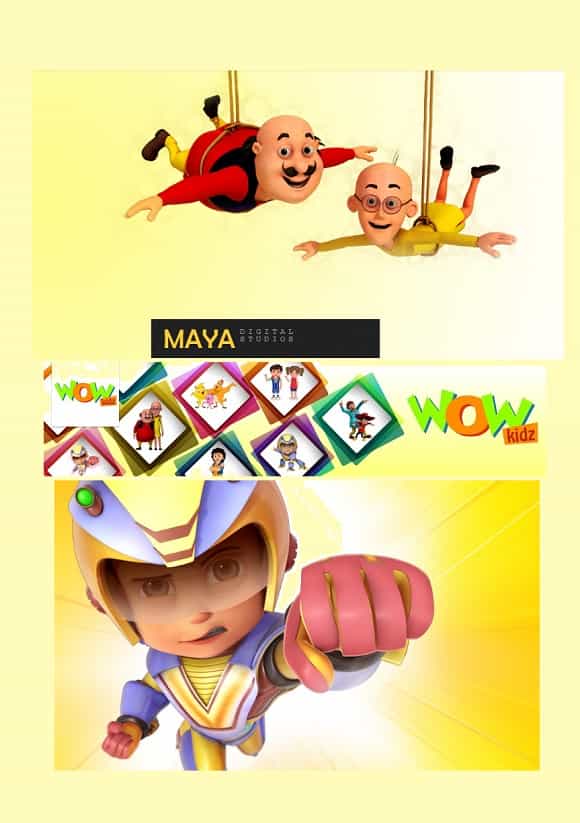 Taking the brand further, the company today announced its three-pronged focus to deliver future growth:
1. Acquisition of globally renowned brands on its platform, starting with Hotwheels Battleforce 5, from Nelvana
The company is following a highly curated approach for its acquisitions. These are targeted mainly for the Indian market and thus Hotwheels Battleforce 5 from Nelvana's stable was the first brand for Cosmos-Maya to begin its acquisitions. The series has the right element of action, adventure and an akin to Bollywood theme, which makes it the perfect treat for Indian audiences, not to mention the hugely successful car brand that still resonates with young kids and strikes a nostalgic chord with young professionals. The show is slated to launch on WowKidz this summer and will be the first among many that the company intends to launch. Speaking about the association, Pam Westman, Head of Nelvana Enterprises said, "Digital is indeed driving the geographical distribution of our content, especially in important evolving digital markets like India and we are happy to have partnered with a leading local player like Cosmos-Maya on Hotwheels Battleforce 5."
2. Setting up of dedicated local sub-brands, in digitally-relevant markets, starting with WowKidz Indonesia in partnership with Spectrum Films Indonesia
Taking cue from its rapid success within Asia, the company has decided to branch out into local channels in digitally-rich markets, the first one being WowKidz Indonesia, taking its strategic association with local syndication and production giant Spectrum Films. Adding about the association, Rajesh Jagtiani, CEO of Spectrum Films said, "We began our partnership with Cosmos-Maya as their local distributors for Indonesia and given the phenomenal success that their shows enjoy in the market, we are taking our association further by creating a dedicated channel for Indonesia in the native Bahasa language." Given that Indonesia has one of the largest population bases in the world, more so digitally-savvy Internet users, the move gives WowKidz a strategic advantage for its content's spread. On Spectrum's part, the company would also add in third-party shows from the vast catalogue that they own on the YouTube platform, WowKidz Indonesia in addition to Cosmos-Maya's own IPs.
3. Dedicating a development team for the creation of 'WowKidz Originals'
Spilling the beans on further plans in addition to these strategic initiatives, Mehta added, "So far we have been operating on a pure library mode only with the 700 odd half hours of our own content. With language diversification and third-party acquisitions, we are looking at adding volumes. The next logical brand extension is the production of original content for WowKidz. From development of short formats of our own content to exploring possibilities for spin-offs, we have a couple of interesting ideas for the original content creation in this space and will be announcing the details soon."
About WowKidz
WowKidz is a digital VOD platform, available on YouTube and delivers millions of smiles to its happy consumers worldwide, on a daily basis.
WowKidz is also poised to be the ultimate destination for the best in class products inspired by the most popular animated properties; TV series, features, etc. within the Indian kids' entertainment business. A strategic business initiative of Cosmos-Maya, Asia's leading animation production studio and creator of highly successful Indian kids' shows, including Motu Patlu, Shiva, Eena Meena Deeka among others; WowKidz strives to deliver the best in class products crafted and created with the highest quality standards at the most affordable prices.
In addition to an exclusive range of products from the properties owned by Cosmos-Maya, which includes shows like Motu Patlu, Shiva, Kisna, ViR – The Robot Boy, Eena Meena Deeka and Bure Kaam Ka Bura Natija, Kyun Bhai Chacha Haan Bhatija; WowKidz also features an exclusive collection of the best in class products inspired by other successful shows on leading television networks Disney and Nickelodeon India. https://www.youtube.com/channel/UCN8S4CqMRy6tVKVXvs7Bzeg
About Cosmos-Maya
Founded by internationally acclaimed Indian filmmakers Ketan Mehta and Deepa Sahi, Cosmos-Maya is an artist driven creative studio that produces high-quality 3D as well as 2D animation content. The company primarily focusses on creating successful IPs and is presently working on multiple Indian animation TV series; 6 shows currently on air and 5 under production.
Driven with the passion to create path-breaking content while adhering to timely deliveries; Cosmos-Maya produces around 550 minutes (25 half hours) of approved animation on a monthly basis. The company has produced over 15000 minutes of original animated content created in the last 4 years, (comprising of over 700 half hour episodes) ready/currently on air.
With its launch, Cosmos-Maya pioneered the art and technology of animation & visual effects in India since 1996. Over the last 20 years, Cosmos-Maya has delivered high-quality award winning animated content, VFX work and game cinematics for global leaders like BBC, Disney, Google, Electronic Arts among others and our work has fetched several awards, including BAFTA, IFTA and Pulcinella Awards to name a few. http://www.mayadigitalstudios.com/
Cosmos-Maya Strengthens 'WowKidz' with Global Acquisitions