~ Hand woven silk, cotton, organic sarees and home furnishings will now be available on Craftsvilla~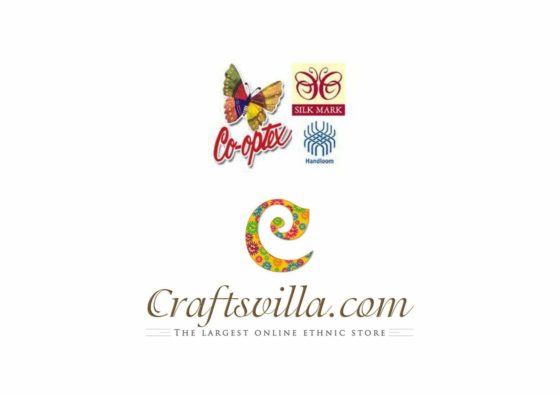 National, 1st December, 2016:  Craftsvilla, one of the largest online ethnic store, today announced partnership with Co-optex (Tamil Nadu Handloom Weavers' Co-operative Society). Through this association Craftsvilla will host authentic handloom products on their website thereby supporting the highly talented handloom weavers of Tamil Nadu. Customers will now be able to choose from a wide range of Co-optex products such as silk, cotton, organic sarees and home furnishings. This association is in line with Craftsvilla's commitment towards supporting and promoting Indian crafts and art forms.
With the addition of Co-optex products on the online platform, Craftsvilla has further strengthened its handloom portfolio which already consists of Pochampalli Silk, Ikat, Banarasi, Tussar and Jamdani weaves amongst others. Craftsvilla persistently strives to provide diverse and varied options for their customers.
Commenting on the partnership, Manoj Gupta, Co-Founder Craftsvilla said, "Craftsvilla is deeply committed to development of artisans in India and disruptively change artisanal supply chain from origin to consumption. We believe we can unwrap billions of dollar of business value to artisans across India by interventions across design, quality, big scale manufacturing and logistics. We have identified close to ten major clusters in India which we will develop for our ethnic supply. Co-optex will play a very crucial role for development of our cluster in Tamil Nadu for handloom products. We are very excited to partner with them to produce 'Make in India' products for global consumers."
Talking about the association T.N. Venkatesh I.A.S., Managing Director of Co-optex said, "It gives us great pleasure to join hands with Craftsvilla. This association has opened up numerous opportunities and a chance to connect with consumers from across the world. We offer authentic handloom products and this combined with Craftsvilla's focus to support artisans and crafts of India, we are sure to achieve great milestones in the future."
Craftsvilla's wide range product portfolio includes popular brands across traditional, fusion clothing and accessories to home decor. Apart from providing the affordable and chic ethnic wear, the platform also provides the best shopping experience to all its customers.
About Craftsvilla
Founded in 2011 by Manoj and Monica Gupta, Craftsvilla is the largest ethnic online store for saris, salwar suits, lehengas, kurtis, palazzos, skirts, jewelry, accessories and home decor. A wide range of categories have been recently added in ethnic wear to provide creative and diverse options for all kind of occasions, be it casual wear, office, festive, fusion and party wear. The company's vision is to take people back to their roots and by re-introducing, repackaging & contemporizing their ethnic legacy. With over 25,000 sellers from across India, Craftsvilla has close to 4 million products online across categories including, clothing, handicrafts, jewelry and art among others. Craftsvilla is funded by globally renowned venture capital funds including Sequoia Capital, Nexus Venture Partners, Lightspeed Venture Partners, Global Founders Capital and Apoletto. For more information, please visit www.craftsvilla.com.
About Co-optex
Tamil Nadu Handloom Weavers′ Co-operative Society Ltd, popularly known as Co-optex, was established in 1935 and registered as the State Apex Weaver's Co-operative Society. Co-optex today has over 1,00,000 weavers, bringing the society's products. Co-optex has a network of 200 showrooms spread all over India. It is the No. 1 Apex Handloom Co-operative society in the country known for its talented, dedicated, highly skilled and devoted clan of Handloom Weavers from all over Tamil Nadu. Handlooms in Tamil Nadu have a long standing tradition and behind the timelessness of this tradition, kept alive for centuries, is the Handloom Weaver. Co-optex pioneered the concept of traceability by affixing the 'Weavers Identity Card' in all its handloom sarees, which was widely appreciated by its customers. Co-optex gives a platform for hand weaving skills nourished for generations by weavers all over the world. Co-optex was the winner of National Award for 'Outstanding contribution to handlooms 2013' and National Award for 'Largest producer of Handlooms in India 2013.'
Craftsvilla partners with Co-optex