Kolkata, West Bengal, India, 30 March 2017/Businesswire India//– Senco Gold & Diamonds, a pioneer in the gems & jewellery industry of India with a strong heritage of 80 glorious years and a pan-India presence across all major cities has enhanced their digital transactions figures during and post-demonetization phase.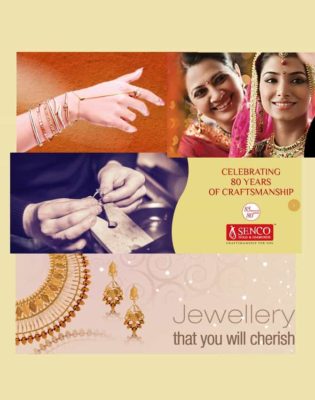 "After the government's announcement of the demonetization drive in a bid to root out counterfeit money, choke terror financing and stop black money generation, it had its certain immediate effects. The digital India which was still on its nascent stage got a sudden boost and the digital transactions increased. Hence, gold was purchased and payments were made through several digital platforms. The cash-digital payment ratio which stood at 30:70 for us rose up to 10:90 after demonetization was implemented. Currently, the digital -physical transactions of gold & other jewellery items from the Company have settled at a ratio of 45:55. It is 50 percent growth and we look forward to work more on it", said Suvankar Sen, Executive Director, Senco Gold & Diamonds.
Senco Gold & Diamonds is focusing more on digital transactions and trying to leverage the best out of it in the days to come as people are more inclined towards hassle-free shopping which Digital India encourages. Special discounts and offers are given to customer on purchase of gold & other valuables of Senco Gold & Diamonds through digital transactions done in credit, debit cards, RTGS, NEFT.
About Senco Gold & Diamonds
Senco Gold Jewelers is one of the oldest jewellery organizations in India that started its operation in the year 1938, with a heritage of 80 years. Senco Gold is synonymous with exclusive designs, intricate workship and right value. The company has evolved over the past eight decades and has endeavored to keep the designs contemporary, with modern needs and preferences, yet keep the core values and essence alive. Senco Gold & Diamonds with 85 stores is the largest jewellery retail chain in eastern India covering around 250,000 square feet retail space, and rapidly expanding on a pan India basis. It has stores in markets like Kolkata, Delhi, Mumbai, Bangalore, Lucknow, Ranchi, Patna, Bhopal, Jamshedpur, Bhubaneswar, Cuttack etc. Senco Gold export operations covers countries like USA, UK, Singapore and Middle East. It has a manufacturing unit in SEZ Mani Kanchan that employs more than 300 karigars and creates 10000 pieces of jewellery every year. The company aims to be amongst the most reputed and leading jewellery companies in the world and also to provide high-quality jewellery with exquisite designs and excellent customer service at affordable prices keeping intact their values of honesty, integrity, transparency and friendliness.
Demonetization Helps Senco Gold & Diamonds go Online