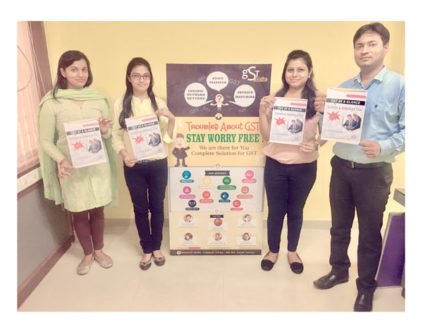 E-book launch – A Comprehensive guide to understanding GST by GST Suvidha
New Delhi: GST Suvidha launches E-book on "GST at a glance"; a simple guide to better understand new tax regime. As India moves towards a 4 slab goods and services taxation policy called 'GST', many still struggle to understand the intricate details entailing GST and how to go about with the various taxation details. Considering this book to become the economic revolution for India. Bringing forth the many details that the new tax regime will be offering to the Indian masses, this is going to become the future guide and reference point for all students, citizens, organisations and other entities.
The book written by non-other than the Shyam Kedia, owner of GST Suvidha, the book is written with a view to give practical exposure in goods and services tax to professionals like chartered accountants, cost accountants, company secretaries, lawyers and students of these courses as well as MBA, B.COM, BBA and other graduate/post graduate students.
Also, written showcasing the practical exposure which we got while doing the impact analysis of GST of various corporate houses in different industries. Any reader can gain a basic to an advanced insight of the new indirect tax regime while reading this book. It a comprehensive guide, covering nearly all the dimensions in GST. It will be a big resource for the public to understand GST. This book is written considering the demand and needs in industry and to make the economy GST Ready.
There is a huge demand in the industry for people with knowledge on GST. This certification will help job-seekers in getting jobs in the industry and adding a value to their resume. The certification mentioned in their resume will give them an added advantage over other candidates for a given position in an organisation.
Commenting on the launch of the E-book, Shyam Kedia, GST Suvidha CEO & Owner, said,' I am excited and delighted to have authored this e-book. It has been done keeping in mind the multitude of questions that we as Indians will be asking chartered accountants and our taxation officer soon when GST is in motion. It will serve as a handy book and guide for the many student and young officers looking for jobs. It is a revolutionary product. With new tax regime – GST comes a huge change to the economy of the country and I am so happy to be a part of this changing face of India."
E-Book on GST launched by Shyam Kedia, CEO GST Suvidha