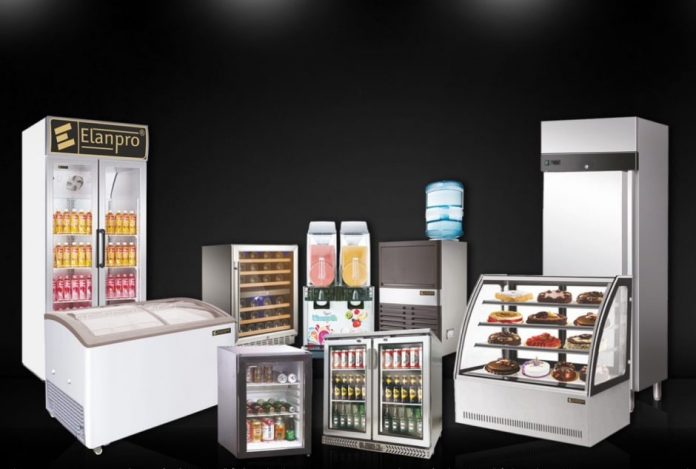 Indore | 14th March, 2021: One of the leading commercial refrigeration companies, Elanpro (Elan Professional Appliances Pvt. Ltd.) has launched their 2nd Experience Center in Indore at AB Road. The grand opening of the experience center 'Vatanukool' was inaugurated by the Former Chief Justice of Guwahati High Court, Justice Ramesh Garg.
Arun Tiwari, a kitchen consultant with over 30 years of experience in hospitality industry and Keshari Mal Jain, a renowned industrialist and social activist were the guest of honour along with Sanjay Jain, Director at Elanpro was also present at the opening.
The 700-square-foot experience center offers access to the full range of available items as well as a product demonstration to the customers. The experience center offers finest commercial refrigeration products specialized for bakery, kitchen, sweet shop, ice cream parlor and café. Showcasing modern technology, energy efficiency, and high quality, Elanpro focuses to provide effective servicing.
In the last four to five years, the commercial refrigeration market has seen a surge. This rise is attributed to an increase in disposable income, the number of working couples, and the desire for safe, less time-consuming food. Elanpro provides best-in-class features, technology, and solutions in product manufacturing and supply to meet the needs of end-users.
Sanjay Jain, Director at Elanpro said, "With our focus to expand our footprints pan – India, we at Elanpro are augmenting our approach to increase our visibility. The launch of our new experience center will provide a touch-and-feel experience to the end users, offering a comprehensive range of products in front of them instead of just providing a catalogue. Indore is the largest city of Madhya Pradesh and we are advancing to strengthen our presence here and in nearby areas. This store helps us to fully comprehend our customer's needs and achieve the required objectives."
Products including Blast Chillers and Freezers, Salad and Prep counters, Confectionery Solutions, and Retail Refrigeration Solutions such as Showcase Freezers, Chest Freezers and others are available at the experience center for the customers seeking comfort.
About Elanpro
Founded by Sanjay Jain, Ranjan Jain, and Shashank Joshi, Gurugram-based Elanpro (Elan Professional Appliances Pvt. Ltd.), India's one of the leading commercial refrigeration company was established in the year 2009. The company focuses on commercial refrigeration, including provision of food service solutions for pubs, bars, café, fast food chains, resorts, fine-dining restaurants, softy & beverages, food retail, and the healthcare sectors. Consistent with their service quality, it brings a rich experience and reaches a network of almost 310 Sales and 250 Service channel partners. The organization has created a well-structured network of over 560 channel partners for sales and services. Elanpro's CSR initiatives like Magic Wheel and Happy Fridge are a constant effort to give it back to the society. Recently, Elanpro has been listed among 2020's top 150 Growth Champions by The Economic Times, among the Top 500 in Asia Pacific by Financial Times, UK and SMB Story's Top Made In India to watch out in 2021
Commercial refrigeration company, Elanpro launches Experience Center in Indore