Emaar MGF Organises Safety Week Celebrations on 45th National Safety Day
Company arranges a host of activities at project sites to strengthen safety movement and awareness
Gurgaon: Emaar MGF, the leading real estate developer in India, commemorated the 45th National Safety Day and Week by organising the Safety Week at its project sites in Gurgaon and Mohali. The company in collaboration with its site contractors organised a multitude of activities during the week-long celebration from 4th-10th March 2016, to emphasize on the importance of safety among its site workers and to encourage them to comply with Health, Safety and Environment (HSE) norms.
The National Safety Week is celebrated from 4th-10th March every year across India, with 4th March observed as National Safety Day. The campaign was founded by National Safety Council (NSC), a self-governing and non-profit body, in 1972. This year, the theme was, "Strengthen Safety Movement to Achieve Zero Harm".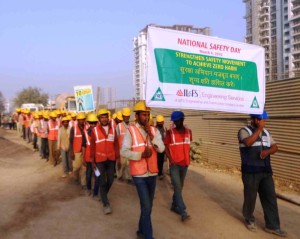 The occasion was marked by safety training & awareness programs, safety flag hoisting, safety pledge, safety awareness march, safety mock drills and demonstration, safety song, banner & poster display, and safety speeches conducted by the company at its project sites including Capital Towers, Marbella, Palm Gardens, Imperial Gardens, Emerald Estates in Gurgaon and Mohali Hills in Mohali. The safety week saw active participation and great enthusiasm from the construction workers.  All site employees of Emaar MGF, Contractors and workers took the Safety Pledge on the opening day of Safety Week to reiterate commitment towards Safe Practices at work. Prizes were conferred on best health, safety and environment (HSE) performers and winners of the safety awareness quiz, and the most safety-conscious site labourers and workers were identified and rewarded.
On this occasion, Mr Md Afaque Alam, Manager-HSE, Emaar MGF Land Limited said: "At Emaar MGF, we have always laid great emphasis to ensure a safe and healthy work environment for our work-force, while providing finest quality standards to our customers.  Initiatives like Safety Week / Day offer us an added opportunity to promote awareness about safe work practices, and give an impetus to our on-ground implementation of correct safety norms on a daily basis to help minimize adverse incidents. These endeavors have also enabled us to receive the Safety Award from National Safety Council of India. The National Safety Week will always hold great significance and implication to reiterate our commitment towards employing safe work practices and continual efforts in meeting and exceeding higher HSE Standards".
While offering premium quality projects to its customers, Emaar MGF also conducts several social initiatives regularly. The company recently contributed to flood relief measures in Chennai and Jammu & Kashmir, in addition to previous contributions towards floods in Uttarakhand and Odisha. It held health camps for its site workers on World AIDS Day, and awareness sessions on World Quality Day, alongside organising annual blanket distribution drive across its project sites pan-India. Various activities such as gift distribution to children of construction workers, blood donation camps, tree plantation drives, etc. are a regular part of company's calendar. It also runs Mobile Crèches for children of site labourers to help take care of their education, nutrition and health; in addition to associating with NGOs working in the field of disability, education and healthcare.
Emaar MGF Organises Safety Week