~ Estrade Education Conclave & Awards, 2017 provides an international forum for Indian Education and Skill Development sector~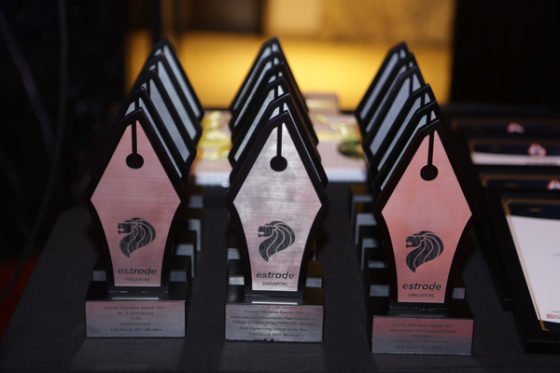 Education and Skill Development for world's fastest growing economy
Challenges in Education for the next generation of Indians
Education Policy framework with a view of the future
Focus on creating better opportunities for Teachers and Educators.
Mumbai, India, Singapore – 27 March 2017/Team Estrade//Singapore's Estrade Media Pte. Ltd. successfully hosted the Estrade Education Conclave & Awards, 2017 on 25th March, 2017 at Sofitel- BKC, Mumbai. The forum's main focus was Education and Skill Development, titled – "Augmenting the future of Education and Skill Development".
Estrade Education Conclave & Awards, 2017 provided an international thought-leadership platform to bring on board various stakeholders associated with imparting Education and Skill Development that created a learning ecosystem for the exchange of ideas and best practices. Furthermore, the Conclave discussed issues and challenges faced by the Indian education sector and connected with educationists to create more opportunities for students and aspiring leaders. It also aimed at recognizing those corporate entities, educational establishments and individuals who are at the forefront of arming the next generation of Indian professionals through ground-breaking learning methodologies in Education and Skill Development.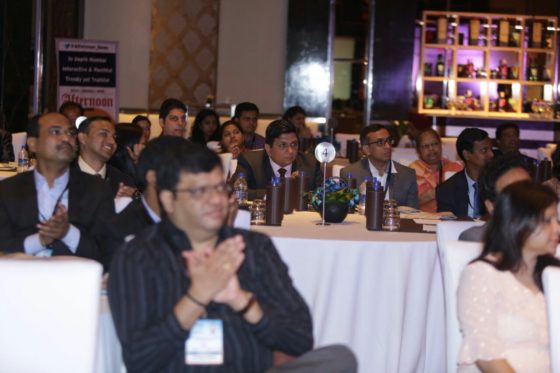 According to a Government of India report, by 2022, approximately 119 million additional skilled work force will be required in 24 sectors viz. Real Estate, Commercial Property, Infrastructure Development, Retail, Transportation Logistics, Automobiles, Textiles, etc. India being the world's fastest growing economy has a huge demand for skill-ready educated professionals in all industries, be it traditional or high-tech. This is an un-missable opportunity for all companies and professionals engaged in the Education sector.
Estrade Education Conclave & Awards, 2017 hosted a panel discussion which focused on the Education and Skill Development sectors. This was Estrade's first conclave on education which brought together stakeholders from government-owned institutions and privately-owned institutions on a common platform. The panel comprised of Robin Banerjee- Author and CEO-MD, Caprihans, Ratish Tagde- Founder of Insync Channel, Shubika Bilkha- Real Estate Management Institute (REMI), Dr. Bhaskaran Muthusamy- Vice Chancellor, Tamil Nadu Open University (TNOU), Ashok Kumar- MD – Gennex Partners India and Vishwasjeet Singh, Editor-in-Chief – Estrade.in as the Moderator. The discussion brought in the most interesting facts about the education industry such as the viewpoints of leading professionals from various sectors with education and work experience in India, USA, Singapore and other countries. During the panel discussion, everyone agreed on the disparity in the imparting of education in India, the huge potential of the Indian youth, incentivizing the teachers, revamping the curriculum for teacher's training and incentivizing the new research and creativity amongst the students.
Robin Banerjee, Author and CEO-MD- Caprihans said, "Making our youth skill-ready is only a part of the solution. In fact, inculcating qualities of entrepreneurship, character and ethical behavior are the most important parts of imparting education." Robin Banerjee, author of latest best seller-Who Cheats and How? Also said, "We do not lack in IQ, but in the imparting of EQ- Emotional Quotient."
Dr. Bhaskaran Muthusamy, Vice Chancellor- Tamil Nadu Open University (TNOU) pointed out, "Technology is the main disrupter of our educational institutions to reach out to a large section of our youth to impart education, especially to those areas that have poor connectivity and students who cannot afford to travel to a college or vocational institute. For this, TNOU has successfully developed an app which is easily accessible on all smart phones."
Ratish Tagde, Founder- Insync Channel said, "Our education policy framework must include education of Art, especially Music, which is and has been the core of our educational setup since time immemorial. Such holistic education helps to build students character."
Vishwasjeet Singh, Editor-in-Chief- Estrade.in summarized the entire discussion and said, "Our educational institutions are yet to tap the full potential of the Education and Skill Development of India's growing economy. This will have to be an industry-wide effort for not only students, but also teachers who are vital stakeholders when it comes to imparting of education. India has the best of everything. We only require proper planning with a concerted effort."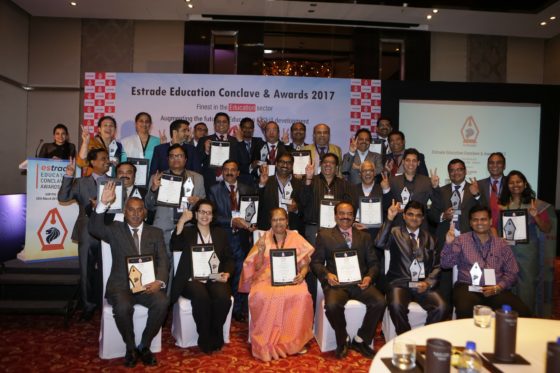 Winners of Estrade Education Conclave & Awards 2017:
Institution Awardees:
Global Indian International School, Singapore – Innovation in Early Learning
Sandip Institute of Engineering & Management, Nashik – Best Higher Education Institute of the Year
Tamil Nadu Open University, Chennai – Innovative Use of ICT in Distance Education
VIT University, Vellore – Best Private University of the Year
Smartkidz Educare India Pvt. Ltd., Secunderabad – Early Child Playschool Chain
Bankedge Training Academy, Mumbai – Best Placement Institute in Banking
Padmabhushan Vasantdada Patil Pratishtan's College of Engineering (PVPPCOE), Mumbai- Best Engineering College of the Year
Mind Ventures International, Pune – Best Innovative After School Model
NIIS Institute of Business Administration, Bhubaneshwar – Pioneer Management Institute of Odisha 2017
Scoo News, Jaipur – Best Education Media House of India.
Individual Awardees:
Dr.Mallikarjun G Hiremath, Belgaum – Educational Leadership
Dr. Nripen Kumar Dutta, Guwahati – Educational Entrepreneur of the Year
Ms. Seethakutty.S, Trichy – Iconic Principal
Mr. Ajay Dahyabhai Shah, Ahmedabad – Educational Consultant of the Year
Dr. Zuleika Homavazir, Mumbai – Female Educationist of the Year
Dr. Kapil Arora, Jaipur – Special Educator Award
Adv. Appasaheb Desai, Mumbai – Lifetime Achievement Award
About Estrade Media Pte Ltd:
Estrade is a Singapore-based digital media company. The company has its Indian office based out of Mumbai that currently has two editorial brands namely www.estrade.in and www.theonside.com. The world of business is always in a flux, more so in the emerging economies of Asia. Estrade, launched in 2014, focuses on corporate news. It provides a platform of diverse opportunities to business' and corporate entities which focus on carving a niche out for themselves. Furthermore, it recognizes the efforts and innovation of companies who are on the growth trajectory of their journey. Estrade as a media house, is dedicated to recognize the efforts of individuals and teams who work behind the scenes to make their corporate entities reach the pinnacle of success. Estrade endeavors to ensure that these teams' success stories are shared on public domains as case-studies for the benefit of all. The 2nd Estrade Real Estate Awards and the Inaugural Estrade BUILT Awards were successfully hosted on 21st October, 2016 in Singapore.
Estrade Singapore recognizes leaders in Indian Education Sector