Limeroad says its menswear segment has 23 sub-categories of apparel and accessories from over 250 Indian and international brands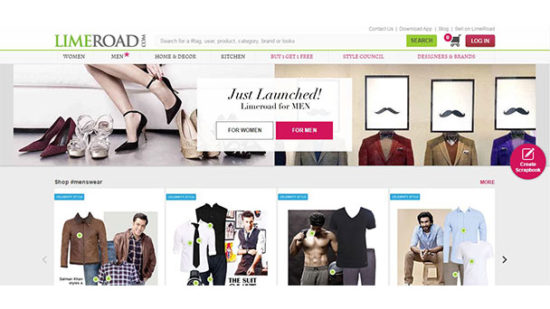 A.M. Marketplaces Pvt Ltd, which runs fashion e-tailer for women Limeroad, has entered the menswear category with the launch of a new segment—Limeroad for men—in a move that is likely to help the company boost revenue.
"Men in India are getting influenced by both local and global trends on fashion and there is a desire to be better dressed. They want to do that but in an affordable manner," Suchi Mukherjee, founder and chief executive, said in an interview on Tuesday.
The price range of the products for men begins at Rs.300. The company has three segments for men—super affordable (Rs.300-499), budget (Rs.500-999) and premium which go upwards of Rs.1,000. The women's range also falls under similar categories.
Besides affordability, Limeroad is also betting on its social commerce platform to address the visible gap in the market wherein men aspire to dress well but really do not know how.
The company creates looks by assembling different products such as a pair of shoes or belt to go with a specific denim garment. The work is done by over 200,000 scrapbookers on the platform. It has been doing the same for women customers so far.
It claims to have over 100,000 style suggestions and products for men on the site.
Limeroad for men currently has 23 sub-categories of apparel and accessories from over 250 Indian and international brands. The categories include top and bottom wear, ethnic wear and innerwear, among others. Colorplus, Globus, Raymond, Armani, Cross, Park Avenue, Pepe Jeans, Spykar, and Metro are some of the brands available on the site.
Unlike the global market, in India menswear is a larger market than womenswear. As per a study by consulting firm Technopak, with a market size of Rs.87,500 crore in 2012, menswear is the largest segment in India's apparel market accounting for 42% of the overall market.
In comparison, womenswear makes up 38%. The menswear market is expected to grow at a compound annual growth rate of 8.5% to reach Rs.1.31 trillion by 2017, it says.
Limeroad will face competition from larger rivals in the fashion space—Myntra, and Jabong—besides Amazon, Flipkart and Snapdeal.
"If you go on any of the horizontals you would find a whole lot of JPEG images and what Limeroad can uniquely do is show how to bring them together," Mukherjee said about the looks that the website creates to help customers buy different items.
A customer can buy an entire look or just the select items he wants on the basis of the look.
The company is also bullish that the average cart size of men's segment would be 15-20% larger as compared to the women's segment. It, however, declined to disclose the basket size of the women's segment.
The Gurgaon-based firm raised $30 million in a Series C round by investors such as Tiger Global, Matrix Partners and Lightspeed Venture Partners last year. Overall, the company has raised close to $50 million so far. It was set up by Mukherjee, Prashant Malik, Manish Saksena and Ankush Mehra.
Limeroad declined to talk about the number of orders it generates on a monthly basis.
Last year, the company also entered the home decor segment. Currently, it gets 80% of its business from apparel while accessories and home decor make up 10% each.
E-commerce sales in India are expected to grow from $14 billion in 2015 to $55 billion in 2018, according to a report in December 2015 by marketing research firm eMarketer.
Fashion e-tailer Limeroad enters menswear segment