One-Stop Market Place for Beauty, Fashion and Wellness Services in India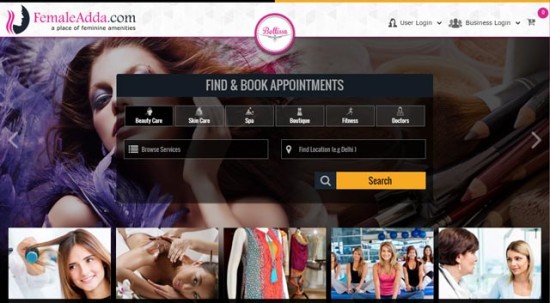 The beauty and wellness phenomenon is steadily on the rise with growing income, increasing awareness and advancement of tech savvy attitudes. People are more willing to discover new and sophisticated beauty and wellness 'experience'. FemaleAdda.com is an online one-stop platform for Indian women to explore beauty, fashion and wellness services in their city. The website is optimized to find apt service providers at customer's preferred location and time. On the website one will find service providers of an area listed along with complete information of their services and prices, seating capacity, staff, consumer ratings, reviews and interior pictures and videos. Women can discover, compare and book appointments for any number of services. FemaleAdda is progressively signing up with branded unisex salons, parlours and spas for deals, product sales and designing customized packages offering a discount range between 30%-70% to sell online.
Ashish De, Founder and CEO, Shipra Devi and Sonika Singh, Co-Founders, coming from CA/CS/CMA and engineering backgrounds are the backbone of the team. The 20 member strong core team comprises of IITians, software developers, web designers and marketing professionals having over 10 years of domain experience. According to a KPMG report, India is one of the top 5 countries in the global beauty and wellness industry with a market size of $9 billion, of which $5 billion comes from service sectors. This market is blooming with 20% growth Y-o-Y. There is no exact market data of ladies textile stitching, however, the Ready-to-Stitch (RTS) fabric market is estimated to be at $8 billion with a growth rate of 5.5%. RTS market was estimated at $2.4 billion, increasing at 7.9% annually. The FemaleAdda team conducted a market survey and concluded that ladies dress stitching contributes 75% of the stitching market and approximately 30-35% stitching cost is added on RTS fabrics to make Ready-to-Wear (RTW) dresses. The stitching market is valued at approximately $2.5 billion. Only 25% of the beauty and wellness market and 16% of the RTS market is organized whereas a major part remains unorganized.
Ashish De, CEO of FemalAadda , said, "Most of the surveys report only organized market business, which only accounts for 25%. The unorganized market which is nearly 75%, remains under developed despite providing qualified skilled services, and having proprietors who are trained from fashion designing institutes like VLCC, Shehnaz, Javed Habib's Institute etc. We have taken a step to develop the unorganized market and transform all budgeted parlours, unisex salons and boutiques under the brand name 'Bellissa' to manage the system of operation in an organized way under one umbrella. We are improving the operational and service quality by taking insights into their operations. We have tripled the market size by clubbing unorganized and organized sectors, all in one platform. We are providing an online booking platform for offline boutiques for the first time in India, which would help millions of women to discover nearby ladies tailors with their services, rates, works samples etc., they would also be able to compare with other tailors onsite and book them and get material collected from home. We bring the budgeted parlours, salons and boutiques under our brand, upgrade their services and train the staff to deliver quality services to match the competitive market. We negotiate with service providers to get better discounts for our customers, thus offering them best quality services at exciting prices. Besides transforming the market, we are removing the bargaining process and placing the entire gamut of beauty, fashion and wellness services for women to explore at their finger tips at much cheaper rates."
Ashish, further added, "Currently FemaleAdda has 1000+ tie ups, 10,000 registered users and have served 1,800+ users which are envisioned to increase up to 20,000 tie ups and one million registered female users by 2016. We have more than 20 customized combo package options for beauty care and spas active on the website all the time."
To bridge the gap between home services preferred by females, FemaleAdda has launched home service for beauty care, spa treatments, therapy and boutique tailors with 25 qualified beauticians, makeup artists, massage therapists, designers and ladies tailors on board with a target to reach 250 in Delhi, NCR within the next year. The company is also working to create a social platform where women can blog, write articles and discuss with each other and with specialists about beauty, fashion, wellness and market trends.
Future prospects include the plan to launch beauty, fashion and wellness products for sale on-site, a chat forum for women expanding at a pan-India level and the launch of Android and IOS mobile applications.
FemaleAdda.com, A Place of Feminine Amenities