Total private equity investments from foreign funds in Indian real estate increased 33%, from $1,676 million (around R11,306 crore) in 2014 to $2,220 million (around R14,974 crore) in 2015, according to latest findings of global real estate consultancy Cushman & Wakefield.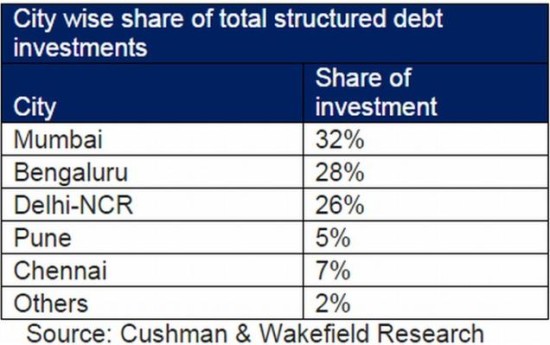 New Delhi: Private equity (PE) investment from foreign funds in Indian real estate has increased 33 per cent, from $1,676 million in 2014 to $2,220 million in 2015, a report by Cushman & Wakefield said on Wednesday.
Structured debt deals accounted for almost half of the total PE investments in 2015, the report stated. These deals are investments that are primarily debt transactions organised in a manner that offers assured returns to the investor.
In the year 2015, while only 18 per cent of total foreign PE investments were structured debt, as much as 94 per cent of the domestic PE investments adopted the structured deal strategy for investments, it added.
Sanjay Dutt, Managing Director, India, Cushman & Wakefield, said, "Mumbai, Bengaluru and Delhi-NCR accounted for about 75 per cent of these investments. However, with government initiatives to de-stress these cities, relaxed FDI norms and focus to improve infrastructure across the country, other cities in India are likely to witness rise in PE investments going forward."
Owing to recent relaxation in FDI norms, the entire real estate stock is now accessible to foreign investors. "At the end of 2015, the Indian real estate market is estimated to have investment potential of $ 54 billion to $67 billion in completed grade A office stock that can generate $ 5.4 billion of rental income," the report stated.
On the residential side, the market potential includes over 9,00,000 units that are scheduled for completion in the coming 4 years.
Foreign PE investments in real estate up 33%