Gulabs Launches the #EkDinEkCup Campaign to Reminisce Nostalgic Childhood Memories: 
---
August 3, 2020, Chennai: The #EkDinEkCup campaign was launched by Gulabs in Mid-July. This simple social media campaign was focused on the onset of monsoon complemented with the emotion of nostalgia. Apart from bringing back the classic tea and pakoda combination that is enjoyed during such times, the brand worked on exploring different teas that people could try in their homes, considering the lockdown.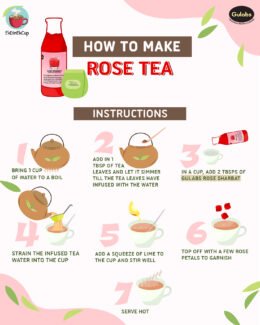 For this campaign, a well thought out approach was made to ensure maximum relatability. A two pronged method was used to connect with the audience. Firstly, a clear association was established on enjoying a hot cup of tea and a sumptuous plate of pakodas while enjoying the rain. Secondly, the idea was to serve people with quick and impactful varieties of tea over a span of  a week. These were some that one could easily make at home using the range of essence and artificial flavour free syrups that Gulabs offers. The recipe collection also included flavours, spices and ingredients whose use has become more prevalent during the pandemic  days. These include lemon, ginger, cloves, cinnamon etc. The campaign was named Ek Din Ek Cup (a cup, a day).
Through the campaign, the brand was able to reach more males than females. The campaign saw an active engagement from an audience between 25 and 54-year-olds. This campaign gave people a chance to try out multiple varieties of tea. Since the objective of this campaign was to increase engagement on the social media pages, the brand succeeded in doing so.
Teaser released at the start of the campaign : https://www.facebook.com/Gulabsfood/videos/281320529598219