The pandemic has been a period of incredible challenges across sectors, economies, nations and societies. With the gradual easing of pandemic restrictions and the year 2021 in its penultimate month, corporate leaders across sectors have made leaps in their learnings since the start of pandemic.  Real Estate Industry has had to evolve a lot, the sector after all is a major contributor to the country's GDP. Estrade Board Room had the opportunity to speak to Anubhav Gupta, CEO Vikhroli, Chief CSR and Sustainability Officer, Godrej Properties, Founder – GPL Design Studio, who shed some light on the happenings in his line of business. Following are excerpts from our interaction with him,
"…Vikhroli finds itself almost at the geographic centre of the city. The Eastern Express Highway has the potential to become the central artery of the city…"
Tell us about Godrej Properties Vikhroli and your journey with the Group.
Currently, I oversee the business for redevelopment and regeneration of Godrej Group's land holdings in Vikhroli. Additionally, I lead on our company wide Sustainability and Corporate Social Responsibility mandate. At Godrej Properties, I also founded the GPL Design Studio – a unique multi-disciplinary innovation engine with a mandate for design, product development, brand building and creation of unique customer experiences. I have been very fortunate to work directly with Mr. Pirojsha Godrej who like his great grandfather has the vision to develop a progressive and integrated mini-city with a quality of design, planning and execution that would be a global benchmark for modern India's urban life.
How the micro-market of Vikhroli is doing and its prospects?
If one draws a circle around the map of Mumbai, Vikhroli finds itself almost at the geographic centre of the city. The Eastern Express Highway has the potential to become the central artery of the city with links to eastern and western suburbs on one side as well as developments across the creek including the new airport. Due to the Godrej Group's long standing stewardship of the mangroves, Vikhroli is amongst the greenest neighbourhoods with the best air quality that can be found anywhere within the city. Owing to the immense potential of mixed use real estate on large consolidated land parcels, the planning and general quality of development can rival most large scale 'city within a city' type of global benchmarks. Our first mixed use node and flagship development – The Trees is nearing completion where on our residential development, we clocked amongst the highest launch booking values, quickest sold out records, fastest completion timelines and superior NPS scores from our customers. Each asset within The Trees masterplan including our residential buildings, two class A commercial buildings (Godrej One & Godrej Two), 5 star hotel (Taj at The Trees), allied retail development are IGBC Platinum rated and planned around Mumbai's only public art and sculpture park. The Trees development has emerged as a successful prototype of a new way of thinking, built on the premise of placemaking, identity, sustainability and walkability. The master plan provides accessibility and linkages to and from adjoining areas, the city, and the larger Mumbai region and aggressively pursues sustainability goals that enhance the liveability of an already green site through pedestrian friendly and climate sensitive green strategies. We believe that Vikhroli is perhaps one of the city's best and greenest kept secrets with unparalleled potential now and in the near future.
Tell us about your thoughts on design thinking.
Design Thinking is nothing but empathetic and creative problem solving. While one does not necessarily need to be a designer to be a design thinker, the training helps. I found it imperative as an architect to create a bridge between the way design studios use design thinking and how developers function to generate business. I believe, with the GPL Design Studio, we were able to create a conduit that amalgamated the best of both worlds to create a win-win proposition. Turning cost into value which solved for unique pain points when communicated well and delivered robustly always found willingness to pay, generated returns and was suitable for sustainability across the triple bottom line in our business. The idea of Design Thinking is now seen to be shaping all sectors including healthcare, banking, human resources, retail, hospitality, mobility, technology, and government among others. In corporate boardrooms, conversations around design seem to be formulating solutions for people, products, processes, partnerships, profits and the planet.
"Godrej Properties held a Covid-19 vaccination drive for all its employees, residents and workers in 2021. We focused on Worker Welfare including meal and ration distribution."
Godrej Properties is known for developing green buildings, would like to highlight the initiative taken by the company and your role.
Godrej Properties is a water positive and carbon neutral company (across Scope 1 and 2 GHG emissions). We are working hard to minimise our waste to landfill footprint proactively across our operations. We ranked first among listed global residential developers as a sector leader for a second consecutive year this year in the recently released Global Real Estate Sustainability Benchmark (GRESB) ratings. We were also recognised with a perfect score of 100 for public disclosure ranking of A this year. All our buildings are mandated to be a minimum of IGBC Silver rated. 92% of our development portfolio across India is green (very early unrated projects are being evaluated for green retrofits) with 8 Gold and 6 Platinum rated projects already delivered. We follow a 6P approach for sustainability covering – People, Process, Product, Partnership, Profit, and Planet. Our Environmental, Social and Governance (ESG) goals focus on including emissions reduction, water, waste, diversity, human rights, health and safety etc. to translate to meaningful industry wide impact. CRISIL recognised Godrej Properties with the highest ESG score in the real estate sector across India. I am privileged to serve as the company's Chief CSR and Sustainability Officer.
On the sustainability side, how will climate impact the real estate industry?
Climate change is real and perhaps one of the most serious paradigm shifts that will impact our generation. The production and lifecycle of real estate is one of the most high consumption when it comes to resource utilisation and subsequent environmental impact. Hence it is not only responsible but imperative to minimise and reverse the adverse impact of climate change when we consider development. Integrating ESG goals into the real estate business value chain is a good starting point. This does not contradict business viability, rather sustains and enhances it in the longer term. ESG focus is fairly advanced in developed markets and it is only a matter of time before this becomes widespread in India. ESG norms, Science based targets and other allied parameters percolate through the business value chain to comprehensively recognise and tackle the impact of climate change. We have seen specific focus on asset classes like commercial buildings especially on the funding side with several funds (foreign direct investors, institutional investors etc.) evaluating ESG performance as base hygiene during their diligence process prior to deployment. Overall ESG performance is also a key contributor to our brand values and our teams are translating these commitments into customer communication underscoring our environmentally and socially responsible delivery. On the residential side consumers are beginning to ask for green rated projects with a specific focus on translation into resident living experience and efficiency. Sustainable development is our responsibility as is communicating the rigour of our development journey to the customer who will actually reap the benefits. We piloted a 'sustainability manual' for one of our projects which we now include with our flat handovers. The manual was formulated to leverage the green infrastructure to finally help our customers reduce their bills and live healthier lives. We are working with home automation companies to further quantify and demonstrate these savings during use. Other successful pilots include urban farms, solar powered street lighting and rain water harvesting mechanisms across our flagship developments.
"…to strive harder to achieve GPL's aspiration to be a design-led company; and in order to bring the operations and the value proposition together, the design team restructured itself as the GPL Design Studio"
Tell us about the CSR activities at Godrej Properties, especially during this pandemic.
Godrej Properties held a Covid-19 vaccination drive for all its employees, residents and workers in 2021. We focused on Worker Welfare including meal and ration distribution. We ensured that majority of our workers were provided basic of food, shelter and healthcare during the lockdown. We partnered with local government agencies where possible to assist at the city level in this time of crisis. Alongside, GPL continued to work towards achieving its 'Good and Green' goals. The Good side includes working towards skill development, social protection programs, disaster relief support and early childhood development. We trained 26,320 people in the past year, supported construction workers to unlock 2 crores worth of government schemes for 10,777 beneficiaries, and our employees contributed a part of their salary towards disaster relief. On the Green side, we ensured green building ratings across our portfolio and have put in place Environmental Management System across all our sites to make our operations greener. Our other CSR activities included water shed and carbon sequestration projects, solid waste and crop residue management projects and joint research with IIT Tirupati on lifecycle mapping of construction and demolition waste.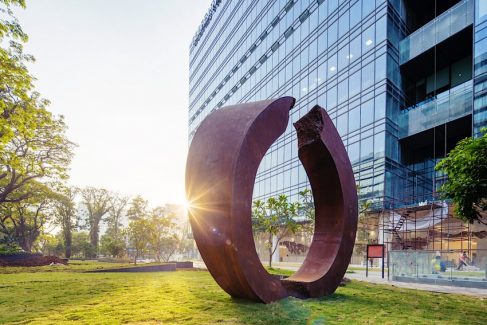 How was the GPL Design Studio born? 
Design has always been empowered at Godrej Group and Godrej Properties is no different. About 8.5 years ago, we relooked at design across the company – its value proposition to our product, consumers, stakeholders, our brand, including connecting to the mother brand.  On the operations side, we realized that our portfolio spanned services, asset classes and geographies across the country. In terms of design services – we looked at everything from master planning, urban design, architecture, interior design, landscape design, lighting design, sustainability, public art, place-making,  way-finding signage, branding and graphic design. For asset classes, a high percentage of our portfolio was spread across residential developments while we also did sizeable projects in commercial, retail, hospitality and civic uses, particularly in larger townships. We were one of the very few real estate developers with a national presence and a number of projects in each of our zones of North, South, East and West of India. Two key things happened due to this realization – we decided to strive harder to achieve GPL's aspiration to be a design-led company; and in order to bring the operations and the value proposition together, the design team restructured itself as the GPL Design Studio. These past years we've got our hands dirty – sketching, ideating, collaborating and envisioning together with the best minds in the industry to deliver some of India's finest developments. The unique format of a creative Studio within a corporate environment allowed for us to bridge the gap between design and business by creating the ecosystem for design to be delivered in time, at costs aligned with the business plan and at a quality level that gives back to our mother brand.
"For The Taj at The Trees, we have brought together a team of best-in-class international partners to help us design, engineer and deliver this landmark project."
Tell us about The Trees project.
Our flagship project, The Trees, is one of India's most sustainably planned mixed-use projects that we hope will contribute to the evolution of progressive urban design thinking in the country. We set about to envision a distinct image, identity and sense of place using authentic cues from the site's industrial heritage nestled within a verdant landscape. The idea was to create a robust framework that offers different users distinct opportunities for social and cultural exchange in a people-centric and innovation-driven, sustainable environment. We saved 80% of the existing trees to create an open, accessible and pedestrian friendly urban setting for a highly integrated district of residential, commercial, retail, hotel and cultural uses. Our sensitivity to nature and its preservation has resulted in significantly better air quality than the rest of the city. The master plan celebrates 'Godrej's past, present and future' by reinterpreting existing markers and extending their character to new structures. The Imagine Studio was envisaged as a microcosm of the mixed-use master plan and was our first adaptive reuse project, interpreting a cluster of erstwhile industrial buildings into our experience centre. Our headquarters building, Godrej One, is the first delivered asset of master plan and together with Godrej Two creates a distinctive commercial precinct tied together with landscape and extensive programming. The residential precinct is organized as a perimeter block around a tree lined courtyard with integrated play spaces and the residential community's thriving urban farm. The clubhouse evokes our industrial heritage in both form and materiality, and, scales the architecture down to a more human centric urban realm. Godrej Origins, our signature residential building has an activated retail frontage towards the heart of the master plan and a quieter private street on the other side which can be taken over to host for amenities and play spaces. All green areas are thoughtfully programmed and well connected across the masterplan with minimal interference from vehicular traffic making the entire development pedestrian, amenity, art and nature friendly.
"We are seeing Increased adoption of Green and wellness standards – development planning will integrate parameters for health and well-being…"
Tell us about the upcoming Taj hotel in Vikhroli?
A  project we are looking forward to opening, and one that is well into the construction stage is our first boutique hotel facing the mangroves and situated as the keystone of our vibrant mixed-use development at The Trees. For The Taj at The Trees, we have brought together a team of best-in-class international partners to help us design, engineer and deliver this landmark project. Our partners at Taj Hotels have been involved with us from the early stages of envisioning and developing this project. As the custodians of their iconic brand which is synonymous with international luxury and hospitality services, they are both the technical advisors and operators for the hotel. Our Godrej Group values and working styles are similar and we have found great results in coming together regularly  for workshops, charrettes, ideation, knowledge sharing and together shaping all aspects of the project with all our design partners WATG and Conran & Partners. A luxury hotel with 150 rooms and 3 signature F&B outlets and extensive meeting/banqueting facilities, the Taj at The Trees is truly the jewel in the master plan. Our teams have explored and integrated several unique collaborations for this signature hotel most recently a Gin Bar and Distillery on the roof top with an extensive terrace celebrating the vast mangrove views.
How the concept of home has changed because of COVID? How do you see the market and the sentiment of Indian home buyer evolving?
In living memory, never perhaps has there been a time where the entire world shut down and struggled to grapple with health, political, economic, social, cultural and environmental turmoil all at the same time. The COVID pandemic both divided and united the world simultaneously and continues to have a far reaching impact on all of us.
One of the primary responses has been the emergence of the Home as sanctuary as lockdowns world over have confined us to our homes as the centre of our lives. Ownership, location, proximity, form, function, planning, design and development have all undergone significant changes as adapt our ways towards resilience.
Home owners are prioritizing and seeking proximity to all essentials within walking radius. This may result in a preference for mixed use master plans. There is an increased focus on services planning with systems designed for a higher home occupancy; increased acceptance of automation with sensors monitoring quality of water, air as well as ambient temperature as well as high speed broadband bandwidth and support. On the design side we are seeing the need for effective facility management, easy maintenance and use as well as streamlined  people movement with separate elevator cores for staff/visitors and increased adoption of touch free technology. The pandemic has also highlighted individual self-sufficiency with fully kitted out kitchens furnished with sustainable white goods as well as spaces to engage and unwind with the emergence of home gyms and a renewed focus on balconies to get fresh air. Home owners are looking for flexibility in spaces for different members to adapt for simultaneous use as well as planning for privacy and acoustics to allow for different functions to be carried out simultaneously within the apartment. We are seeing Increased adoption of Green and wellness standards – development planning will integrate parameters for health and well-being with a renewed focus on daylit spaces, natural ventilation, air quality and water security.
Home owners are prioritizing & seeking proximity", Anubhav Gupta