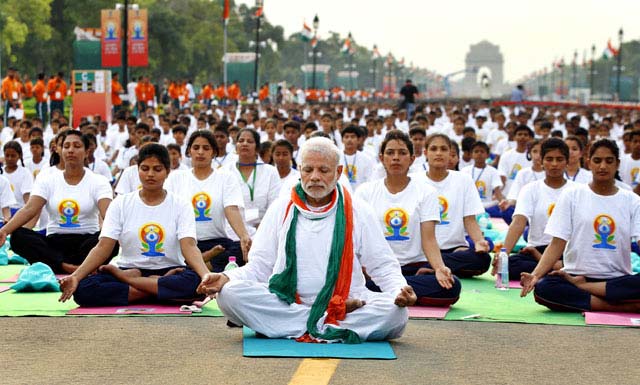 The 57 Minister who have been assigned the task of leading this year's programme include Home Minister Rajnath Singh, Finance Minister Arun Jaitley, Defence Minister Manohar Parrikar and HRD Minister Smriti Irani, among others.
Ministry of Tourism is celebrating the 2nd International Day of Yoga on 21st June 2016 by hosting a familiarisation tour for a group of 50 foreign delegates consisting of tour operators/ travel agents/ media persons/ opinion makers/ Scholars from 20 countries which are source markets and the markets that matter for promotion of Yoga and Wellness according to a release.
The group of 50 delegates will split into 2 groups, which will participate in Delhi and Chandigarh on 21st June, 2016, separately. Both the groups will then follow a tour program including visit to the wellness & spiritual centres in Haridwar, Rishikesh, Trivandrum, Cochin, Neyyar (Kerala), Pondicherry & Chennai.
Ministry of Tourism is undertaking following activities for publicity and promotion and to market Yoga and its benefits worldwide :
1. Creatives of posters, Standees etc. to promote International Day of Yoga are being sent to India Tourism Offices – Domestic and Overseas for production.
2. The Ministry of Tourism is re-printing 'India – The Land of Yoga' brochure, the soft copy of which is being sent to the India Tourism Offices overseas for production/ distribution.
3. The Ministry will also promote International Day of Yoga through Social Media.
LAST YEAR
June 21 was declared as the International Day of Yoga by the United Nations General Assembly in December 2014. Over 190 countries, including 40 Islamic nations, supported the move to have a special day for yoga.
Following this, the first International Yoga Day was observed across the world on June 21 last year with Modi performing yoga along with 36,000 people at the Delhi's historic Rajpath.
India gears up for 2nd International Yoga Day