Presented by Haptik in association with TLabs, the Botathon witnessed participation from over 40 teams who developed chatbots across a range of topics
Bangalore, December 13, 2016: Haptik – India's first ever conversational commerce platform powered by AI in collaboration with TLabs conducted India's first ever Botathon – hackathon for chatbots in Bangalore on December 10 and 11. The Botathon witnessed participation from over 97 engineers and developers from across 10 cities including Hyderabad, Jaipur, Delhi, Mumbai, Chennai and Bangalore. The teams created spent 2 days creating chatbots across multiple platforms to solve a range of common yet complicated problems across areas.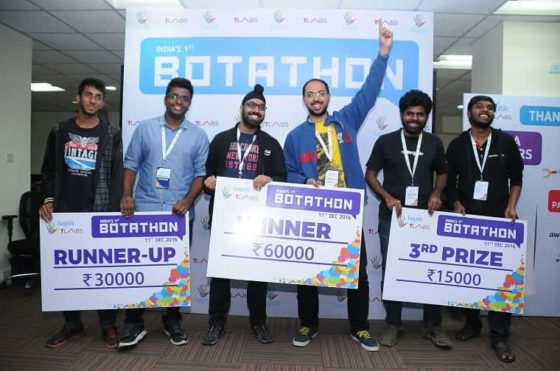 The Botathon provided the participants an opportunity to interact with a host of mentors that included Abhimanyu Godara – Founder, BOTTR.me,  Pratyush Prasanna – Founder, Magik Tiger,  Abhishek Gupta – COO, TLabs, Gaurav Munjal – Co-Founder & CEO, Unacademy, Swapan Rajdev – Co-Founder & CTO, Haptik and Jayvardhan Sambedu – Technical Manager Emerging Trends & Technologies, Societe Generale Global Solution Centre.
Some of the bots created include:
Educational Industry: A Bot to help you study engineering, a bot to give teenagers career advice and a bot to help you take notes during class
Agricultural Industry: A Bot to help educate farmers, help them book soil tests and based on the samples, get reports from government officials
Entertainment industry: A Waiter bot (Brotender) that can make your restaurant experience a lot better, a bot to crowdsource the DJing on slack
Health and Nutrition: A bot to help users keep track of calories and help them with their weight goals, a bot to be your personal trainer and motivate you to go to the gym
Home Automation Industry: A bot that can control the electronics at your home with a simple message
Tool bots: A bot to QA other bots, A bot to replace DevOps for you
After two days of brainstorming and frantic coding, 10 bots were shortlisted which were judged by a panel of eminent jury comprising that comprised of Sumit Jain – co-Founder & CEO, CommonFloor.com, Shailesh Lakhani – Principal, Sequoia Capital and Sumit Jain – Partner, Kalaari Capital.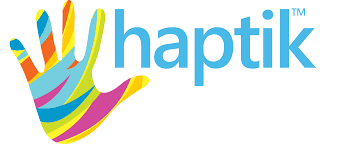 Top 3 Chatbots:
The duo of Swarndeep S Arora and Anshuman Dhamoon developed a bot that helps users keep a track of their fitness goals and motivates them to achieve them by analysing their daily calorie intake and suggesting appropriate diet and workout regime
Rohin Gopalakrishnan and Arvind Kumar developed a Facebook Messenger bot with focus on customer experience. Their bot – BroTender – aims to automate and simplify customer interaction at bars and restaurants without the need for the long waits for waiters and bartenders to take the orders. A user can ask the bot for the menu or have it recommend one based on personalized taste in a restaurant. The bot also keeps a track of the user's favourite meal from a previous order, splits payments with friends and will pay off the bill from the wallet integrated within
Ganesh Kumar R P and Arvind Thangamani created a slack bot (DJ) for the team, which team members can use to request for a song of their choice. As requests keep coming in, it queues them and also accepts controls like 'next', 'pause', 'clear playlist' to operate on the playlist. Using machine learning to further enhance the experience, the bot also suggests songs to the team based on the songs played thus far
Speaking about India's first ever Botathon, Aakrit Vaish – Co-founder and CEO, Haptik said, "2016 has been a year of Chatbots and also the year when CUI (Conversational User Interface) has come broken through in a big way. What is heartening to see is that Indian developers and startups have been at the forefront of this revolution, which is also a reason we decided to host this Botathon. We received a tremendous response for the event which is evident in the solutions these young developers have created which I am certain will evolve and see the light of day. I would like to thank all the mentors and judges who made time to be a part of the event and look forward to increased participation next year."
India's first ever Botathon – hackathon for chatbots