Infibeam Incorporation Ltd, the parent of horizontal e-commerce platform Infibeam and e-commerce enabler BuildaBazaar, is eyeing a valuation of as much as Rs 2,289 crore ($340 million) in the first public issue of an e-commerce firm in the country.
The company has pegged a price band of Rs 360-432 a share for the issue which opens on March 21.
This would value the company between Rs 1,986 crore and Rs 2,289 crore, as per VCCircle estimates. Infibeam promoters, who currently own 56.63 per cent stake, would hold 43.7-45.3 per cent stake post issue.
It would be the fourth most valued Indian internet-related business on the public market behind Naukri.com owner Info Edge (India), Just Dial and NASDAQ-listed MakeMyTrip.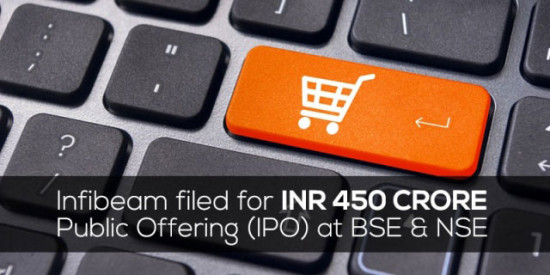 The public issue will test the waters for valuation in the sector. An investor in the biggest Indian e-commerce firm Flipkart recently wrote down the value of its investments in the firm, adding voice to a section of analysts who have been questioning the rising valuation of e-commerce firms.
To be fair, Infibeam had a positive surprise stored in its financials having come out of the red in the first six months of the current financial year.
It reported operational revenues of Rs 171.27 crore for the April-September 2015 period with EBITDA of close to Rs 15 crore and net profit (adjusted for prior period items) of Rs 6.5 crore.
It had clocked a net loss of just under Rs 10 crore on operational revenues of Rs 288 crore for 2014-15.
This is a rare case of an e-commerce venture that is not losing money. Bigger peers' balance sheets are awash with red ink with Flipkart itself notching up close to Rs 2,000 crore losses for the year ended March 31, 2015.
However, Infibeam draws a chunk of its business from B2B services to other retailers and is not directly comparable as a standalone consumer e-commerce venture.
Meanwhile, the IPO would also open a window for value unlocking for some shareholders.
Founded in 2010 by a former Amazon executive Vishal Mehta, Infibeam restricted itself from raising private capital, unlike its peers. It did not get too aggressive in customer acquisition to drive the B2C business and has been especially pushing the B2B e-commerce enabler platform BuildaBazaar.
Infibeam's only external equity funding has come from media house Bennett, Coleman & Co Ltd, which bet around Rs 33.3 crore through the ad-for-equity investment platform Brand Equity Treaties Ltd (BETL). BETL owns a 1.8 per cent stake in the firm. BETL also pitched in with Rs 2 crore of non-convertible debentures, which are outstanding.
Although BCCL is not offering any shares in the IPO, it would get a surge in valuation on paper on its investment, if the issue succeeds.
On the flip side, two (Kotak Mahindra Capital and ICICI Securities) of the original four merchant bankers identified for the issue have withdrawn their participation from the issue. Though it is not unusual for bankers to withdraw participation from the time a firm files its draft prospectus, given the issue is in a high profile and booming sector, two large bankers disassociating with the IPO raises some eyebrows.
To be sure, Infibeam is looking at an aggressive valuation given its size. Although not strictly comparable, it's asking valuation in terms of conventional benchmarks such as price-earnings multiples is higher than that commanded by other consumer internet firms including the most valued Info Edge.
The response to the issue would also pave the way for others such as the firm behind BharatMatrimony.com to float the issue. The parent of the matrimonial site is already in the queue for IPO.
Infibeam eyes up to $340M valuation in IPO