BANGALORE, March 21, 2017 /PRNewswire/ —
Bangalore-based online interior design platform, Furdo, has achieved what most well-funded startups have struggled to achieve since inception – 'Become Profitable'. Started with an angel investment of $400K, Furdo has been growing at an average of 30% month-on-month since April 2016, that lead to them achieving operational breakeven in September 2016.
The key driver to this breakeven story lies in a single word, that everybody at Furdo across verticals and hierarchies, is asked to internalise – 'IMPACT'.
"We are an impact focused organisation. Maximum impact from minimum effort/spend has always been the primary goal across verticals," says Ishwar Sundararaman, Co-founder & CEO, on the single-most important thing that has been responsible for Furdo's race to profitability.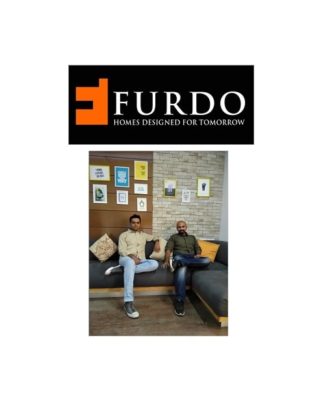 Founded by Kiran Singh, Founder & COO; Ishwar Sundararaman, Co-founder & CEO; Arvind Singh, Co-founder and funded by Bobby Reddy – everything Furdo has done since their launch in May 2015 has been to make next-gen interior design, visualisation and implementation – accessible to every single new home owner in Bangalore. It has been a hard-fought ride to profitability since then, as the business model changed and evolved every two months.
Furdo started with the assumption that they could just focus on design and leave the phase of implementation to established online/offline brands in this space. But they quickly realised that the industry was too unorganised and good solutions and good price points were lacking.
"We soon realised that unless we can translate design to reality, it is but a job half done. We also realised for a ticket size as large as this, there were no end-to-end brands that a customer could trust," says Kiran Singh, Founder & COO, on the biggest step that Furdo had to take.
The other key thing that Furdo did was to buck the trend and to stop shouting discounts. And instead, emphasise on the value they bring – namely great design, top designers, agile project management practices and a 5-year warranty on products.
"Discounts are not the only way to get traction. We actually created a great brand image and story to get traction," adds Ishwar Sundararaman, as he talks about how they managed to attract customers who value design over discount.
People, both within and outside of the system, have also been hugely crucial to the growth of Furdo. A lot of external designers, who work with Furdo as design consultants, swear by their org culture of familial warmth, openness and camaraderie.
"Back in Dec 2015, when we were running out of money, instead of letting go of people, we asked the second rung leadership to take a 50% pay cut. To our surprise, not only did the second rung say ok in a jiffy, none of them actually quit," a sentiment echoed by both Ishwar Sundararaman and Kiran Singh, as they talk about the importance of org culture, and how it plays a key role in the journey to profitability.
Now that they are profitable and enjoying the windfall of organic growth, Furdo believes that they have what it takes to be an interior design platform, at a more-than-reasonable scale.
"We believe we can double our revenue every 4-6 months, without any funding. Therefore growing at least 4-6X in the next year. In 12 months we will be in about 4 cities. All without any external funding whatsoever. The only reason to seek investment is to replicate what we have learnt faster and help put distance between us and the other smaller startups in this space," said Ishwar Sundararaman on the fundraising roadmap.
Furdo also uses cutting-edge VR tech that is unmatched in the industry. The ability to help the customer visualise the space without any ambiguity, coupled with a collaborative approach to working with the design ecosystem, has helped Furdo curate some of the top designers in the city. All of which, have helped them accelerate their journey to profitability.
Today, Furdo is an interior design and implementation platform that seeks to organise this industry, curates the best players in the market and solves the customer's problems end-to-end.
Book a design consultation with some of Bangalore's top designers: http://www.furdo.com
Interior Design Startup Furdo Races to Profitability in Under 14 Months