Istituto Marangoni Mumbai Appoints Architect & Designer, Rooshad Shroff as their 2023 Mentor for Interior- & Product-Design Students
Mumbai, February 2023:
Istituto Marangoni School of Fashion & Design, Mumbai is pleased to announce the appointment of acclaimed Architect & Designer, Rooshad Shroff as the 2023 Mentor for Interior- & Product-Design Students. In his role as mentor, Rooshad will work with Istituto Marangoni's Mumbai students and guide them through their projects and coursework.
The collaboration with Rooshad is part of Istituto Marangoni's larger 'I'M MENTORS' programme, which seeks to inspire and support students while helping them grow their skills. Istituto Marangoni's mentors are the go-to people for future fashion, design, and art talents. From special masterclasses, panel discussions, co-branded projects and more, Istituto Marangoni mentors play an important role in their academic development.
Speaking about the mentorship collaboration with Istituto Marangoni, Rooshad Shroff, says, "I have always been passionate about supporting educational initiatives across the spectrum. The opportunity to work with students from the Istituto Marangoni takes on even more significance as it allows me to share my knowledge and experience as a designer with the next generation. As Einstein said, 'it is the supreme art of the teacher to awaken joy in creative expression and knowledge'. I'm sure this mentorship will prove an enriching experience, and I look forward to it."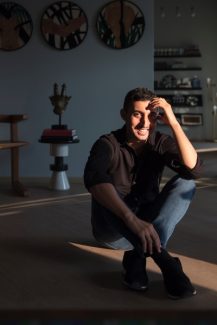 Based out of Mumbai, Rooshad founded his practice in 2011, which is now very well established across the design spectrum, ranging from architecture to interiors and bespoke furniture. The studio has carved out a niche for itself based on the philosophy of integrated design, with a special focus on artisanry and high-end luxury. Cultivating an intimate work ethic, which offers clientele the utmost attention and confidentiality is an absolute prerogative, as is prioritising quality over the quantum of work.
Over the course of a decade, Rooshad has undertaken projects across the country – from New Delhi and Jaipur to Hyderabad and Goa –and abroad as well, in cities such as London, Bangkok and Abu Dhabi, amongst others. Afforded the opportunity to make a mark on such a geographically diverse scale, the practice has won national and international acclaim, with its projects featured in numerous media publications across the board. Rooshad has been named Elle Décor International Design Award (EDIDA) Designer of the Year (India) 2017, is the recipient of the NDTV Architecture and Design Award 2015, the Institute of Indian Interior Designers (IIID) Award 2018, and the Good Homes Award 2015, to name a few, as well as a recurrent placeholder on Architectural Digest India's AD50 and AD100 lists year on year.
"We are thrilled and honoured to announce the collaboration between Istituto Marangoni Mumbai and Rooshad as part of our inspiring and creative mentorship programme. We are excited for our students to have the opportunity to master their craft alongside such an influential figure from the fields of interiors and product design and I cannot wait to witness the abundance of creativity and passion that will arise from this association," adds Tarun Pandey, Chief Operating Office – Istituto Marangoni Mumbai, concerning the collaboration with Rooshad.
Read More Articles on Estrade Education
Istituto Marangoni Mumbai Appoints Architect & Designer, Rooshad Shroff as their 2023 Mentor for Interior- & Product-Design Students