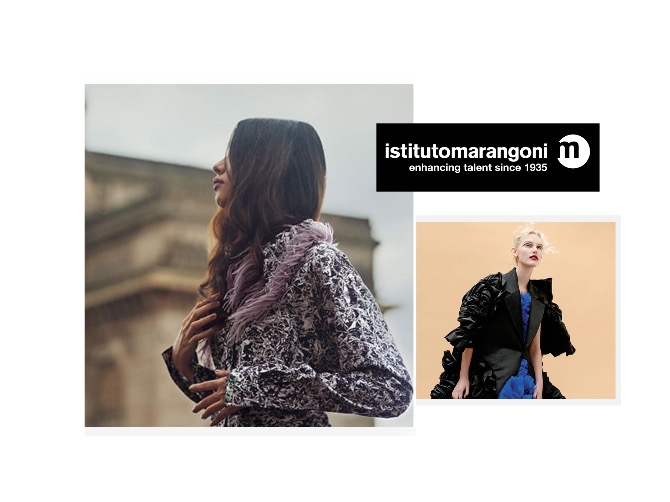 ISTITUTO MARANGONI MUMBAI PRESENTS THEIR 2023 STUDENT SHOWCASE – 'MAYA'
Mumbai, 18th September 2023: On Friday evening, the acclaimed Italian Fashion and Design school, Istituto Marangoni Mumbai, hosted their 2023 fashion showcase by fashion design students in a live setting. Aptly named for the times we live in, the show, 'Maya' – meaning 'illusion' in Sanskrit – was philosophically about what is real and what we manifest in our surroundings, our universe, which now includes a metaverse. It was all about the power by which the universe becomes manifest, the illusion or appearance of the phenomenal world.
Focusing on the theme of 'illusion', the show was born out of the realisation that before the pandemic we were living in a kind of dream, a bubble. We could have everything, we could do everything at any time, and then, when the pandemic came, everything stopped. We were so busy 'doing' that being forced into 'being' was a big struggle. As a result, the post-pandemic landscape became a jump-off point for realness, keeping alive a sense of hope, moments of renewal, self-observation, and observation of the world, where restoring traditions and connection became essential key elements in the new order. This was underscored by the intuition that, now, more than ever, embracing those characteristics is essential while navigating the complex world of the fast speed of a digitally advancing age.
The collections and the journey of the students through them are a kaleidoscopic view of the world now, the way they see, and feel in the new world. The feeling of uncertainty, unfinishedness, and rawness alongside the subtle beauty of imperfection, open possibilities.
Speaking about the virtual showcase, Tarun Pandey, COO – Istituto Marangoni, Mumbai said, "Istituto Marangoni Mumbai's 2023 student fashion showcase – Maya – spotlights the creativity of our fashion design students through their 19 collections. These are the result of a reflection by each designer on the unprecedented couple of years that the fashion industry has gone. The collections by these talented students are filtered through and influenced by the unique point of view and brand-new expressive language of Gen-Z, to which our students belong.
At Istituto Marangoni we strive to prepare students for a future in global business and responsible innovation is at the heart of this. With the world changing quickly post-pandemic with more focus on craft, experiences and craftsmanship, we want to ensure our academic offering and results from this education is showcased on a global scale"
Student collections not only celebrated their personal and professional growth at Istituto Marangoni Mumbai but also embraced the concept of 'Maya', as described above. There was a total of 19 students showcasing their collections at the show. These are as follows:
¨     Shreya — Unread
¨     Krish Arora — Pragma
¨     Sahiba Balwa — Glaze
¨     Riya Bokadia — Trammel
¨     Idekaa Dang — Phantasm
¨     Surili Dey — Ignite Thy Own Heart
¨     Minal Gala — Knits & Knots
¨     Krishvi Garg — Credence
¨     Ashna Gidwani — Emerge
¨     Sudiksha Gupta — Introspection
¨     Naisha Nihaluddin Khan — Borderline
¨     Chirag Parekh — Revive
¨     Aryan Patel — Khaal
¨     Niyati Patil — Calvary
¨     Lipsita Priyadarshini — Konark
¨     Anjani Pugla — Paradox
¨     Avanti Purohit — Daydream
¨     Alika Rathee — Consciousness
¨     Yashas Sahni — Frail
¨     Akshath Sehgal — Cybernetics
In addition to the above, Fashion & Textile Design Management post-graduate student, Minal Gala also presented her collection called Knits & Knots.
Lipsita Priyadarshini was awarded Istituto Marangoni Mumbai's '2023 Fashion Design Student of the Year' for the collection that she showcased at the event.
Also, for the very first time ever, Istituto Marangoni Mumbai's students also presented the work that they had done as part of an industry collaboration with UPKVIB called, 'Project Khadi', which brought to life creations made from India's indigenous and traditional textile heritage of the handloomed fabric, Khadi.
Talking about the show and the level of fresh talent, Mevin Murden, Director of Education – Istituto Marangoni, Mumbai said, "year after year we are really shaping the identity of the Mumbai school, now recognised within the group for students' exploration of India's rich heritage of crafts which becomes very evident in the collections. This is what we wanted to highlight this year during the show, so the focus could be really about the meticulously crafted garments."
The excellent reputation enjoyed by the school lies in the distinctive elements that have marked its identity since its foundation; first of all, the enhancement and promotion of 'Made in Italy' values, combined with a strong international vocation, and expressed through an educational system of proven quality and effectiveness, which makes use of the contribution of, and the established collaboration with, the most prominent fashion companies of the world.
Istituto Marangoni Mumbai is planning on broadcasting the show via a deferred IG Live session on Istituto Marangoni Mumbai's Instagram , Corporate Instagram, and Metaverse on Saturday 23rd September, 2023 at 6:00 pm (IST).
Appreciations:
The Rilievi Group, a leading company in handmade tailoring and embroidery for the haute couture industry partnered with Istituto Marangoni Mumbai for the event.
Salon academy, Daniel Bauer Academy, supported the hair and makeup curation for the fashion showcase.
Istituto Marangoni was founded in 1935 in Milan as 'Istituto Artistico dell'Abbigliamento Marangoni' and has been a top educational choice for creatives in the worlds of fashion, art, and design for over 85 years now. With four generations of students from 5 continents, it was the springboard for over 45,000 luxury professionals, including Domenico Dolce, Alessandro Sartori, Paula Cademartori, Gilda Ambrosio, Julie de Libran, and Nicola Brognano. Istituto Marangoni currently welcomes about 5,000 students from 108 different countries every year in its schools in the world capitals of fashion, art, and design, including Milano, Firenze, Paris, London, Dubai, Mumbai, Shanghai, Shenzhen, and Miami. Istituto Marangoni is ranked among the 100 best universities in the world in its fields according to QS World University Ranking 2023.
The RILIEVI Group, founded in 1991 in Bologna, Italy, is a leading company in handmade tailoring and embroidery for the haute couture industry working with major houses in both Europe and America. Rilievi has headquarters in Bologne, Italy, Mumbai and a showroom in Soho, New York City. The Group was one of the first Italian luxury companies to earn an SA8000:2014 certification.
The Daniel Bauer Academy is India's largest and most respected makeup and hair training academy. Founded in 2017, the brand operates fully owned academies across India in Mumbai, Delhi, Kolkata and Bangalore. They specialise in the development and placement of makeup and hair artists from India and Internationally.
Read More Articles on Estrade Education
ISTITUTO MARANGONI MUMBAI PRESENTS THEIR 2023 STUDENT SHOWCASE – 'MAYA'