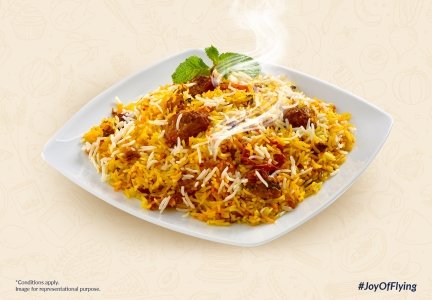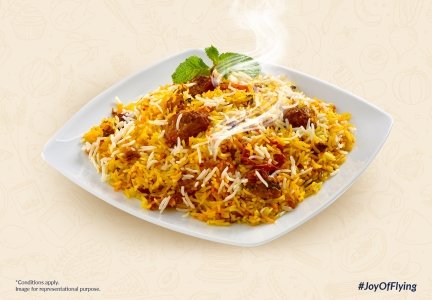 ~New, innovative and attractive oven-proof meal box to retain meal freshness~
~Airline reintroduces the all-popular 'Biryani Festival' every Friday~
Mumbai, January 16, 2018: Jet Airways, India's premier full-service international airline, has enhanced its in-flight dining experience for Economy guests, with a particular focus on quality and choice of meal services. The new initiatives, including one in which the airline will introduce specially created, innovative, oven-proof meal boxes for shorter duration flights, will help the airline further enrich and strengthen its full-service offering.
Beginning the New Year, meals on domestic flights with a duration of less than an hour (60 minutes) are being served in these specially fabricated and designed meal boxes, that preserve the flavour and freshness of the food being served. The appealing boxes will not only ensure that meals remain piping hot and are served fresh, but will also enable Jet Airways' to expanding the choice of its meal offerings significantly. The move will enable guests on short-haul flights to savour food that is fresher, warmer and tastier.
Popular snack options served in these special boxes include Samosas, Vada Pav, Chicken Empanada, or a Vegetarian/ Chicken Pizza Stromboli, with complimentary dessert – all guaranteed to be served at the right temperature. With eight different menu combinations, guests can expect a new surprise every time. The new boxes, which are recyclable, will also go a long way towards reducing the airline's carbon footprint as they will eliminate the requirement for trays and covers, as also reduce water consumption. The initiative is also expected to quicken Jet Airways' inflight service on shorter duration flights. Moreover, the elegant boxes will offer a more refined on board dining experience for guests.
Friday Biryani
Starting January 05, 2018, Jet Airways has also begun serving Biryani as a standard menu offering for lunch and dinner aboard its flights every Friday. The airline's culinary initiative is available on flights connecting the six metros of Mumbai, New Delhi, Chennai, Kolkata, Hyderabad and Bengaluru.
The introduction of Biryani on Friday's follows the immense success of the Biryani festival that the airline had recently hosted. The mouth-watering and delectable delights served during the week-long festival had received extensive appreciation from guests. In fact, Biryani was also one of the top-most ordered food item by Indians in 2017, as per certain reports.
Jet Airways' new initiative brings together a whole host of Biryani flavours from around the country, helping its guests experience and celebrate the culinary culture and flavours from several Indian states while experiencing the Joy of flying with the airline. The selections have been carefully crafted and comprise an enviable spread that includes several regional bestsellers such as Yakhni Pulao Biryani, Aloo Badi Ki Biryani, Hyderabadi Chicken Dum Biryani, Kabuli Biryani, Kolkata Style Chicken Biryani, Lucknawi Dum Biryani, Shahi Veg Biryani and Veg Mopla Biryani.
Jayaraj Shanmugam, Executive Vice President – Products & Services, Jet Airways, said, ""Delighting guests with an exceptional flying experience has always been our endeavour. This time, our focus is to refresh our Economy meal service using innovative ideas. Innovation and guest delight are the cornerstones of our service philosophy and we will continuously work to improve our product offering"  The Friday Biryani concept has been introduced in response to popular demand following the success of the weeklong'Biryani Festival' held in September and the new service concept will allow the airline's guests to enjoy the varied flavours of India.