Corporation focusing on enhancing freight traffic to improve revenues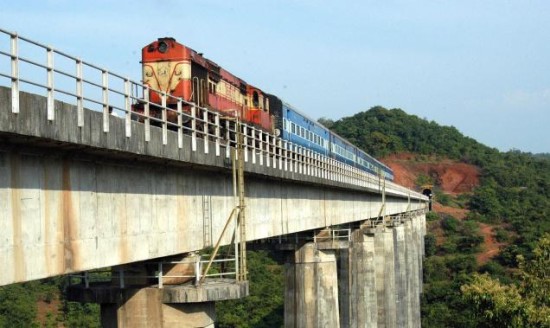 New Delhi: The Konkan Railway Corporation Ltd. (KRCL) will construct 11 new stations and eight loop lines along its 741-km network to enhance line capacity and handle more trains.
Speaking at an meeting organised by the Kanara Chamber of Commerce and Industry (KCCI) here, KRCL Chairman and Managing Director Sanjay Gupta said that the proposals are in the final stages of getting a sanction from the Railway Board.
KRCL had not constructed 20 stations at identified locations during the construction period for want of traffic. However, the traffic grew manifold and hence the need to build these stations, Mr. Gupta said.
The average distance between two stations on a single-line network, like KRCL, should be 8 to 10 km for easier train movements; however, it is 13 km in KRCL with the longest being 19 km between Kumta and Gokarna Road. The average distance comes down to around 11 km after 11 stations are built, he added.
The Roll On-Roll Off service introduced by KRCL has been a great success and the corporation is planning to add one rake to the existing fleet of six rakes between Kolad and Surathkal.
Ro-Ro earnings in 2015-16 was Rs. 66 crore, less than the Rs. 6.3 crore earned in 2014-15. The reduction was due to decreased demand and economic slowdown, Mr. Gupta said.
The CMD justified higher transportation charges on the Konkan network on the ground that the construction costs had been very high. This has been the practice within the Indian Railways. On KRCL network, the distance is escalated by 40 per cent to calculate passenger fares as well as freight rates.
Mr. Gupta said KRCL is strongly focussing on enhancing freight loading to improve revenues. It is prepared to offer containerised traffic and also ready to provide exclusive rakes for movement of parcel traffic, he said and urged the trade body to make use of the facilities. The corporation is planning to build a container depot to handle container traffic in Goa, Mr. Gupta added. KCCI President Rammohan Pai Maroor, senior KRCL officials and others were present.
Konkan Railway plans to build 11 new stations