KPMG Report finds that for 72% of Users 'Fun and Excitement' in Sports is the primary motivator to play Fantasy Sports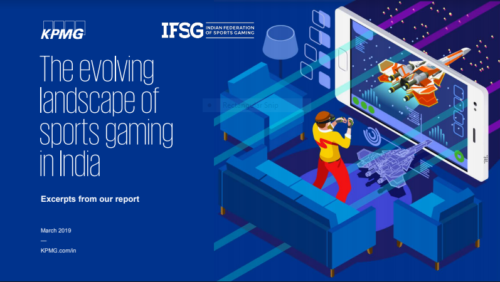 Online gaming on the rise in India, revenues expected to grow at 22% CAGR from FY18-FY23
54% of respondents* play fantasy sports for free
69% of users say that there is NO overlap between Fantasy Sports and Sports Betting
Punjab & Haryana High Court's judgment on Dream11's format (or equivalent) of fantasy sports is a fillip for the fantasy sports market
Mumbai, March 4, 2019: The Indian Federation of Sports Gaming (IFSG), India's first and only self-regulatory industry body for the sports gaming sector, and KPMG India Private Limited (KPMG) launched a report on the 'The Evolving Landscape of Sports Gaming in India' at its second flagship event – GamePlan 2019. The report provides an overview of the online gaming industry with a focus on fantasy sports and eSports.
Click Here for the full report:
The report:
Highlights the findings of a survey conducted by KPMG on fantasy sports users to understand their preferences and playing patterns;
Aims to create awareness about the growth drivers of the fantasy sports market in India and the stark differences between Fantasy Sports, eSports and Sports Betting;
Finds that for 72% of respondents, the primary motivation for playing fantasy sports is

 

fun and excitement. Further, 69% of respondents say that there are no overlaps between Fantasy Sports and Sports Betting and amongst these, 81% say that playing fantasy sports requires profound Skill and Knowledge
Based on the overall theme of 'The Economy of Sports Gaming', the GamePlan 2019 event hosted three separate panel discussions: Future of Online Sports Entertainment in India, Growth of Sports Gaming Ecosystem and Fuelling Sports Fan Engagement. Panellists included the likes of Melinda Petrunoff, Facebook; Vikas Agnihotri, Google;Navdeep Manaktala, AWS; Varun Narang, Hotstar; Ipsita Dasgupta, Pro Kabaddi League; Ricky Thussu, FIH; Girish Menon, KPMG; Harsh Jain, Dream11; Karthik Sharma,Wavemaker, Arvind Iyengar, Sportz Interactive, Akhil Suhag, FanFight, Arvind Ramachandran, Fantain and sports industry experts like Amrit Mathur, Gaurav Kapoor and Joy Bhattacharjya, PVL.
Commenting on the occasion, John Loffhagen, President IFSG said, "With the rapidly growing digital infrastructure and emergence of new sports leagues, the Indian online sports gaming industry is witnessing a boom which shows no sign of slowing down. Exponential growth provides users with easy access to a vast variety of sports gaming apps, formats and genres. This could lead to potential confusion and misjudgement among players in choosing the right platform to engage with their favourite sport. As India's only self- regulated industry body for Sports Gaming, we are dedicated to creating awareness about fantasy sports, encouraging operators to adopt ethical and best business practices and allowing sports fans to enjoy their favourite sports in a fun, exciting and safe manner."
Speaking on the launch of the report, Girish Menon, Partner and Head – Media and Entertainment, KPMG in India said, said, "Online gaming in India is seeing increased traction due to the growth of digital infrastructure, with fantasy sports emerging as an important segment in this space. With the number of fantasy sports operators growing rapidly and the number of users on fantasy sports platforms expected to cross 100 million by 2020, this segment has the potential to spawn a whole ecosystem around it, and could help deepen user engagement with their favourite sports'.
Key Highlights from the KPMG Report:
74% of users play fantasy sports 1-3 times a week, with the majority playing once a week
Around 20% of the respondents reported playing more than five times a week which indicates the growing traction of the genre in the country
Across all age and income groups, 'Fun and Excitement' is the primary motivator for playing fantasy sports
For around 50% of the respondents, the 'Ability to manage teams virtually', 'Remain connected with the sport' and 'Utilisation of Sports knowledge' were other important motivators for engagement
The 'Opportunity to win money' was seen as one of the motivators for around 30% of respondents, however, this was only the 5th most important factor for engagement
54% of users play fantasy sports for free
46% of the respondents have played paid contests at least once in the last 12 months
Important to note that only 25-30% of the spends on fantasy sports platforms come from the users' pocket. 70-75% of the spends are re-investments coming from previous winnings, cash bonus or periodical promotional offers given by these platforms to their users
Majority of users from top 7-8 cities of the country were found to be playing less frequently than some of the smaller cities in the country. Nearly 85% of the respondents from the major cities play fantasy sports 1-3 times a week as compared to nearly 70% of respondents from smaller cities who play more than four times a week on such platforms
71% of the respondents played fantasy cricket followed by 54% playing football. The non-cricket sports leagues in India are also witnessing increasing traction
69% of the respondents say that there are no overlaps between fantasy sports & sports betting. 81% of these respondents believe that there is a significant amount of 'Skill and Knowledge' that goes into the selection of their fantasy sports teams. Fairness, legality and safe & secure nature of transactions are other aspects that draw users to play on fantasy sports platforms
Nearly 55% of the respondents had an incorrect understanding of eSports, associating it exclusively with sports based games. A further 22% of respondents were completely unaware of what eSports constitutes
*A dipstick survey was conducted by KPMG taking into account 336 consumers who have played fantasy sports in the last 12 months
About IFSG:
Formed in 2017, the Indian Federation Of Sports Gaming (IFSG) is India's first and only Sports Gaming self-regulatory industry body established to protect consumer interest and create standardised best practices in the Sports Gaming industry. The Sports Gaming industry comprises companies that operate online sports-based Games of Skill, such as Fantasy Sports, along with eSports and casual sports games. IFSG aims to create a thriving ecosystem for users and operators by setting out guidelines for a common set of practices, setting standards of operation and creating a regulatory framework to protect the user and operator interests. IFSG works with key industry stakeholders and liaisons with the Government and policymakers to create standardised best practices and set industry benchmarks with a strong governance structure, thereby protecting its consumers and operators. IFSG currently has 27 members across Fantasy Sports operators and Sports analytics firms. For now, IFSG has two committees viz, a Legal Committee, and a Taxation Committee, and plans to create some more through the year.
For more log on to : www.ifsg.in