Taking place from May 1 to 8, 2016, at www.wosf.in, WOSF has been conceptualized by Velvetcase.com and is bringing together vertical leaders from various categories, ranging from beauty, jewellery, electronics, innerwear, eyewear, accessories to apparel and bridal, addressing the needs of today's women.
The Women's Online Shopping Festival (WOSF) is a flagship annual online shopping event conceptualized by VelvetCase.com, that has been brought together by a collective of brands that are vertical leaders in various categories – A first in India. Culminating on Mother's Day (May 8, 2016), this collaboration includesLenskart, Voonik, Titan Raga, Uber, Yes Bank, Croma, Yatra, Purplle, FirstCry, Clovia, MissMalini Publishing, Weddingz, Mobikwik and FirstPost among others, and aims to provide their curated collections at the best promotional prices.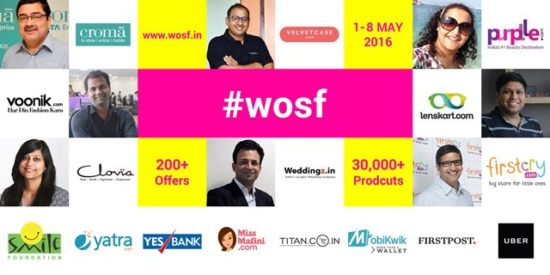 VelvetCase.com's Founder and CEO, Kapil Hetamsaria says, "I am super-excited to see how an idea born over a dinner conversation a few months ago has snowballed into an event that has the potential of becoming a premier annual property driven by leading brands. It has truly been a gratifying experience, seeing the level of collaboration and enthusiasm across all the participating brands, be it Croma with a dominant offline presence or a Lenskart and Voonik who are killing it in the e-comm space or then leading content players – MissMalini.com and FirstPost – who already influence buying behaviours thus helping market upstream in the customer acquisition process. With all brands unified by one common factor – to bring the best and widest range of products and offers to the woman shopper – I look at it as a win-win-win situation. One for the brands, one for the consumer and one for the overall online eco-system."
This shopping festival will be introducing special deals and offers, to provide great basket value to the Indian female consumer. WOSF will include all the essential categories such as apparel and fashion, beauty, jewellery, eyewear, lingerie, Bridal, moms & kids, electronics, home & kitchen, and travel. Apart from the discounts, several brands will also be launching new product lines as well at WOSF 2016.
Manish Taneja, Founder & CEO of beauty brand Purplle has this to say, "WOSF is off to a fantastic start, bringing not only all the e-commerce giants together, but also making it women-oriented – just in time for Mother's Day. Purplle.com is proud to be associated with WOSF and is eagerly looking forward to its amazing success!"
Leading consumer brands that have been thriving in the e-commerce ecosystem, are coming together for the first time, to work side-by-side and develop this one-stop shopping destination for today's modern women in India. This integrated approach has allowed this collective of non-competitive vertical leaders with similar target audiences, to lower cost of acquisition while providing more choices to consumers, all in one destination. With each company deploying their own assets for the greater good of the collective, the organic marketing reach multiplies manifold.
Sujal Shah, CXO at MissMalini added, "Women play an integral part in the continuing growth story of e-commerce in India.  For years, MissMalini has served women engaging content from Bollywood, Fashion, and Lifestyle; content that directly and indirectly influences purchasing decisions.  We are always looking to support innovative ideas that benefit our readers.  WOSF is a great example of this mantra.  It's a collective of like-minded companies, working together to deliver more value to women shoppers in India.  We're excited to play a lead role in evangelizing this one of a kind event organized by Velvetcase."
Upasana Taku, Co-founder, MobiKwik said, "It's exciting to be a part of WOSF. We are happy to join the festival as the exclusive wallet partner. MobiKwik will ensure that women face no hassles when making payments for their shopping purchases. With cashback on offer, we will also sweeten the deal for many!"
Sujayath Ali, CEO & Co-Founder, Voonik.com added, "At Voonik, we've always believed that women need a separate platform for fashion discovery as their shopping needs are different from that of men. We see a similar vision behind WOSF and are delighted to be the apparel partner. We want to celebrate the spirit of mother's day by making festive offers available across categories."
Following the week-long festival, 2% of the total GMV will be donated to Smile Foundation, the NGO partner of WOSF, to help fund their efforts in child education, women empowerment and supporting girl child. #ShopForASmile
Leading Consumer Brands Collaborate to Launch the Women's Online Shopping Festival #WOSF