On the back of a successful, high profile launch last week in New Delhi of its next generation devices, LeEco, the internet and technology conglomerate has made its next move into the star-spangled realm of Bollywood. The technology major has signed up as the official powered-by sponsor of the prestigious, highly celebrated International Indian Film Academy (IIFA) Awards 2016. This partnership signals the significant synergies between LeEco and the iconic Bollywood film awards brand. As the 17th edition of most spectacular celebration of Indian Cinema, IIFA will be held in the capital of Spain – Madrid from 23rd – 26th of June this year.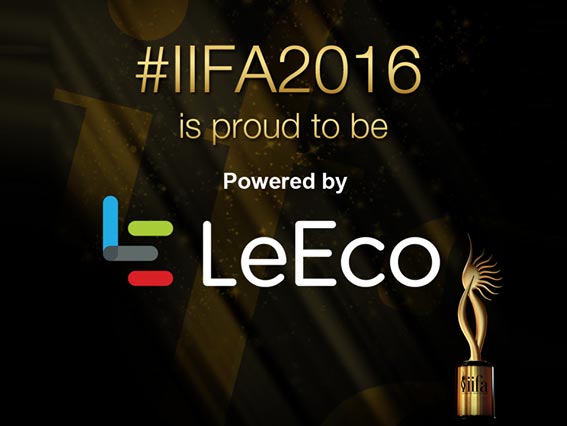 Entertainment is central to LeEco's content ecosystem and to this end, the internet global entity has been making considerable investments in India by forging partnerships and alliances with best-of-breed names in movies, music & live TV. This association with IIFA Awards is therefore a step to further cement its association with entertainment, besides of course cashing in on the popularity of Bollywood among star-struck Indian consumers to bolster its marketing efforts for its Superphones and other coming products. In what could be termed as a strategic move on LeEco's part, this IIFA association is aligned to LeEco's overall objective of redefining entertainment and bringing its users an all-encompassing experience like no other.
Commenting on the significant association, Mr. Atul Jain, COO, Smart Electronics Business, LeEco India, said, "We are extremely delighted to have partnered with one of the most coveted platforms representing Indian cinema globally. Our key differentiator is our exceptional content ecosystem model in India that lets users enjoy a seamless viewing experience on their phones and in the near future, other LeEco screens, similar to IIFA which celebrates and curates magical and memorable entertainment for everyone. This partnership truly exemplifies our India strategy for content – providing high quality curated Bollywood experience to our users, on-the-go."
Over the years, IIFA has become one of the most eminent festivals that has taken Indian cinema beyond the realms of Indian cities, to countries and audiences across the globe. This is another compelling reason for LeEco to have partnered with IIFA. Also, so far IIFA as a platform has remained virgin territory especially in terms of association with any internet or smartphones company, making it a clutter-free and highly appealing category for LeEco.
As part of LeEco's association with IIFA, the company is also presenting a never-before opportunity to its Superfans! Two lucky LeEco Superfans will get a chance to win a trip to Madrid sponsored by LeEco and mingle with some of the most celebrated stars of the Indian film industry and notable dignitaries from India and across the globe.
LeEco, since its India launch early this year has been swiftly captivating the Indian market through various associations with prestigious names in the industry. LeEco's content is centered on Entertainment – be it movies, dramas, reality shows, music and sports and is extremely focused on the Entertainment spectrum.
LeEco is now working with big names like Eros Now, YuppTV and Hungama in India. Through LeEco's Membership program, users can get access to a collection of 2000+ movies that will be first released exclusively on LeEco devices, inclusive of premieres from Hollywood & Bollywood. Meanwhile, LeEco membership program provides 3000+ hours of curated shows, 150+ live TV channels and 3.5 million songs for users' choices. LeEco takes the lead in offering 1.9 million songs with lossless audio, bringing the users' audio experience to a brand new height.